Dakota Johnson Revealed Something Unexpected About Her On-Set Behavior
Cubankite/Shutterstock
Actor Dakota Johnson is now known for her roles in films such as Netflix's "The Lost Daughter" and "Fifty Shades of Grey." However, what some might not know, is her family members are just as famous — before she even started acting. Dakota's father, Don Johnson, appeared in 1980s television show "Miami Vice," and her mother, Melanie Griffith, took the film route. Even Dakota's grandmother, Tippi Hedren, was a mainstay in Alfred Hitchcock movies during the '60s, according to IMDb.
Dakota even appeared alongside Griffith in the 1999 movie "Crazy in Alabama." "It was a family affair. But I took it very seriously. After that, I didn't work until I was 18 or 19. If it were up to me, I would've left school. But my parents wanted me to finish, which was ironic because the first half of my life was traveling and never going to school and being with a tutor," Dakota told The Hollywood Reporter in November 2021.
Now, the longtime actor is revealing something that may go against what fans perceived her on-set behavior to be.
Why Dakota Johnson struggled in The Lost Daughter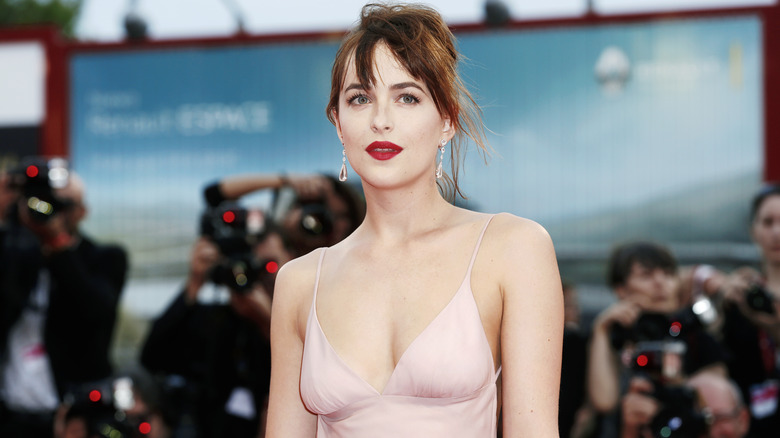 Andrea Raffin/Shutterstock
Although actor Dakota Johnson is in award consideration for her recent role in Maggie Gyllenhaal's "The Lost Daughter," she recently revealed what she struggled with most in the film. During a new interview with W Magazine (via Daily Mail), Dakota opened up about her body perception while doing near-nude scenes for it. While fans may have assumed she's always ultra-confident, considering the vibe she gives off, that's not necessarily the case.
"It is difficult. Some days, I don't want to take off my clothes on set," Dakota said. "Just because I look a certain way doesn't mean I don't have feelings. And my character, Nina, is almost bored by her appearance. She has reached a point in her life where her hotness doesn't match who she is anymore."
Back in 2017, Dakota had also spoken about not using a body double for her roles in the "Fifty Shades of Grey" franchise, during an interview with the Mirror. "No, because it would have felt like a cop-out if I did. If I was going to do this job, I was going to do it 100 per cent and give it everything," she said. "I wanted to be true and honest to the role, and the character. I don't have a problem with nudity. I think it is beautiful and so I was OK with that."