The Forgotten Dakota Johnson And Melanie Griffith Interview That's Super Cringey Now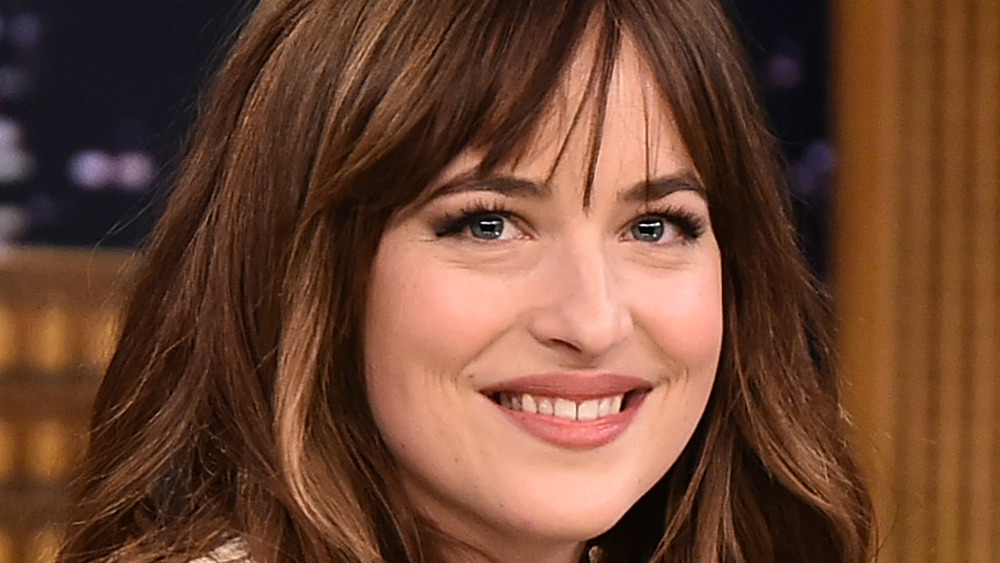 Theo Wargo/nbc/Getty Images
Parent-child relationships have their awkward moments, even when they're both celebrities. Dakota Johnson and her mom, Melanie Griffith, are no different. The duo has rocked a few red carpets together, which we love because Johnson looks so much like her famous mom that it's fun to see similarities.
Johnson is an established star now in her own right, thanks to success in films like The Nowhere Inn and How to Be Single, per IMDb. She's also making headlines for her relationship with Gwyneth Paltrow's ex, Chris Martin of Coldplay. In fact, Johnson sparked engagement buzz in late 2020 by wearing a very sparkly ring on her left hand. Could it be?
But way back when, before Martin and engagement speculation, Johnson was a relatively unknown star who took on the very ambitious role as Anastasia Steele in the Fifty Shades of Grey franchise. Johnson totally nailed the part but for anyone unfamiliar with the books and films, the content definitely earned its R-rating. And it's precisely on this note that Johnson and Griffith had a slightly awkward moment caught on camera. Here's what happened.
Dakota Johnson and Melanie Griffith have different opinions on 'Fifty Shades of Grey'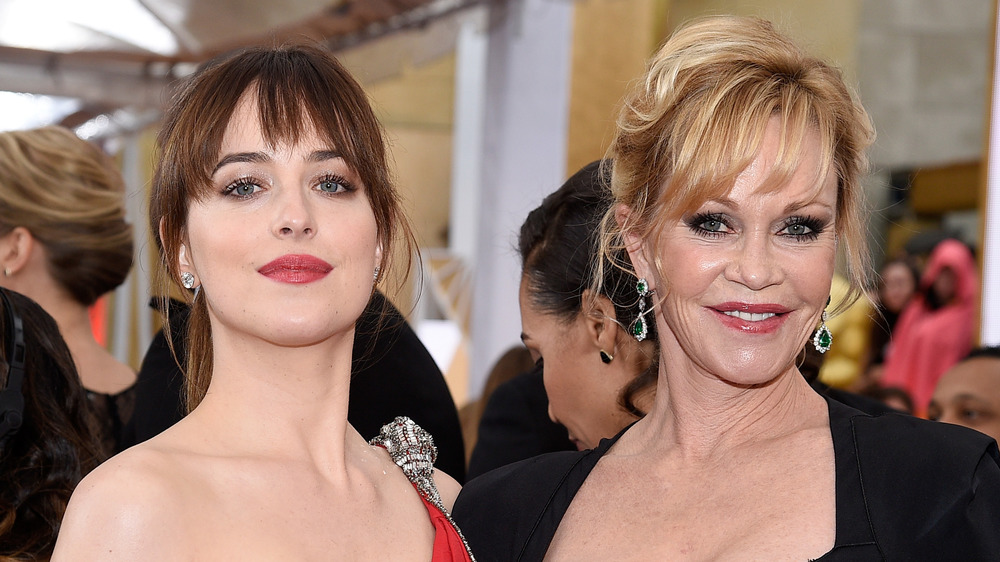 Kevork Djansezian/Getty Images
Fifty Shades of Grey premiered on Feb. 13, 2015 and that year's Oscars were held on Feb. 22, so obviously the film was a hot topic on the red carpet. So when Dakota Johnson and her mom, Melanie Griffith, were interviewed at the event, Johnson's role in the film came up and it was kind of cringey.
When the interviewer asked Griffith if she had seen the film, she said, "No," and that was it. Johnson said, "Maybe. Maybe one day." When Griffith was asked if it was because she didn't want to see the film, she said, "I don't think I can. I think it would be strange." Johnson wasn't into this answer and said, "No, I don't think so. I think that one day you can see it." Johnson literally rolled her eyes at one point. Ugh, awkward. 
It seems everyone wanted to know Griffith's opinion on Johnson's role in Fifty Shades of Grey. In 2014, before the film even came out, Mario Lopez interviewed Griffith for Extra and asked what she thought of her daughter playing the lead role. "I'm never going to see the movie myself. I don't think Don will ever see the movie," she added, referring to Johnson's father. "It would just be too awkward," Griffith added. So clearly the mother-daughter didn't whip up a batch of popcorn and watch the flick together!