A Look Inside Jamie Chung And Bryan Greenberg's Relationship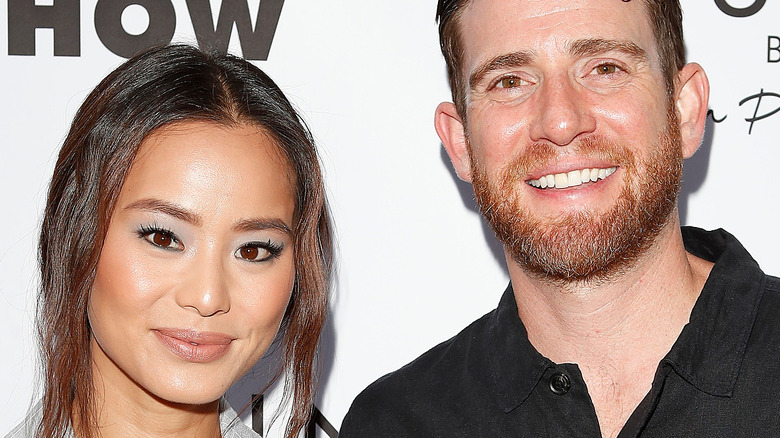 Joe Seer/Shutterstock
Jamie Chung and Bryan Greenberg's relationship took a while to take off but once they got together, it was happily ever after for the two actors. In an interview with Us Weekly, Chung explained that they had met 10 years prior to dating. "I thought he was really cute, saw him around town, saw him once at a party ... And then we met each other in New York again, went on a date and then we didn't talk for a year." Chung went on to say that by the time they got together in Los Angeles, the courtship process had taken about five years. "It really was like missed opportunities, missed timings, different cities and then we finally ended up in the same city together," she revealed.
Greenberg proposed to Chung over the 2013-2014 holidays, per E! News. The two rang in the New Year in Turks and Caicos, undoubtedly celebrating their new engagement. While the couple initially kept their relationship private, they eventually opened up as fans became more curious about the Hollywood couple. It looks as if what they're doing is working for them, as they appear to still be going strong after a decade together.
Jamie Chung and Bryan Greenberg had an unusual wedding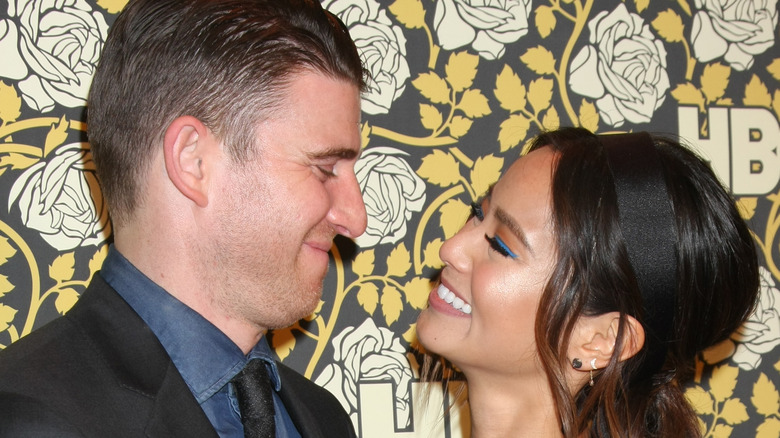 Kathy Hutchins/Shutterstock
Jamie Chung and Bryan Greenberg got married on October 31, 2015, in Santa Barbara, California, per ABC News. In an interview with "Today," Chung explained that the date was the only one available for their venue, so they ran with the Halloween theme. The night before the wedding, Chung and Greenberg threw a "Boos and Booze" welcome dinner for their guests and invited everyone to dress up in costumes. Chung revealed that while the costume party broke the ice with their guests, the next day proved to be problematic as they didn't recognize each other without their costumes. Greenberg, on his part, dressed up as the "Back to the Future" character,Marty McFly, and quipped on his Instagram, "The future's almost here!"
For the wedding day, Chung wore a Monique Lhuillier dress and carried a coin that used to be her father's for her "something old," per People. A week later, Chung told Us Weekly how "wonderful" her wedding was. As for future kids, Chung shared, "We are in absolutely no rush, but absolutely [we want kids]. He's going to be a great dad."
Jamie Chung and Bryan Greenberg's journey to parenthood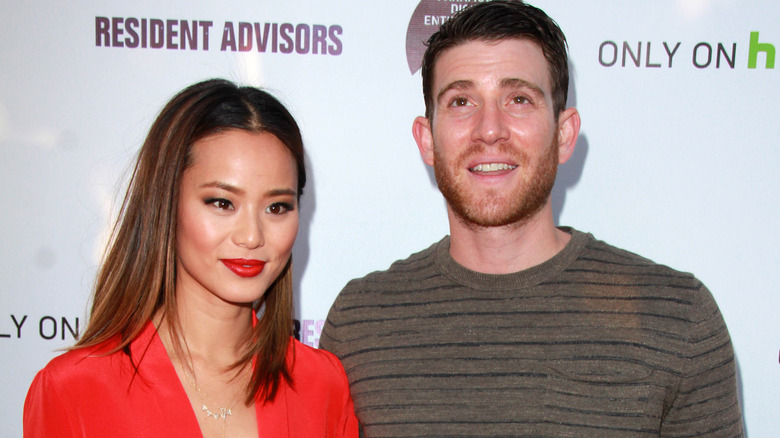 Kathy Hutchins/Shutterstock
In March 2019, Jamie Chung opened up about her decision to freeze her eggs and shared an Instagram snap of her at the doctor's office. "I've been stewing over the idea of freezing my eggs for a couple of years now, and decided to move forward with the process only recently," she wrote. Chung went on to say that she knew she wanted to have kids with Bryan Greenberg, but wasn't sure when. "I realized that's ok. It's okay to be unsure when the time is right," she wrote.
More than two years later, Chung and Greenberg surprised fans with the announcement of two new additions to their family. On October 24, 2021, Greenberg revealed on Instagram that he and Chung had welcomed their twin boys. "We got double the trouble now," he captioned. In June, Chung revealed another surprising fact about her pregnancy. The "Real World" alum told "Today" that she had used a surrogate to carry her twins. "I was terrified of becoming pregnant. I was terrified of putting my life on hold for two-plus years," Chung shared. Chung discussed the stigma and shame surrounding surrogacy and stated that she and Greenberg had kept it private to "protect" themselves.
Chung revealed that having their babies made their marriage stronger, per OK!. "We did go through therapy together, we talked about as much as I was willing. I was scared ... We made sure that our foundation was pretty solid before this next chapter."