Jamie Chung Reveals The Reason She Used A Surrogate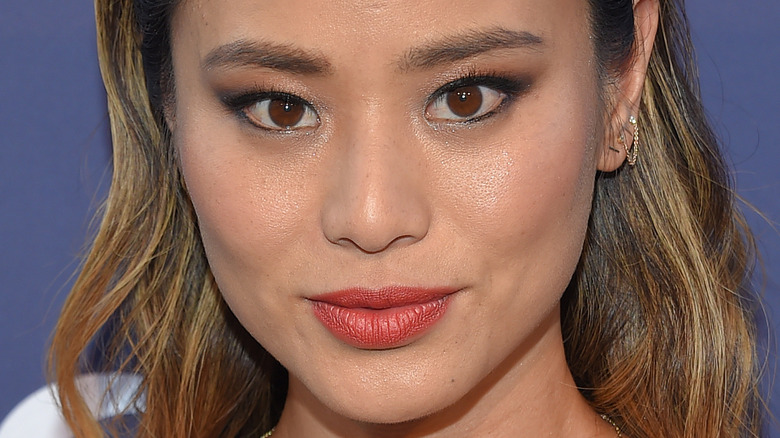 DFree/Shutterstock
Whatever Jamie Chung decides to tackle, she pours her heart and soul into it. The "Dexter: New Blood" Star was a student at the University of California, Riverside when she was cast on MTV's "The Real World: San Diego" in 2004, according to The Daily Beast. At the time, the San Francisco native was covering tuition by taking on two jobs, including long hours at an unpleasant local bar, but she did what she had to do.
The reality show opened doors for Chung, who was also cast the following year in the spinoff "Real World/Road Rules Challenge" — which she won. Those $30,000 did wonders for her student loans, she told the outlet in 2017. But the opportunities didn't stop the "Lovecraft Country" actor from finishing what she had started. In 2005, Chung earned a B.A. in Economics. "It was only once I graduated college that I decided to fully go for [acting]," she said. Chung has maintained this dedication to her career ever since.
Chung is just as dedicated when it comes to her personal life. She has been in a committed relationship with Bryan Greenberg since 2012, whom she married on Halloween in 2015, Martha Stewart Weddings reported. In October 2021, Chung and Greenberg welcomed twins via surrogate, he revealed on Instagram, and the reason Chung chose that route says a lot about her commitment to her work.
Jamie Chung feared pregnancy would hurt her career
Jamie Chung wanted to become a mother, but she also feared that pregnancy and recovery would take her away from work. "I was terrified of putting my life on hold for two-plus years," the actor told TODAY Parents in a June 8 interview. "In my industry, it feels like you're easily forgotten if you don't work within the next month of your last job. Things are so quickly paced in what we do."
After talking it through with Bryan Greenberg, she and her husband decided that using a surrogate would allow them to expand their family and be on equal standing when it came to their careers. "It's a compromise that we made together as a couple," she explained. But Chung opted to keep the details private, which is why she and Greenberg didn't reveal their plans until after the twins were born. "I think there's a little bit of shame. It's still not a very common thing and we weren't ready for judgment," she explained. "We really just did it to protect ourselves."
While she kept her surrogacy journey to herself, Chung was a lot more open about her decision to freeze her eggs in 2019, she shared on Instagram. Chung explained that the method would allow her to keep her options open. "I know I want to one day raise a child with Bryan. I'm just unsure when that will happen. And I realized that's ok," she captioned the post.