Midnights: Taylor Swift May Have Dropped A Huge Hint About One Of Her Closest Friends
DFree/Shutterstock
As we all know, a Taylor Swift lyric is never just a Taylor Swift lyric. And with the release of her latest album, "Midnights," Swifties have 13 tracks from the standard album, plus an additional seven bonus songs, to parse for clues. The album has been out for less than a day and Swift fans on the internet already have a theory that Swift has hidden a major announcement about one of her celebrity friends in one of her songs. 
For some background, Swift has been known to reference her friends (and her enemies) in Easter eggs hidden in her lyrics, which is why Swifties turn into CIA codebreakers every time she drops a new album. Who could have predicted that her army of sleuths would turn out to be right that the characters in her song "Betty" off of the "Folklore" album were named after Blake Lively and Ryan Reynolds' daughters: James, Inez, and Betty? 
Now, fans think Swift may have done it again.   
Is Blake Lively and Ryan Reynolds' new baby Daisy May?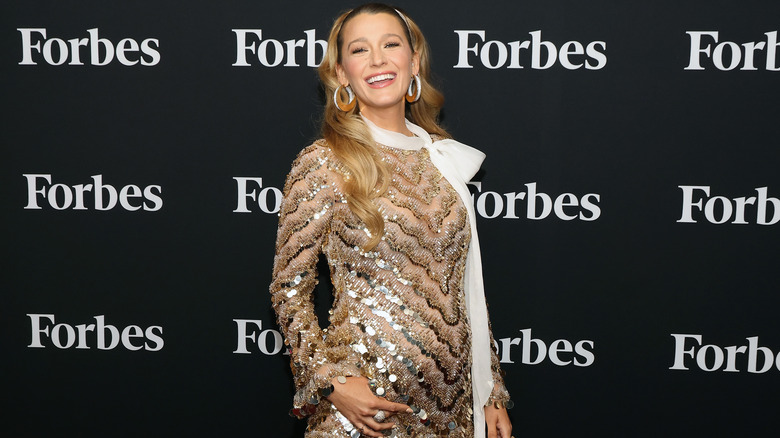 Taylor Hill/Getty Images
In the song "You're On Your Own, Kid" off of "Midnights," Taylor Swift references another person by name. Blake Lively is pregnant as of this writing — could Swift have just revealed the upcoming baby's name? Swift sings, "I see the great escape, so long, Daisy May/I picked the petals, he loves me not," so some people have a theory that Lively and Ryan Reynolds are naming their fourth kid Daisy May, per Us Weekly. 
"I love coming to Twitter to confirm things like – yes other people also think Daisy May/Mae is the name of Blake Lively's baby," one person tweeted. "Is Daisy May the name of Blake Lively and Ryan Reynolds fourth child," pondered another.
However, let's not forget that Lively and Reynolds are not Swift's only celebrity friends with kids. In 2020, per People, she sent Katy Perry a hand-embroidered baby blanket for her new daughter named... you guessed it... Daisy. Swifties, get to sleuthing.