A Look Inside Rob Lowe And Chris Pratt's Real-Life Friendship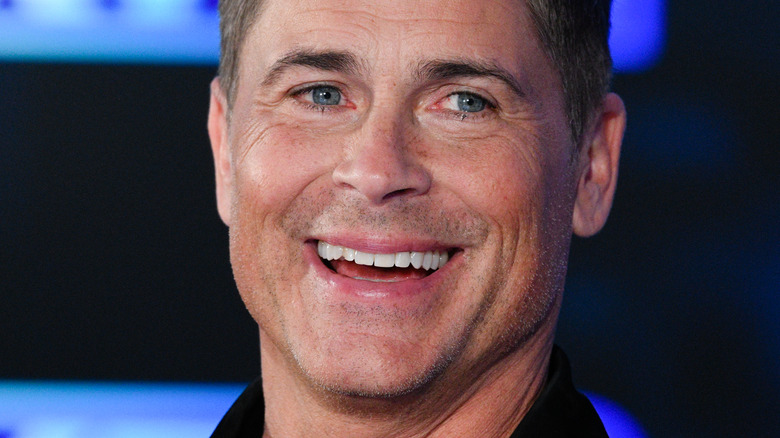 Noel Vasquez/Getty Images
"Parks and Recreation" fans will be happy to know that two stars from the show have remained friends even after the show has ended. Like many celebrities who have met on set, Chris Pratt and Rob Lowe have proven to be like their characters on the show and are real friends.
The friendship began when Lowe joined the Pawnee crew in 2010 on the "Parks and Recreation" sitcom. Lowe played an active city manager, while Pratt played the polar opposite as a laid-back assistant. Lowe remained on the show until 2014, just one year before the series had ended. "Parks and Recreation" had quickly become one of the most popular sitcoms amongst fans, as the friendships formed on-screen made them sad to see the characters go, though the cast remained close. In 2019, Aubrey Plaza, who starred as Pratt's on-screen wife in the series, revealed on "Ellen" the cast has a group chat where people seem to text "every other day." And in 2020, the cast reunited to take on their roles once more for a special "Parks and Recreation" reunion special.
Some castmates became closer than others like Amy Poehler and Rashida Jones. But none have seen each other as often as Pratt and Lowe have. The two's love for golfing and even being "related" to one another has kept the friendship strong.
Rob Lowe is technically related to Chris Pratt's wife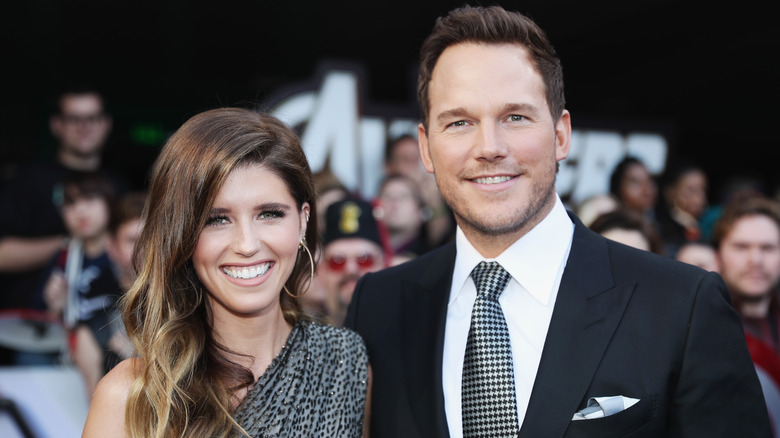 Rich Polk/Getty Images
Chris Pratt and Rob Lowe are keeping their friendship in the family. Many would be surprised to find out the number of celebrities that are related to another celebrity. Lowe and Pratt's friendship remains strong in part to his relation to his wife, Katherine Schwarzenegger. Lowe revealed in an interview with Extra that he is technically Schwarzenegger's godfather. He explained, "My wife Sheryl is her godmother, so by proxy, I am the godfather." He went on to talk about how happy he was for the couple, who at the time, was recently engaged.
Pratt even poked fun at his wife's "godfather" on Instagram while promoting Lowe's other projects. In an Instagram Story, Pratt stated, "You might know me as Owen from Jurassic World. Well, I'd like to introduce you to a new Owen. That's right, Rob Lowe," before Lowe kissed him on his cheek (via The Daily Mail). Owen is Lowe's character in the series "9-1-1: Lone Star." During the video, Pratt even mentioned the actor as his "godfather."
The two "Parks and Recreation" stars have continued to support one another in their professional ventures. Pratt even joined Lowe in his podcast, "Literally!" as the star's first guest. It's what family does ... right? And since Lowe is technically Pratt's "godfather," it was obvious he had to be the first person on his brand-new podcast.
Rob Lowe and Chris Pratt are each other's third wheels
Rob Lowe and Chris Pratt scored a hole-in-one with their friendship. Their love for the sport of golf has allowed the two "Parks and Recreation" stars to remain close throughout the years. In August 2019, Pratt third wheeled with Lowe and his son, Johnny, on the green (as seen above). Lowe was even playing golf with Pratt just hours before the star was set to marry Katherine Schwarzenegger (via People). Lowe was in attendance as his friend walked down the aisle that same day.
The "9-1-1: Lone Star" actor is friends with both Pratt and Schwarzenegger and has been spotted joining the couple on various outings. People reported that he joined the couple on a weekend beach trip, where the three paddle boarded together. Lowe talked to ET about how he joins Pratt and Schwarzenegger on dates. He explained, "I'm always third-wheeling with everyone. I'm a professional third-wheeler. It's just my lot in life. But no, I don't think Katherine's golf game is up to snuff, so we don't need to worry about that. It's still a guy's escape."
The golf course does continue to be a "guy's escape" for the two as both stars have posted several photos of them playing together. Lowe talked about his golfing adventures with Pratt. He shared, "Pratt's getting really good. I think we're a good battle ... We're so evenly matched that there's not a lot of trash talk ... [unless] my sons are involved."