What We Know About Aaron Judge's Parents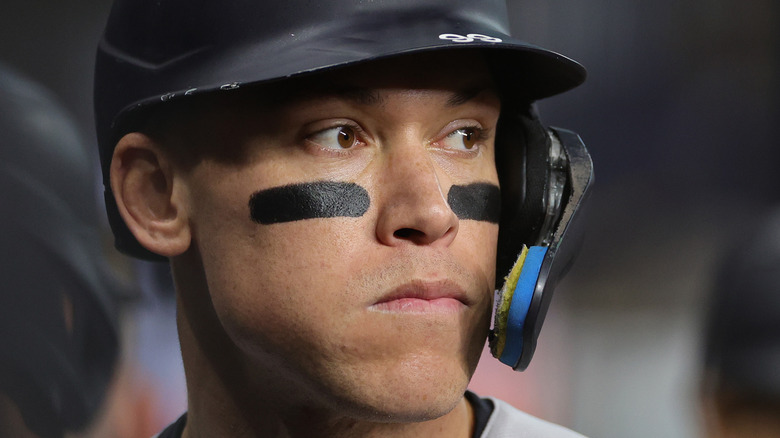 Carmen Mandato/Getty Images
New York Yankees right fielder Aaron Judge made history when he hit his 62nd home run against the Texas Rangers on October 5, 2022, making him the only player in the American League who has hit that many homers in a single season. Despite this huge accomplishment, the one person that was visibly in his mind was his mother. YouTube commentator Jomboy Media pointed out how Judge pointed at his mom, Patty Judge, while trotting around the bases, and pointed at her again as he was entering the dugout. His father, Wayne Judge, showed his support as well; Wayne was right by Patty's side hugging her when they watched the ball fly over the fence. "I don't have a comment right now," the Yankees' dad told reporters about his son's accomplishment (via Sportskeeda). "I'm still trying to soak it in myself. It's all about him."
In the post-game interview, a reporter asked Judge what was going through his mind when he hit the dinger. "I was thinking about my wife, thinking about my family, my teammates, the fans," he answered (via YESNetwork). He mentioned that he was truly thinking about the "constant support" he had been getting from everyone, especially as he was nearing the milestone. It's clear that Judge loves his family, so how have his parents been a huge part of his life?
Aaron Judge and his parents are close
Aaron Judge grew up in Linden, California, with his parents, Patty and Wayne Judge, and his older brother, John. "It's a tight-knit community," Aaron told NJ Advance Media. The baseball player's parents still reside in Linden, as well as the parents of Judge's wife, Samantha, according to the publication. It was also indicated that the outfielder is practically royalty there today.
The Yankees right fielder told the New York Post in 2015 that he felt "blessed" for having great parents. The outfielder was adopted by Patty and Wayne just one day after he was born. "I feel they kind of picked me," Judge said. "I feel that God was the one that matched us together." He also mentioned that he doesn't know his birth parents, but he doesn't mind because his adoptive parents are "the only parents [he's] known."
Both Patty and Wayne are retired school teachers who always made sure that a young Judge knew that school was a priority. According to MLB.com, that mindset has helped the 6-foot-7-inch-tall outfielder in his everyday life, from prioritizing things to sticking to plans. He credited his mom for a lot of his personality and the way he goes about his life. "I know I wouldn't be a New York Yankee if it wasn't for my mom," he said. And it seems like his parents have always had his back from the beginning.
Aaron Judge's parents have supported him throughout his baseball career
When Aaron Judge hit his 61st home run to tie Roger Maris' 1961 record, his mother Patty Judge was sitting in the stands next to Maris' son, Roger Maris Jr. After the game, the right fielder and his mother had a touching moment as he gave her the special ball he hit out of the park that night. "No. 61 belongs to mom," the official MLB Twitter account tweeted with a teary-eyed emoji.
"Having my mom here, it's important," Judge told reporters (via Today). "She's been with me through it all, that's for sure." He mentioned that Patty was at the ballpark, cheering her son on, from the Little League Baseball all the way to his Major League Baseball debut. He added that having her experience his 61st dinger was "something special."
In July 2022, he thanked his dad Wayne for always supporting him throughout his baseball career. "He's always been my hero, always a guy I looked up to," Judge told People. He reminisced about the days when he always wanted to play catch with his father, even if he could tell that he was too tired from work. "He never complained, nothing," Judge added. "So for me, that's why he's still the hero in my eyes."