A Look Inside Meghan Markle's Friendship With Beyoncé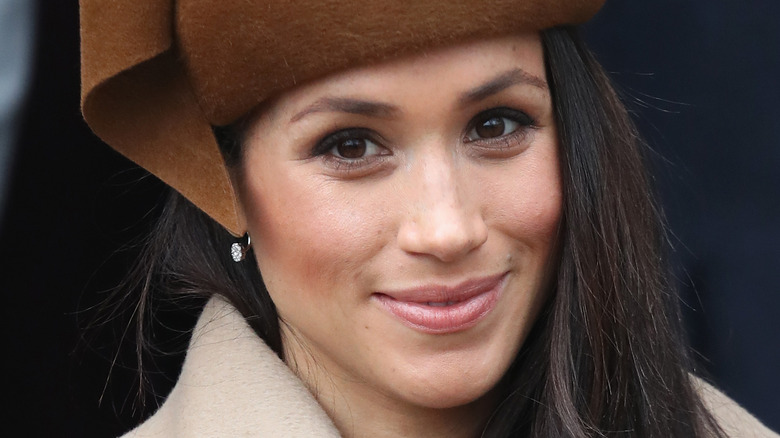 Chris Jackson/Getty Images
Meghan Markle and Prince Harry have been compared to Beyoncé more than you might think. In the book "Courtiers: The Hidden Power Behind the Crown," reporter Valentine Low quotes a source who claimed that Meghan believed that marrying into the royal family would make her as beloved by Brits as Beyoncé is in America, per an excerpt published by The Times. The singer's name came up again during a conversation about Harry's memoir on the "Royally Us" podcast. Because the book hadn't yet been given a concrete publication date, co-host Christina Garibaldi quipped, "Maybe they'll pull a Beyoncé and just drop the book and that'll be it."
But according to a 2003 Hello! report, it was Prince William who was "Crazy in Love" with Queen Bey. The singer was reportedly informed of William's crush on her by his dad, King Charles III (apparently, even royal parents love embarrassing their kids). But y the time the prince and the pop star met in person, they were both married — per E!, Beyoncé and Jay-Z actually left their courtside seats to greet William, Prince of Wales and Catherine, Princess of Wales, during a Brooklyn Nets game in 2014, causing quite a commotion. However, the Sussexes were the royal couple who Mr. and Mrs. Carter really seemed to click with after meeting them for the first time, and Beyoncé especially took a shine to her fellow American.
Beyoncé and Meghan Markle were fans of each other before they met
Before she became a royal, Meghan Markle proved that she was a hot sauce-carrying member of the Beyhive, per Yahoo! Life. In a photo that she posted on her since-deleted Instagram account, Meghan posed with a bottle of the spicy stuff peeping out from her purse and referenced a lyric from "Formation." Her caption read, "The closest I will ever come to channeling Beyoncé. #hotsauceinmybagswag." After the Duke and Duchess of Sussex tied the knot in 2018, actor Idris Elba confirmed that Meghan is a Beyoncé fan. He was asked to DJ the royal wedding reception and he told Entertainment Tonight that the playlist included some Beyoncé tunes.
Queen Bey returned the duchess' love tenfold at the Brit Awards in 2019. The "Halo" hitmaker and her husband, Jay-Z, filmed their acceptance speech for the best international group award in front of a painting of Meghan. As noted by People, it was a visual reference to the couple's "Apes**t" music video but the work of art featured there was the Mona Lisa. The painting of Meghan was by artist Tim O'Brien and imagined the duchess dripping in royal jewels with a crown on her head.
Beyoncé also shared a photo of the artwork on Instagram and dedicated a blog post to Meghan on her website. She celebrated the actor's charity work, writing, "She and Prince Harry have continued to push the race relations dialogue forward both near and far."
The Lion King brought Beyoncé and Meghan Markle together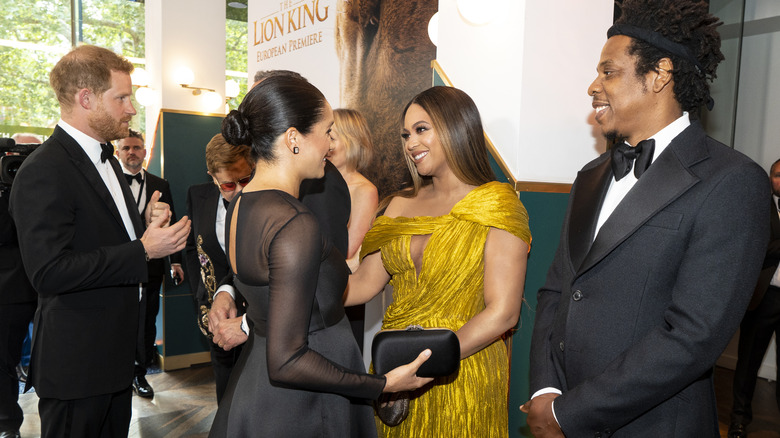 Wpa Pool/Getty Images
Yes, Sir Elton John — we felt the love at the London premiere of Disney's live-action remake of "The Lion King" in 2019. Meghan Markle and Beyoncé, who voices the character Nala, met face-to-face for the first time on the red carpet, where they were joined by their husbands. Royal reporter Omid Scobie told The Royal Box (via Yahoo! Life), "I asked someone before Meghan arrived 'Is she nervous?' They were like 'A little bit, but mostly excited.'" While discussing what it was like meeting the Sussexes, Billy Eichner, who voices Timon, revealed that the feeling was mutual. "We were all kind of nervous, even Beyoncé," he said on "Jimmy Kimmel Live."
Per the Daily Mail, Beyoncé greeted Meghan by embracing her warmly and saying, "My princess." But, unfortunately for Disney, Barbie has already snagged the movie title "The Princess & the Popstar." Beyoncé was overheard telling the Sussexes that their son, Archie, was "so beautiful," and the royals and the Carters bonded over parenthood by briefly chatting about their children. 
The lovefest continued in 2021 after Meghan and her man spoke to Oprah Winfrey about Sussexit. "Thank you Meghan for your courage and leadership," Beyoncé wrote on her website. "We are all strengthened and inspired by you." And meeting the performer didn't make Meghan any less of a fan — in 2022, she told Variety that the self-love anthem "Cozy" was her favorite "Renaissance" track.