Why You Might Recognize Christina Haack's Sisters-In-Law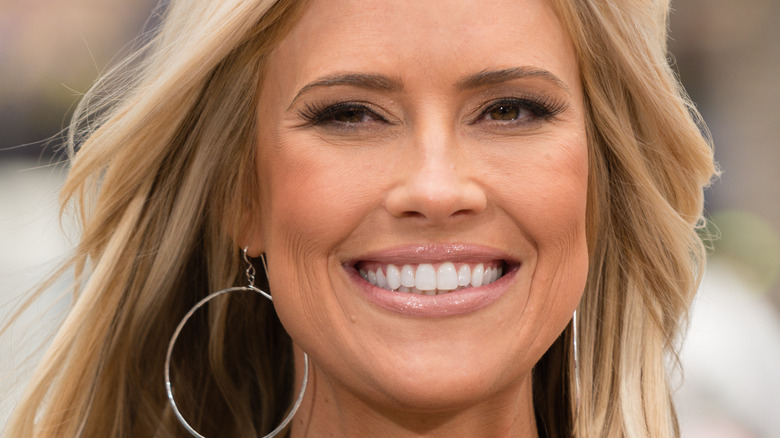 Noel Vasquez/Getty Images
"Flip or Flop" star Christina Hall found love in the real estate realm again when Joshua Hall flipped her world upside down in the best possible way. "When we met this past spring, the synchronicities hit us so hard and fast they were impossible to ignore," she wrote on Instagram in July 2021.
Like Christina's first husband, Tarek El Moussa, Joshua is a realtor. In an interview with Entertainment Tonight, El Moussa even said that he and Joshua have crossed paths before, but they never really got to know one another. An insider told Us Weekly that Christina was still married to her second husband, Ant Antstead, when she first met Joshua. They were reportedly attending the same real estate conference, but sparks didn't fly until Christina was single and presumably ready to talk about something other than wallpaper, tiles, and shingles. Per TMZ, Christina and Joshua married secretly before having a second wedding in Maui in September, with Christina revealing on Instagram that their friends and family members flew out to the island to celebrate with them.
Since marrying Christina, Joshua has jumped headfirst into the reality TV world, appearing alongside his wife on "Christina on the Coast" and co-founding a production company with her, per Instagram. Joshua didn't have any experience in the entertainment biz when he was working as a realtor in Austin, according to his Spyglass Realty profile — but both of his younger sisters have appeared on reality series.
Jessica Hall's friends include Heather Rae Young and Kendra Wilkinson
Joshua Hall's sister, Jessica Hall, has more than one connection to Heather Rae Young, the "Selling Sunset" star Tarek El Moussa married after he and Christina Hall split up. Both women have modeled for Playboy, and according to LA Weekly, Jessica also hosted radio shows for the media company — experience that would come in handy when she and Young began co-hosting their own podcast, "Flashbacks." But they were more than business partners. "My girlfriend Jessica, we've been friends for like over 10 years and it's just a fluke," Young told People of her link to one of Christina's sisters-in-law.
Jessica is also close friends with another famous face from Playboy — "Girls Next Door" star Kendra Wilkinson. Jessica has appeared alongside Wilkinson on a number of her reality shows, including "Kendra on Top" and "Kendra Sells Hollywood," per IMDb. And Wilkinson returned the favor by joining Jessica on "Flashbacks" to reminisce about some of the good times they've had together.
Jessica is a married mother of two and an Instagram influencer who juggles multiple businesses on top of everything else she does. She co-owns the BB Lifestyle skincare line and has invested in the Sugar Taco restaurant, which helped her score a spot on Forbes' list of successful "mom entrepreneurs" in 2021. "Becoming a business owner is nothing I ever imagined," she told LA Weekly. "I have never felt as fulfilled as I do now."
Stacie Adams appeared on The Hills
In a May Instagram post, Christina Hall announced that one of her sisters-in-law, Stacie Adams, was going to appear on the first episode of her HGTV series "Christina in the Country." Adams and her husband Joel reaped the benefits of having Christina as a relative by getting their home renovated for the show.
Adams is a reality vet whom fans of "The Hills" might recognize as Stacie the Bartender. She has appeared with Jessica Hall on the "Flashbacks" podcast multiple times, and in a 2020 episode, she made a candid confession about her and her sister's sex lives. "We lost our virginity to brothers," Adams said. In another episode, Adams recounted how she got cast on "The Hills" while she was working as a bartender at The Dime, suggesting that she got the gig because she constantly flirted with patrons  — including Spencer Pratt.
Adams befriended another reality star, Bravolebrity Scheana Shay, and was even a member of her bridal party when the "Vanderpump Rules" SURver got married in 2014. However, during an appearance on "Flashbacks," Shay revealed that musician John Mayer temporarily drove the pals apart when they all became romantically involved. "We had a little throuple going on," she said, explaining that jealousy reared its ugly head when Shay got ousted from the three-sided relationship. Luckily, the two women were later able to patch things up, and Adams went on to get married and become a mom of two.