Chase Chrisley's Engagement Ring For Emmy Medders Speaks Volumes About Their Relationship – Exclusive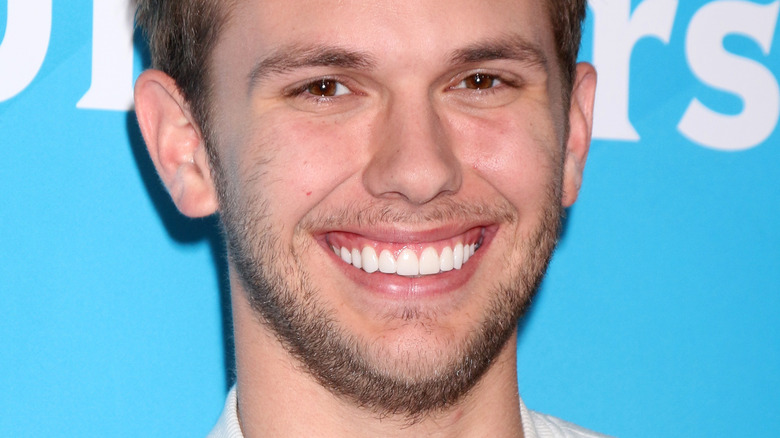 Kathy Hutchins/Shutterstock
After two years of dating, Chase Chrisley finally popped the question to his girlfriend, Emmy Medders.
The proposal happened in early October. Chrisley got down on one knee in the First Horizon Baseball Stadium in Nashville, which he rented out for the proposal, per People. Using 175,000 rose petals, Chrisley created a walkway toward a rose-petal heart, with silver balloons in the back. Leading Medders by the left hand, Chrisley walked her to the rose-petal heart, where he got down on one knee and popped the question in front of family. "I was so surprised," Medders said about the proposal. "I had no idea it was happening."
Following the proposal, Chrisley announced the news to fans on Instagram, calling himself the "luckiest man in the world." "You are the sunshine when it's dark, you are the rain when it's dry. I love you more than life itself and can't wait to live forever with you," he wrote, alongside a carousel of photos from the engagement. Following Chrisley's post, fellow celebrities and fans began to send well wishes to the happy couple. But what fans couldn't help but notice was not only the couples big smiles during the engagement, but also the big rock on Medders hand. So, we turned to an expert for insight on Medders' new accessory.
Emmy Medders engagement ring is 'likely at least 6 carats'
Chase Chrisley knew best when it came to the ring he picked out for his girlfriend, Emmy Medders. Because the only thing bigger than their smiles was the new jewelry Medders will be sporting on her left hand from now on.
In a Nicki Swift exclusive, Mike Fried of The Diamond Pro revealed that Medders oval cut diamond ring is "likely at least 6 carats." That big of a rock comes with an equally big price tag. According to Fried, the ring Chrisley picked out for Medders costs at least $180,000. "It appears that there are at least 12 smaller diamonds embedded into her pavé band, adding sparkle and character," Fried added. 
But that type of ring signifies more than just a big price tag, according to Fried — it signifies the depth of Chrisley and Medders relationship. "Oval cut diamonds represent elegance and longevity," Fried said. "Her beautifully crafted ring and timeless design speak to a high level of commitment and care in their relationship. It's clear Emmy has a classic taste." That couldn't be more true for Chrisley and Medders relationship. Back in 2021, Chrisley revealed the two were serious and had talked about a future engagement after only a year of dating. "I'm definitely going to end up marrying her," Chrisley said at the time, per Us Weekly. "If she'll take me, I'm all for it."