What's Going On With Chase Chrisley And Emmy Medders?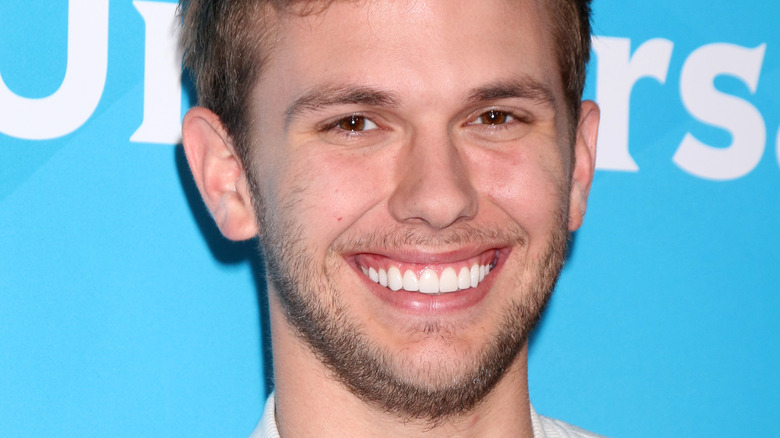 Shutterstock
"Chrisley Knows Best" follows Todd Chrisley, his wife Julie Chrisley, and their children. Over the years, the love lives of the kids have been the source of news articles, and storylines on the show. In July, Lindsie Chrisley split from her long-time partner Will Campbell. This was the third time the duo split since eloping in 2012, per Us Weekly. Meanwhile, Savannah Chrisley was engaged to Nic Kerdiles in 2019, but the two never tied the knot.
In the early years of the USA Network show, son Chase Chrisley was dating his long-term girlfriend Brooke Noury, but the family disapproved of the relationship. Chase and Brooke pulled the plug in 2015. "Chase is broken-hearted over the fact that he's single from someone that none of us like," Todd said during a confessional at the time as he delighted in the break-up, (via Country Living). "I'm not going to lie to you, that gives me great comfort," he added. 
Immediately following the break, Chase purged his social media of any posts that involved his ex, per E! News. A few years later, he had a fling with a person the family did approve of — Lindsey Merrick — but that was short-lived, per Hollywood Mask. His next relationship was with a woman fans would get acquainted with, Emmy Medders. But was it another good thing that couldn't last? Here's what you need to know.
Todd Chrisley gave his approval of Emmy
Chase Chrisley's long-term girlfriend, Emmy Medders, had a lot of qualities that endeared her to the rest of the "Chrisley Knows Best" stars. "Personally, I think I am a very bubbly person. I love talking with others and meeting new people," the Georgian wrote on her blog to describe herself. She and Chase made their relationship Instagram official with a post in July 2020, per Life & Style. The two had known each other for a while but had waited to start dating. "I met her a couple of years ago, but I think that I just had some growing up to do," Chase admitted to Life & Style after going public with their relationship.
The Instagram upload of Chase and Emmy caused quite a stir, as fans noticed that Todd Chrisley gave his stamp of approval by tapping the like button, per Life & Style. Fans wondered if the couple would be walking down the aisle in the near future. "As far as she and I go, we're taking things slow," Chase told Life & Style. "We're not in a rush to do anything ... I'm definitely not engaged, that's for sure!" Keep reading to find out if the pair stayed together.
They both purged their Instagram pages and seem to be done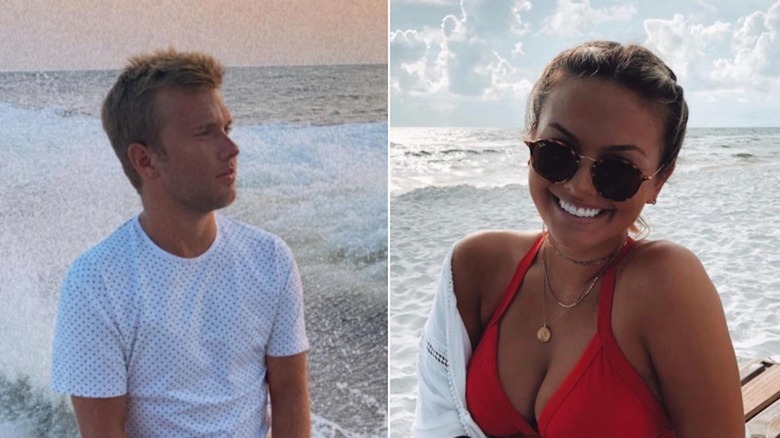 Instagram/Instagram
By February, Chase Chrisley had learned enough about Emmy Medders that he decided she was the one he wanted to spend the rest of his life with. "I'm definitely gonna end up marrying her, probably — if she wants me," he told Us Weekly. "If she'll take me, I'm all for it." Even though a proposal seemed inevitable, only a few months after that statement, Chase and Emmy appeared to call it quits.
There was no official announcement, but similar to when Chase broke up with Brooke Noury, in May, he cleansed his page of any posts that involved Emmy. She followed suit and deleted any pics that included Chase. Unlike with that previous break-up, however, this time, the Chrisley clan did not rejoice after the split, as they continued to follow Emmy on Instagram as of May — perhaps with hopes that the pair would reconcile (per TV Shows Ace).
Since May, Emmy has kept her Instagram free of any photos that included Chase, and the only men that have made it onto her page have been family members. Chase has followed the same playbook, and the only women he has posted have been Chrisleys. Oh well!