Where Ariana Grande Stands With Her Father Today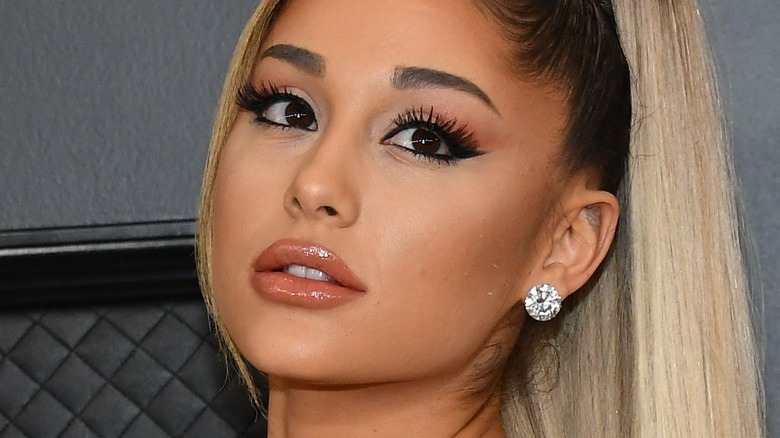 Amy Sussman/Getty Images
There is no handbook on how to raise a child, and each parent has their own unique experience. Parenting can come with a set of rewards and challenges as you navigate the way to raise your kid. As children grow, some become passionate about sports or maybe art, but things start to become a little more tricky when your child becomes the biggest pop sensation in the world. Celebrity parents and celebrity children have had their own unique set of issues, all while being in the spotlight. Celebrities can have a tumultuous relationship with their parents or be really close to them. Pop singer, Ariana Grande, meets somewhere in the middle.  
Over time, fans have realized just how important Ariana's family is to her. The singer's only sibling, Frankie Grande, has shown his continuous support to Ariana at award shows by dancing, singing, and even handing Ariana an award. Ariana's mom, Joan Grande, has been there for the singer throughout her entire career. Joan has gone on tour with Ariana, has been in her music videos, and has had dedicated posts from the singer. In one Instagram post, Ariana shared a photo of her and her mom with the caption, "the most brilliant, kindest, strongest, funniest and most generous human being i know. I'm so thankful to be your baby always." So, what about Ariana's dad, Edward Butera? Well, Ariana and her dad seem to have a complex relationship.
Ariana fell out of touch with her dad after her parents' divorce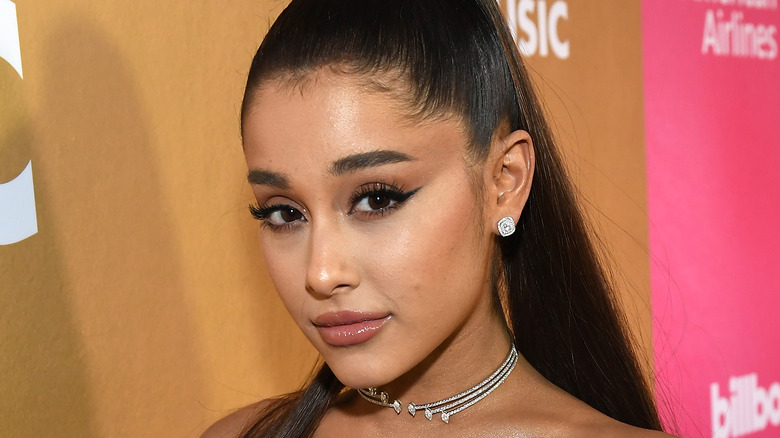 Kevin Mazur/Getty Images
As a celebrity, Ariana Grande has never hidden the fact that her parents are divorced. Joan Grande and Edward Butera were married for 11 years before they decided to call it quits in 2003 (via The U.S. Sun) — meaning Ariana was either 9 or 10 years old when they split. From that point on, Ariana had maintained a close relationship with her mother and rarely spoke with her dad.
Grande has never revealed why her parents divorced, and that continues to remain private to this day. However, in 2014, the singer did speak about a brief separation from her father to Seventeen magazine. Grande shared, "Falling out of touch with my dad. It's private, but it happened last year. It took me so long to be okay with it," she continued, "The thing that got me there was embracing the fact that I made up of half my dad, and a lot of my traits come from him."
In a 2016 interview with KISS FM she continued to choose her mom over her dad as shown in a game. She explained her father lives in Florida whereas Joan is constantly supporting and with her. Just one year later things between Ariana and her father seemed to be on track for recovery after the singer shared a rare photo on Instagram of the two for Father's Day.
Ariana's back-and-forth relationship with her father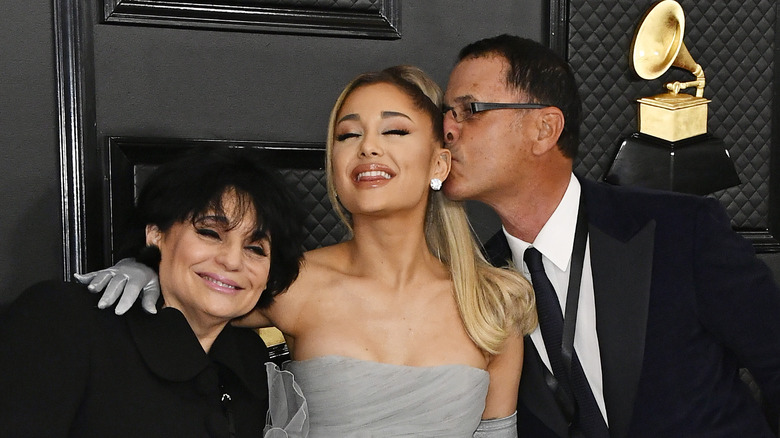 Frazer Harrison/Getty Images
Ariana Grande's relationship with her father has been rocky ever since her parents separated. To fans, it seems that some days she shows love and appreciation for her father and other days she wants nothing to do with him. With her sharing photos and love towards her father in 2017 it seemed to be like things were on the right track for Ariana and her father. 
However, in 2019, fans seemed shocked to learn that Ariana was still estranged from her father after the release of "thank u, next." The track featured lyrics dedicated to the singer's exes and even a slight dig at her dad. One lyric shared, "One day I'll walk down the aisle / Holding hands with my mama / I'll be thanking my dad / 'Cause she grew from the drama."
Since the release, the two seem to be working on their relationship and even made a rare appearance together at the 2020 Grammys. Ariana ended up changing the lyric in her performance for "thank u, next" to, "I'll be thanking my dad, cause he's really awesome." Just a couple months later both of Ariana's parents showed up for her Thanksgiving dinner, which the singer said she has not had in 18 years (via E! News). And when Ariana got married in 2021, despite what the lyric may have said, both Edward Butera and Joan Grande were there supporting and walking their daughter down the aisle, per Vogue.