Tom Cruise And Dakota Fanning's Close Relationship Explained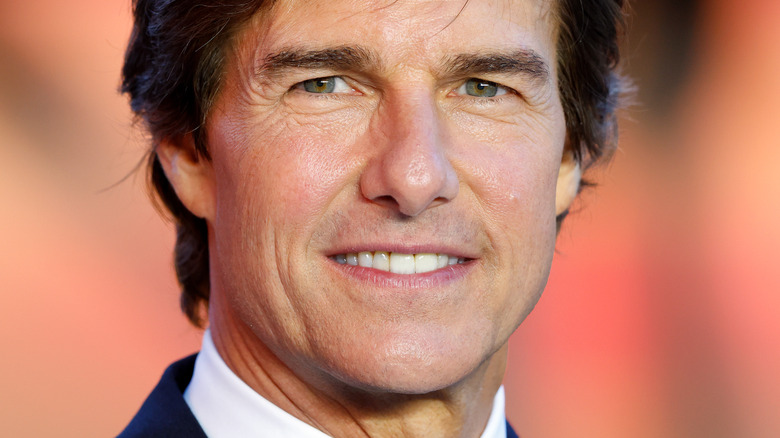 Max Mumby/indigo/Getty Images
Many celebrities in the entertainment industry form friendships with other A-List stars. Some of those friendships last like Tina Fey and Amy Poehler, and some fall out like Kylie Jenner and Jordyn Woods. Close bonds may be formed between Hollywood stars because no one truly understands what it is like to be famous like another famous person. And for actors, specifically, they're busy filming on set with their co-stars all day and all night. The amount of time and press co-stars have to do has them uncovering things they may not have known about one another had they not worked together.  
Tom Cruise, being a hot commodity in the acting world, has worked in some of the most iconic films alongside other outstanding actors. Many of which he has formed a close relationship with, but there is one in particular that stands out from the rest. Cruise, who reprised his role as Lt. Pete "Maverick" Mitchell in "Top Gun: Maverick," found his "Goose" years ago, and it may not be who you think. It was during his time in the 2005 film "War of the Worlds" that the actor formed a bond with the young actor, Dakota Fanning. Their friendship has seemed to endure the test of time as they have remained friends to this very day. 
Dakota and Tom formed a wholesome bond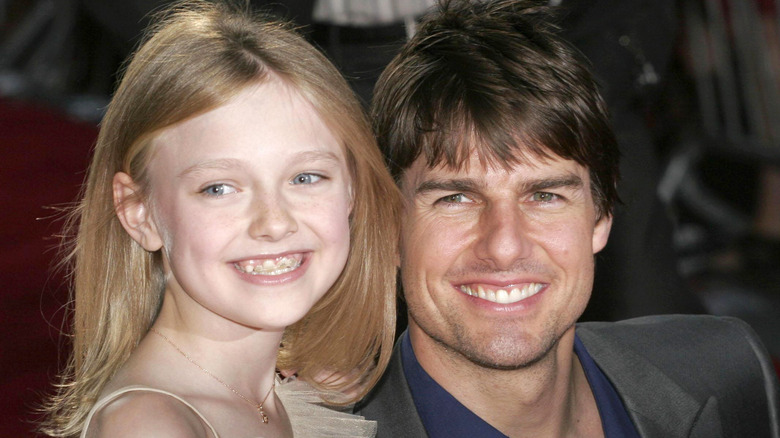 Everett Collection/Shutterstock
At 10 years old, Dakota Fanning formed an unlikely bond on the set of "War of the Worlds". Tom Cruise, who was 42 years old at the time of the film, played her on-screen dad, and it looks like the two really took the father-daughter bond to heart.
In 2005, Cruise went on "The Oprah Winfrey Show," but was surprised by a video message from his former co-star. A young Fanning was explaining her excitement building up to meeting Tom Cruise. She recalled the moment first met him and recognized that it would be a "great experience with a very special person." In the video, Dakota shared, "I just want to let you know that your Goose is behaving like a true lady. You'd be real proud of her" (via The Things).
Cruise reciprocated the mutual feeling toward Fanning. Once the clip was finished Cruise had nothing but nice things to say about his then-10-year-old co-star. "She's incredibly bright," Cruise told Oprah, adding, "You know what, I told her, 'You're a great actress, and so I'm here if you need anything." Cruise kept the promise as he continues to support and maintain his friendship with Fanning.
Dakota gets birthday gifts from Tom every year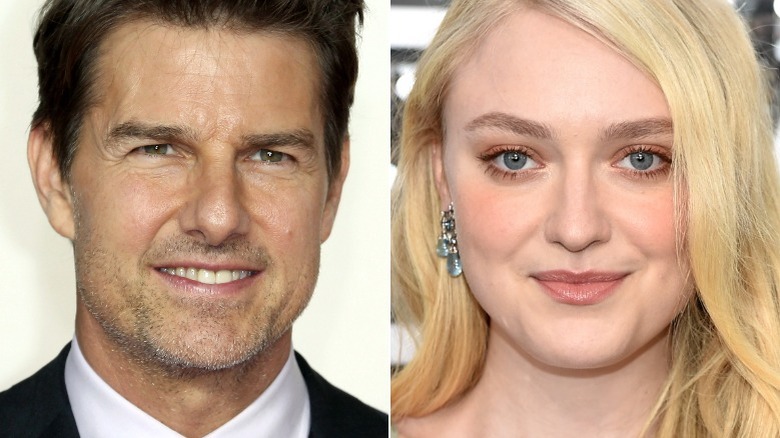 Fred Duval/Shutterstock & John Shearer/Getty Images
Celebrity friendships can fade away over time of not seeing each other, but the opposite could be said about Dakota Fanning and Tom Cruise. The two have maintained a friendship since the 2005 release of "War of the Worlds." This has been the only film the two have starred in together, yet that doesn't stop Cruise from forgetting Fanning's birthday.
The actor was being interviewed on a segment for the talk show "Watch What Happens Live with Andy Cohen" where she had to share details about former co-stars. Fanning revealed that her former "War of the Worlds" co-star still gets her birthday gifts every single year. When asked by Cohen what Cruise gifts the star Fanning responded, "It's usually shoes." Cruise seems to continue the tradition despite doubts from Fanning that he would stop on her 18th birthday.
To this day, Cruise has fond memories of Fanning and her family. While doing press for "Top Gun: Maverick," he noticed Fanning's younger sister, Elle Fanning, who has also delved into the acting world. Amidst his speech, he spoke about her being there. Cruise shared, "I've seen Elle Fanning here, who I've known since she was a little girl. You are a very talented actress, and it's wonderful to see you here, and see your sister" (via Entertainment Weekly). Still, after years, Cruise and Fanning have maintained this unlikely friendship that has now spanned over nearly two decades. For this duo there seems to be no end in sight.