What Zendaya's Relationship With Storm Reid Is Really Like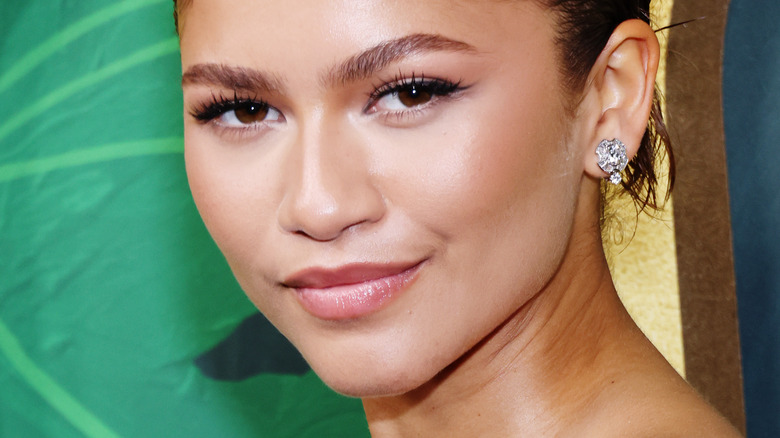 David Livingston/Getty Images
There's nothing like a sister-to-sister relationship, even if it was created on set. Fans have seen many actors' bonds with castmates transcend off the screen. Like Jennifer Aniston and Courtney Cox, Zendaya and Storm Reid have created a friendship from a famous TV set. The long hours on HBO's hit TV show "Euphoria" have made both actors form a real-life sister bond.
But long before they starred in one of the biggest shows, the two unexpectedly met at a Ben & Jerry's (via Vanity Fair). Reid had just moved to Los Angeles to further her career and got some serious inspiration when she met one of her role models. The actor "literally froze" when she spotted Zendaya in the ice cream shop. The two actors later not only crossed paths, but ended up starring alongside one another. Talk about fate! In "Euphoria", Reid plays Zendaya's on-screen sister, Gia. Gia shows constant love and support to her sister Rue and it looks like the support seems to continue off-screen.
In April 2021 Reid gave a shout-out to Zendaya at the Essence Black Women in Hollywood Awards. Reid got emotional as she told Zendaya, "Thank you for the constant — like I say all the time — inspiration" (via E! News). The actor teared up before continuing, "There's lots of people that came into my life when "Wrinkle [in Time]" came out. And they were like, 'Oh yeah, I'm here to support you.' But you were one of those people that stuck to that. So for that, thank you."
Zendaya hoped she would work with Storm Reid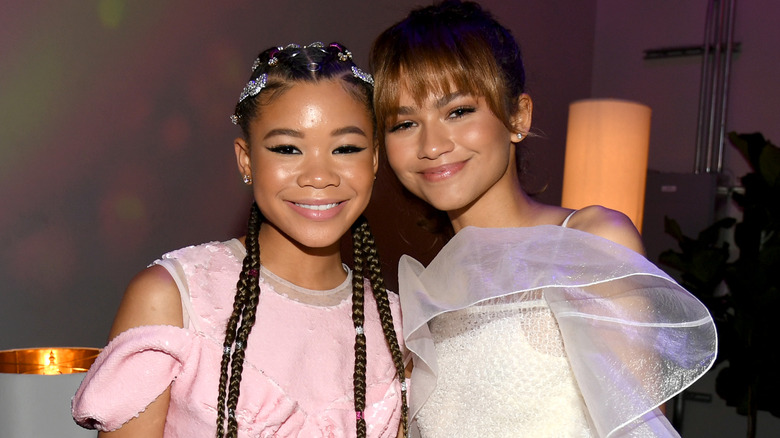 Kevin Winter/Getty Images
Lots of actors have dreamt about working with other outstanding actors. Admiring their work from afar, many want to work alongside their dream actors to get some tips and maybe even some inspiration.
For Zendaya, her dream became a reality when Storm Reid was cast as her little sister on "Euphoria." In an interview with Buzzfeed U.K., they asked the actor who she would want to play her if they should make a movie about her. Zendaya's response was none other than her on-screen sister, Reid. Zendaya explained how she had somewhat gotten her "dream casting" with Reid as her sister. She shared, " ... I've always been told, 'Oh my gosh she looks just like Zendaya!' So when a role for my little sister came around I was like, 'Storm! We have to work together!'" Zendaya has truly seen Reid as a "baby sister" and has continuously supported the actor during her career.
Although Zendaya is a big star herself, she has admired the work Reid had done on the hit TV show, "Euphoria." When she was interviewed by Collider, Zendaya gushed about her co-star. She shared, "Baby Storm [Reid] is so good. She's so talented. It's crazy. She can go there, at the drop of a hat. I can't do that. It takes me a second to be on camera." Zendaya's appreciation for Reid has continued throughout the years as the two have worked closely together on set.
Storm Reid celebrated Zendaya's Emmy win like fans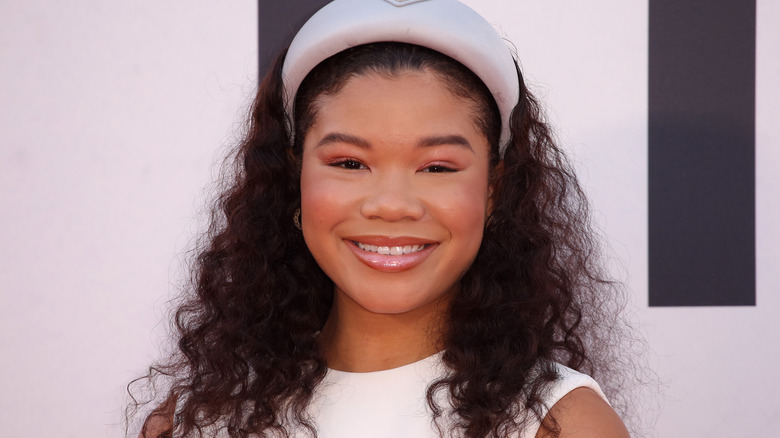 Lia Toby/Getty Images
There's nothing like the feeling of support when it comes to celebrating your successes. Whether it's a job promotion, getting engaged, or in Zendaya's case, winning an Emmy. Storm Reid showed love to her on-screen sister when she won her first Emmy. At the 2020 Emmys, Zendaya was nominated for Outstanding Lead Actress in a Drama Series category. The actor earned the nom for her role in "Euphoria" as Rue, and her on-screen sister celebrated just like the rest of us.
Reid, like the rest of the world, was watching in the comfort of her home and filmed her reaction, which she posted to Instagram. The actor could be seen jumping and screaming as they announced Zendaya as the winner, and she continued to watch in adoration. At the end of the video, Storm looked at the camera and shouted to her co-star, "I love you!" 
And though Zendaya is just a couple of years older than Reid, the "Spider-Man" star been someone the young actor could turn to. On Access Hollywood, Reid revealed that Zendaya is only "a call or text away." She shared how she's been able to get advice from Zendaya regardless if it's "business, growing up in Hollywood, or just being a young 17-year-old Black girl growing up in the world." The bond that formed between the two actors on a TV show has proven to be something real and withstands time.