What Drew Barrymore Had To Say About Lucy Liu's Feud With Bill Murray
a katz/Shutterstock
Lucy Liu's feud with Bill Murray during the filming of "Charlie's Angels" was one of the biggest to go down in Hollywood. Following production, rumors started flying about bad blood between Liu and Murray while on-set. As reported by ET Canada, production assistant Shaun O'Banion confirmed those rumors and gave an account of what happened on Twitter. O'Banion explained that Murray had rewritten some scenes from the script, which angered the director, as well as Liu. Murray then insulted Liu and the two started hurling insults at each other.
Almost a decade after "Charlie's Angels," Liu told her side of the story on the "Asian Enough" podcast. Liu explained that the cast had to rework a scene and shared, "As we're doing the scene, Bill starts to sort of hurl insults, and I won't get into the specifics, but it kept going on and on. I was, like, 'Wow, he seems like he's looking straight at me.'" Liu described Murray's language as "inexcusable and unacceptable," and stood up for herself. "I don't regret it," she said of the incident. Following the podcast, one of Liu's "Charlie's Angels" co-stars weighed in on the drama with Murray.
Drew Barrymore had Lucy Liu's back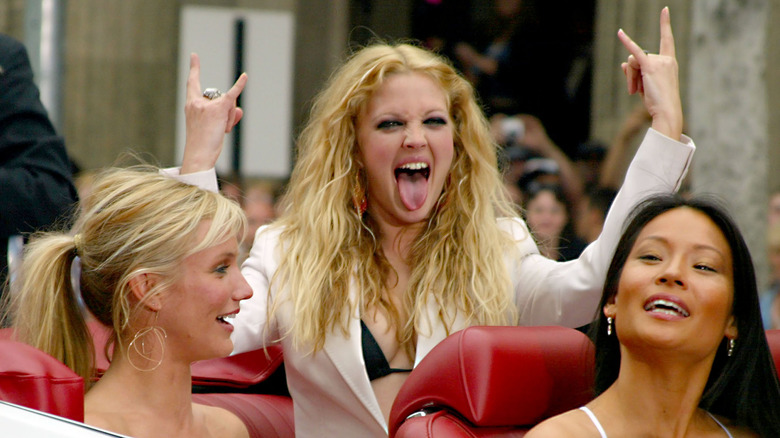 DFree/Shutterstock
Drew Barrymore opened up about Lucy Liu's feud with Bill Murray during an October 2021 episode of "The Drew Barrymore Show." She explained that following Liu's public take on what went down on the "Charlie's Angels" set, she sent her co-star a video that fully supported her but Liu had said, "Nah, I don't need it." Barrymore went on to explain that Murray was already in a "bad mood" when he lashed out at Liu. "[What] you have to know is how much Lucy stood up for herself and that was the great thing that came out of an unfortunate circumstance. She literally said, 'I do not accept that kind of behavior from you.' And we all supported her and backed her up and we moved forward," Barrymore stated.
Murray previously gave his take on his feud with Liu during a 2009 interview. "Look, I will dismiss you completely if you are unprofessional and working with me .... When our relationship is professional, and you're not getting that done, forget it," he told TLS (via Entertainment Weekly). Since their spat, Liu has claimed that she and Murray are cordial, but the "Groundhog Day" actor was notably absent from the "Charlie's Angels" sequel.
Bill Murray was replaced in Charlies Angels: Full Throttle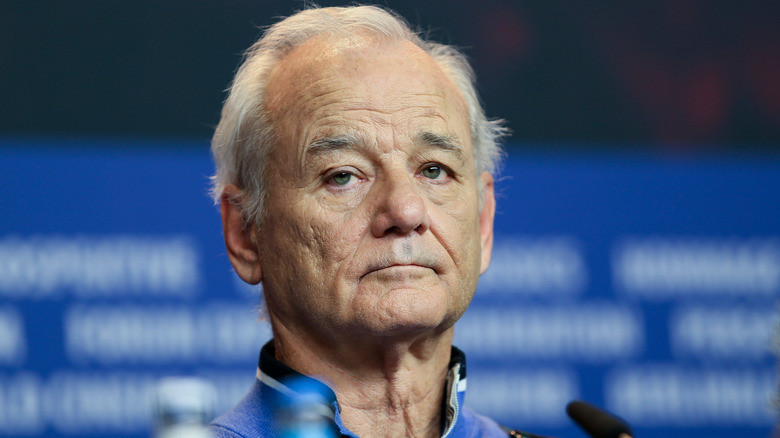 Denis Makarenko/Shutterstock
"Charlie's Angels: Full Throttle" had a completely different "Bosley" for the 2003 sequel, with Bernie Mac replacing Bill Murray as the Angels' handler. Apparently, Lucy Liu wasn't the only one on-set with whom Murray clashed. "Charlie's Angels" director McG told The Guardian that Murray had head-butted him. "An inch later and my nose would have been obliterated," he stated.
Murray refuted McG's claims in an interview with TLS. "That's bull***t! That's complete crap! I don't know why he made that story up. He has a very active imagination ... No! He deserves to die! He should be pierced with a lance, not head-butted," he cried (via Entertainment Weekly).
"Charlie's Angels: Full Throttle" received dismal reviews, and the franchise ended with the second film. Hollywood tried to revive the franchise with a 2019 reboot, which was also a box office flop, per Variety. Despite the negative reviews, Drew Barrymore's open to shooting a third "Charlie's Angels" film. "I would do it in a heartbeat. The answer is an emphatic yes. I will always say yes," she stated on her podcast, "Drew's News" (via People). Barrymore seems hopeful about the future of "Charlie's Angels." Perhaps third time's the charm!