The Unlikely Celebrity Who Supported Meghan Markle And Prince Harry Leaving The Royal Family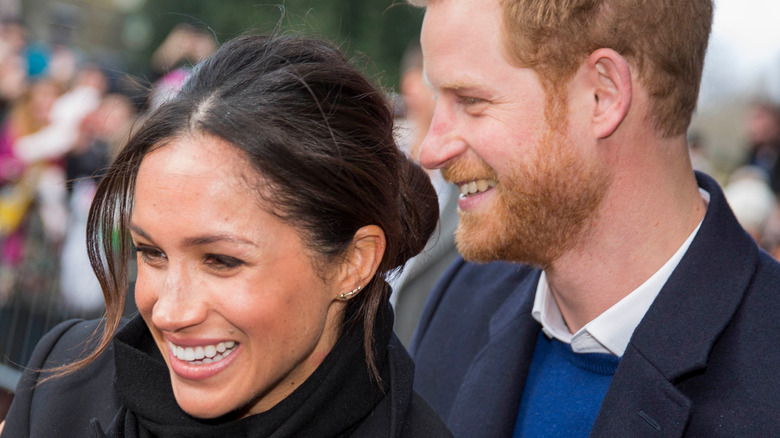 ComposedPix/Shutterstock
Since Meghan Markle and Prince Harry stepped down as working members of the royal family, many have been divided by their decision. In January 2020, the couple made a joint announcement on the @sussexroyal Instagram account. "After many months of reflection... We intend to step back as 'senior' members of the Royal family and work to become financially independent, while continuing to fully support Her Majesty The Queen," they stated. The following month, Prince Harry explained the reason for stepping down in an interview with James Corden. "It was a really difficult environment, as I think a lot of people saw. We all know what the British press can be like, and it was destroying my mental health," Prince Harry shared. He called his situation "toxic" and acted as a husband and father, first and foremost.
Meghan echoed Prince Harry's sentiment, telling The Cut the negative press surrounding her was affecting her health and her relationship with the royal family. The married couple made an appeal to leave the United Kingdom but Meghan shared "that, for whatever reason, is not something we were allowed to do, even though several other members of the family do that exact thing."
The public had very polarizing views on Meghan and Prince Harry's decision to leave their royal life. One critic thought Meghan and Harry were deluding themselves by thinking they could lead a normal lifestyle. However, many supported their decision, including one outspoken celebrity.
Nicki Minaj applauded Prince Harry for sticking by his wife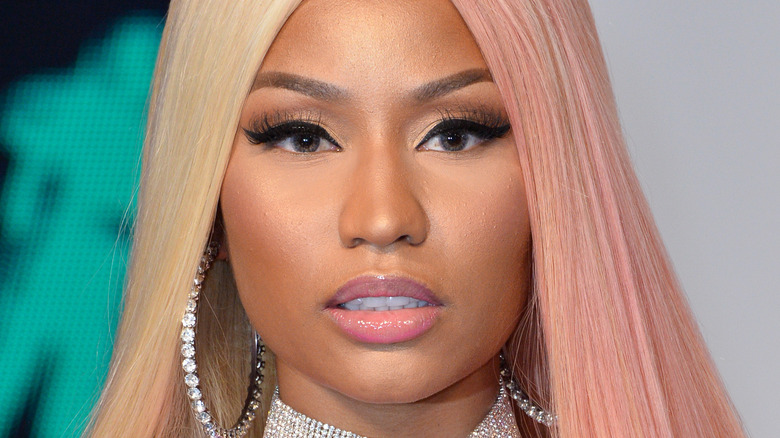 Featureflash Photo Agency/Shutterstock
Following the news of Prince Harry and Meghan Markle stepping down from the royal family, Nicki Minaj gave her two cents on the highly publicized matter. "[Who] thinks it's cool that Meghan Markle left the U.K. with her husband? Can I just say what I think about that real quick?" Minaj asked during her podcast, "Queen Radio" (via People). "Kudos to Harry, because let me tell you something, this is what I love about my husband. Real men always say, 'A happy wife, a happy life,'" she declared.
Minaj went on to reflect on how Princess Diana died while trying to escape the paparazzi. "If you're being bullied in the media and get sick of this ish and all you wanted to was to marry the man you loved, then by God yes, he should support you and get the f*** up out of here," she stated.
Many have found Meghan's life eerily similar to Princess Diana's. Like the late princess, Meghan found herself under the microscope of the press, per Insider. As Princess Diana once shared, "The most daunting aspect was the media attention ... I seemed to be on the front of a newspaper every single day, which is an isolating experience." The outlet also noted how both Meghan and Diana spoke out about the pressures of being a royal and suffered from depression as a result. Fortunately, unlike Princess Diana, Meghan has people who've publicly lent their support.
These celebrities also support Meghan Markle and Prince Harry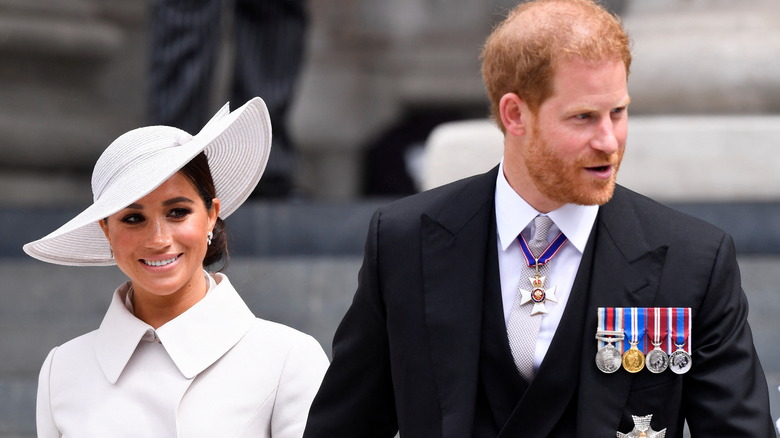 Wpa Pool/Getty Images
Meghan Markle and Prince Harry might not have received support from the royal family, but they had plenty of other people in their corner. Serena Williams wrote in a lengthy tweet, "Meghan Markle, my selfless friend ... I know first hand the sexism and racism institutions and the media use to vilify women and people of color to minimize us, to break us down and demonize us." Williams went on to acknowledge Meghan's mental health and hoped for her friend and daughter to "live in a society that is driven by respect." Vice President Kamala Harris' niece, Meena Harris, also referenced Meghan admitting she was depressed, tweeting, "She was suicidal and begged for help."
Chrissy Teigen also lent her support to Meghan, tweeting, "this meghan markle s*** is hitting too close to home for me. these people won't stop until she miscarries. f***ing stop it." Sadly, Meghan did indeed have a miscarriage in July 2020, which she publicly addressed in The New York Times. Teigen, who lost her third baby at 20 weeks old, shared how she and Meghan bonded over their losses, per "Watch What Happens Live." "She had written me about baby Jack," Teigen shared. "[But] yeah she really is wonderful and so kind — just as kind as everyone says she is." Since their marriage in 2018, Meghan and Prince Harry's road has not been easy, but at least they have many friends on their side.