Inside Barbra Streisand's Mysterious History With Joan Rivers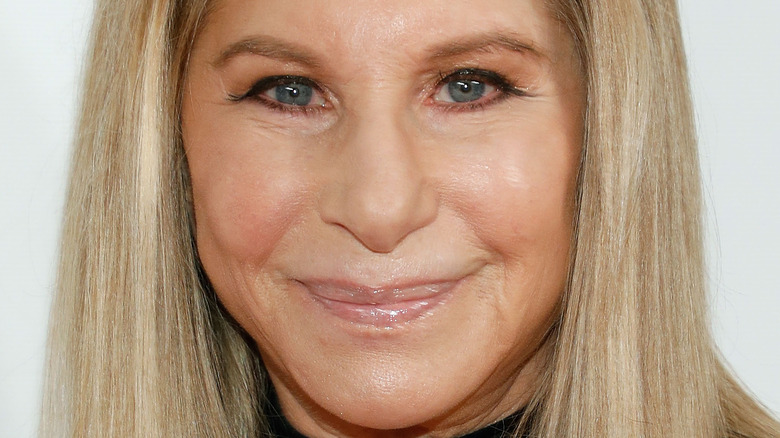 Taylor Hill/Getty Images
Barbra Streisand and Joan Rivers are two of the most recognizable performers of the 20th century and its gay revolution. Streisand has received recognition as one of the greatest gay icons of her time, partly due to her prominent association with Broadway and the musical show business. Rivers, in turn, was famously featured as a special "pink-carpet" presenter at the Sydney Gay and Lesbian Mardi Gras parade in 2009. After she died in 2014, the comedian was honored by the Gay Men's Chorus of New York City, her hometown, who sang show tunes at her private memorial service. 
While both women are celebrated entertainment figures in their own right, many may not associate the two performers together. It's not hard to see why: Streisand is a lauded singer and actress, while Rivers is known for her satirical humor as host of "Fashion Police." However, it turns out that one of them wanted fans to believe the two started as a lesbian couple — at least on stage. 
Barbra Streisand and Joan Rivers worked together before fame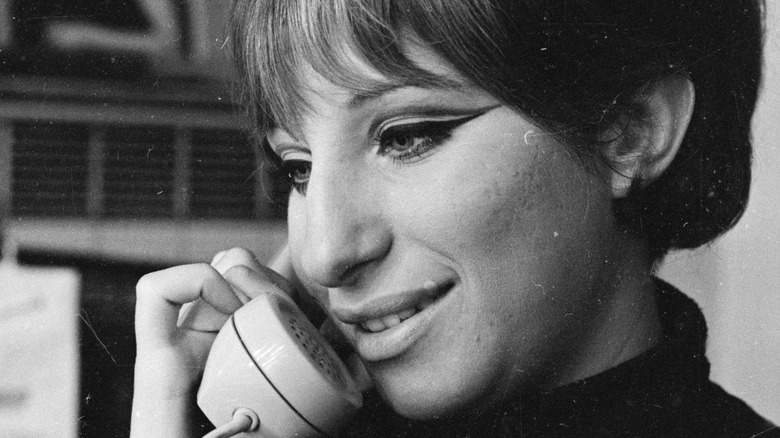 Harry Benson/Getty Images
Even most diehard fans of Joan Rivers and Barbra Streisand may not be aware that the two New York City natives appeared together in a play before either found fame.
In 1959, when Streisand was 16 and Rivers was 25, the two soon-to-be Hollywood stalwarts starred in "Driftwood," a small off-Broadway play written by Maurice Tei Dunn and directed by a 17-year-old named Jim McDowall, per Barbra Archives. The play, set in the '20s, was about a young runaway trying to escape her millionaire boyfriend. Rivers filled the role of Miss Blake, a property owner who tries to kill the young runaway, and Streisand played Lorna, a young woman in a secret tryst with Gregg, the male lead. Although it may have been the starting point of both Rivers and Stresand's careers, the two never actually shared a scene. 
Per AdWeek, the play was so small it was never reviewed and was performed in the attic of Dunn's apartment (production shut down after six weeks because he was afraid that the smoke from the audience's cigarettes might burn the house down). Although some fans might see this as much ado about nothing, Rivers went on to make the play out to be a much bigger deal than it actually was. 
Joan Rivers' recollection of Driftwood was embellished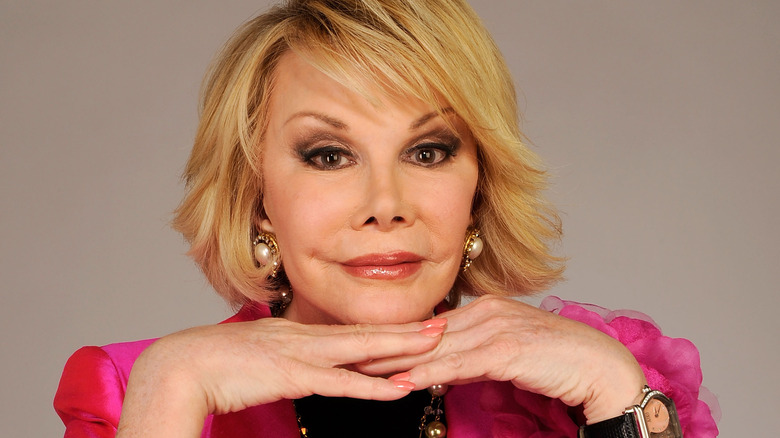 Larry Busacca/Getty Images
In the years after she found fame, Joan Rivers recalled "Driftwood" as significantly different than it really was. Namely, she would embellish and fabricate the content of the play, including her claims that the production was about lesbians and she and Barbra Streisand played lovers who shared a kiss on stage. At one point, per The Guardian, she recalled: "[We had] a big love scene in which I told Barbra I loved her very much, and she rejected me." In a 2008 interview with the Post Gazette, the comedian alluded to a kiss between the two, "Let me tell you, Barbra is a great kisser, but no tongue."
In James Spada's 1995 biography, "Streisand: Her Life," he reveals that not only was there no hint of lesbianism in the play, but Streisand and Rivers never even shared a scene. "I can't imagine where Joan got that," playwright Maurice Tei Dunn told Rivers' biographer about Rivers' fabrications, especially regarding the made-up sapphic scenes (via Barbara Archives). "In those days, it would have been suicide in the theater."
Although they never actually portrayed lesbians, the comedian's story made an impact, and the myth behind "Driftwood's" production may be why the two ladies continue to be seen in such high regard in the LGBT community today.