What Tommy Lee's Time In Prison Was Really Like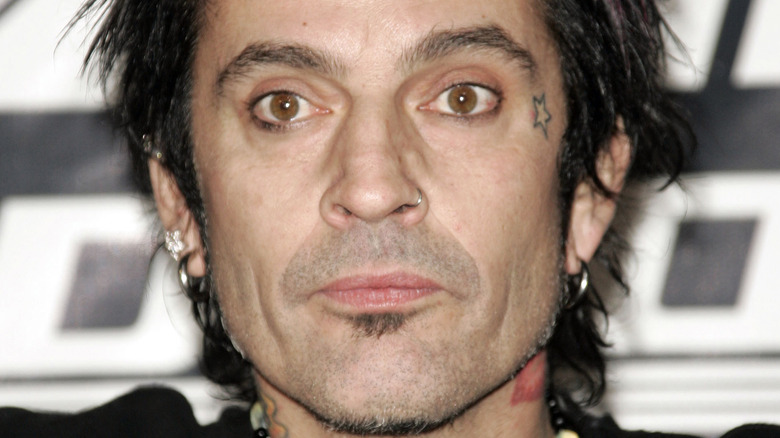 Jean Baptiste Lacroix/Getty Images
Tommy Lee might best be known as the hard-hitting drummer of the heavy metal band Mötley Crüe, but his tumultuous relationship with Playboy model Pamela Anderson dominated headlines during the late '90s and ultimately landed the rocker behind bars.
According to Us Weekly, the pair first met in December 1994, and after six weeks, they suddenly decided to get married during a vacation in Mexico. "We gave blood, sniffed out a marriage license, and were on the beach getting married before the day was over," Lee wrote in his 2002 autobiography "The Dirt: Confessions of the World's Most Notorious Rock Band" (via Insider). "Instead of wedding bands, we went for something more permanent: Tattoos of each other's names around our fingers."
It didn't take long for the couple's torrid relationship to sour. According to AP, three years into Anderson and Lee's marriage, police were summoned to the couple's home after the model insisted her husband had physically assaulted her. When the cops arrived, the "Baywatch" star had visible bruises and even suffered a broken fingernail. "People are saying that I had beaten Pamela, that is not true," Lee later said during an interview with Fox. "Grabbing a woman and shaking a woman is not cool either, but that's what was done." As a result of what happened, the rockstar was arrested and charged with felony spousal abuse. Here's what we know about his time in prison.
Tommy Lee was sentenced to six months in prison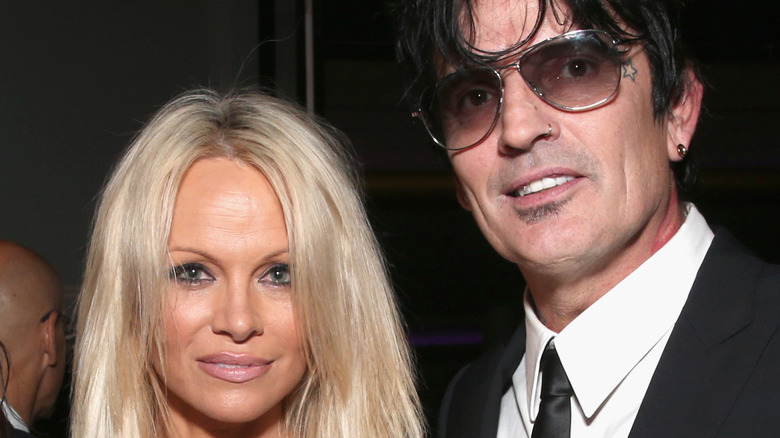 Todd Williamson/Getty Images
According to MTV, Tommy Lee received a six-month sentence in prison, 200 hours of community service, and three years of probation. Additionally, the rocker was not permitted to be within 100 yards of Pamela Anderson. The musician was also required to cough up $5,000 for a domestic violence charity. The outlet reported that Lee served his sentence as an inmate at the Los Angeles County Jail. 
Ultimately, this isn't the outcome that either Lee or Anderson had desired. According to AP, the former "Baywatch" star had made a plea through her lawyer asking that Lee not receive jail time. Instead, the actor asked that her estranged husband receive counseling and probation. Regardless, the drummer ended up behind bars, but he did have some positive things to say about his experience.
Although he served a short bid, Lee says his six-month prison sentence wasn't all bad. "I loved prison," he told ContactMusic (via Ultimate Guitar). "Just total peace and quiet. I was, like, 'F***, this is nice." And while that's how Lee felt at one point, he later spoke about his darker days behind bars.
Tommy Lee frequently cried behind bars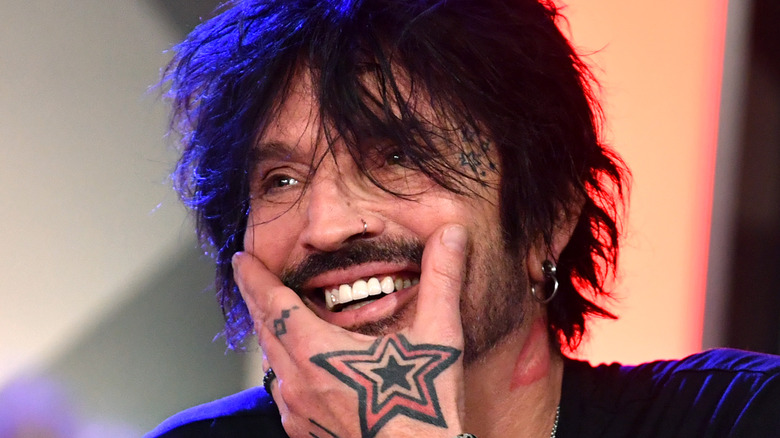 Emma Mcintyre/Getty Images
In his 2005 autobiography, "TommyLand," Tommy Lee shared a few tough moments he faced behind bars, recounting the difficulty he had coming to terms with being in jail. "I can't tell you how much I looked forward to Thursday. But some Thursdays I passed on my cage time because I couldn't handle it," he wrote of his yard time. "I cried every time I was up there, thinking about everywhere else I wanted to be," Lee recalled, explaining that some weeks, he exchanged his time outside for a book with the hope of shifting his perspective to a more positive light. "Those weeks, Buddhism helped me more than going outside and dreaming about being free," he added. 
Lee also wrote that he cherished the moments his friends and family would come to see him and how it put him in a better headspace. "I don't think I can ever thank them enough for sacrificing the time it took them to visit," Lee wrote in his autobiography. "Seeing those friends was a lifeline, but it wasn't easy on me, and I could tell it wasn't easy on them." 
Despite his crazy past, these days, the drummer appears to have a calmer life with his wife, Brittany Furlan, with whom he has been married since February 2019, per People.