How Long Were Pamela Anderson And Tommy Lee Married?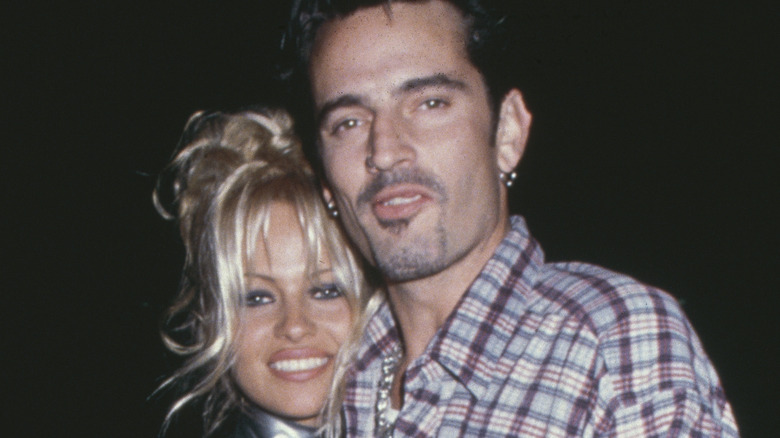 Michael Ochs Archives/Getty Images
In 1994, Pamela Anderson and Tommy Lee met in Hollywood's Sanctuary Club, per Biography. The attraction between the "Baywatch" babe and the dirty rocker boy was immediate, instantaneous, and undeniable. "He came up, grabbed me, and licked my face," she said to Movieline (via the New York Post) in 1995. "I thought he was a cool, friendly, nice guy. I gave him my number."
They played a classic case of phone tag until their next meetup a few weeks later, when Anderson jetted off to Mexico for a photoshoot. Lee followed her there, and according to E! News, they were married less than 96 hours after their second date in 1995. 
Fans knew that this was going to result in either the greatest love story of all time or the messiest implosion in modern memory. So, after that fateful wedding, how long did Pam Anderson and Tommy Lee stay married? The answer may shock you.
Pam Anderson and Tommy Lee officially divorced in 1998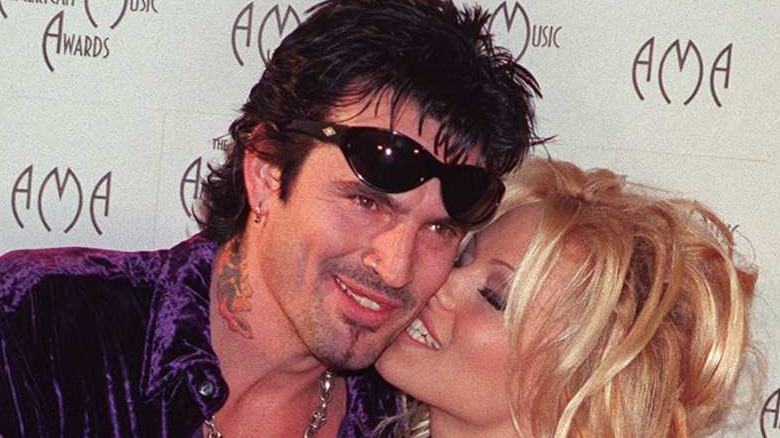 Denny Keeler/Getty Images
It's hard to believe, but Pamela Anderson and Tommy Lee were only married for three years (from 1995 to 1998). The marriage produced two sons: Brandon Thomas and Dylan Jagger. But according to The Sydney Morning-Herald, Anderson and Lee's relationship took a turn for the worse when Lee allegedly kicked Anderson in the middle of a fight. Anderson was holding their then-infant son, Dylan, and when she called her parents to tell them to come over, Lee allegedly assaulted her. The alleged assault left her with red spots on her skin and torn fingernails, according to the Associated Press.
Lee ultimately pled no contest to the assault, and per the AP, he served six months in jail for felony spousal abuse. 
But that's nowhere near the end of the story. Read on to find out about the third, and final, chapter of this wild rock'n'roll saga — because Anderson and Lee aren't done with each other, yet. 
Pam Anderson and Tommy Lee reunited in 2008 — but in 2018, they were at odds again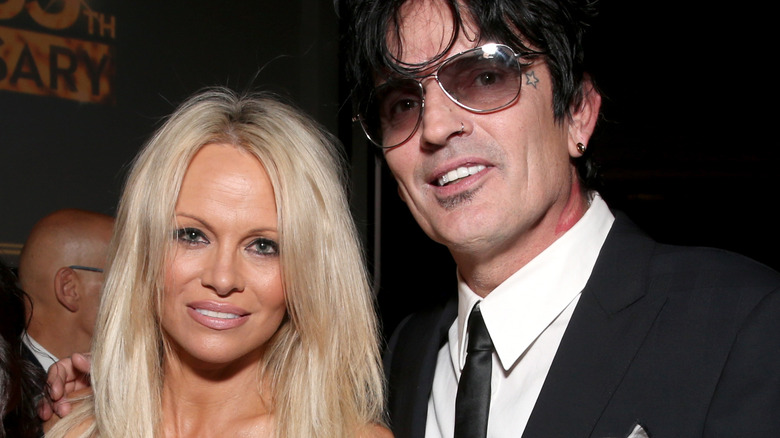 Todd Williamson/Getty Images
Pam Anderson and Tommy Lee got back together, briefly, in 2008. "We've only given it a try 800 times — 801, here we go," Lee told Rolling Stone at the time (via People). "Pamela and the kids have moved in with me. It's awesome. It's definitely working." But their reunion was short-lived. 
Then, a decade later in 2018, Brandon Thomas Lee — now a legal adult — reportedly got into a fight with his father and knocked him unconscious. That's when Anderson took to her blog to set the record straight about the alleged abuse and Lee's reported alcoholism. "It's terrible and unfortunately he has made this private matter very public," she wrote of Lee. "I have always tried only to set record straight. Trying to paint him as not a bad guy. Just one who is human and made mistakes. He still cannot handle the guilt about his abusive behavior and has never taken responsibility for what he has done. Let's hope this will be his saving grace."
Despite all this, Anderson still acknowledges Lee's role in her life. "There was Tommy, and then there was nobody else," she told People in 2015 (via Biography). "He was the love of my life... I had beautiful children with him. My kids are grateful to be born out of true love."
If you or anyone you know is struggling with addiction issues, help is available. Visit the Substance Abuse and Mental Health Services Administration website or contact SAMHSA's National Helpline at 1-800-662-HELP (4357).