A Timeline Of Pamela Anderson And Tommy Lee's Relationship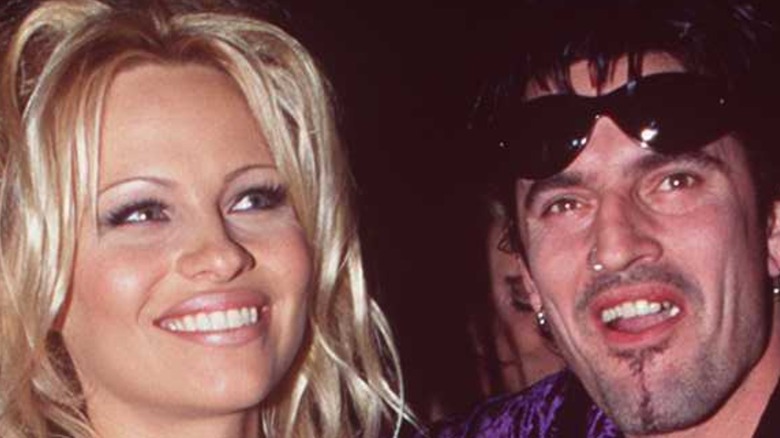 Ron Wolfson/Getty
Hulu is bringing a fictional version of Tommy Lee and Pamela Anderson's rocky back-and-forth relationship to the streaming service starring Sebastian Stan as Lee and Lily James as Pamela, per Deadline. The eight-episode limited series is set to focus on the couple's infamous sex tape, but the real-life Pamela and Tommy are not involved with the series.
The relationship between Anderson and Lee is certainly worthy of retelling in a dramatic fashion. The Mötley Crüe rocker met the Playboy playmate on New Year's Eve 1994. Their relationship didn't take off that night, per E! News, but six weeks later when they went on their first date. It must have been a great date, because 96 hours later, on February 19, 1995, they got married on a beach in Cancun in their swimsuits. Instead of wedding rings, the rock star and the "Baywatch" actor had each other's names tattooed on their ring fingers.
Not long after Anderson moved into Lee's Malibu house, the couple's former electrician stole a private, very intimate video the couple had made and started selling it on a variety of websites calling it "Pamela's Hard-Core Sex Movie," for $59.95 by mail. Lee and Anderson filed a $10 million lawsuit to stop anyone (but themselves) from making a profit off of the video, per Hollywood Life, leading to a legal battle as their marriage began to crumble.
Pamela Anderson filed for divorce in 1996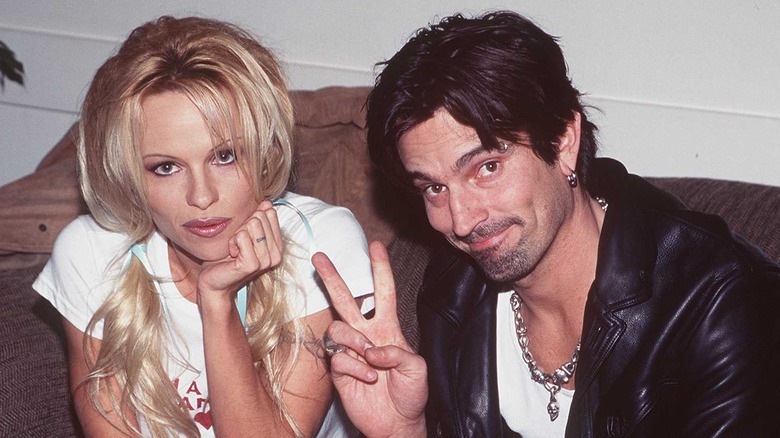 Ron Wolfson/Getty Images
In June 1996, the couple welcomed their first son Brandon, but by November, Pamela Anderson had filed for divorce, per E! News. They did reconcile, and the following year they welcomed their second son Dylan.
The year between 1997 and 1998 was marked with rumors of physical and verbal assault by Tommy Lee, which he wrote about in "The Dirt," the memoir he co-wrote with his Mötley Crüe bandmates, Mick Mars, Vince Neil, and Nikki Sixx, as well as the author Neil Strauss. Lee admitted to grabbing and kicking Anderson as well as calling her "a f***ing b**ch" in front of their young son. Over the years, the reports that the abuse Anderson suffered at the hands of Lee was much worse than anything the couple released to the public, per Distractify. They finally divorced in 1998.
As for that sex tape, Lee and Anderson won that original lawsuit and turned around and sold the rights to a company called Club Love, who then sold it to the infamous porn company Vivid Entertainment. The couple thought they'd agreed to a one-time webcast, not a blanketing of the internet with their sex tape. In 2002, Club Love was ordered to pay the now long-divorced couple $740,000 each. However, the company was out of business so Lee and Anderson ultimately never saw a dime of that.
If you or someone you know is dealing with domestic abuse, you can call the National Domestic Violence Hotline at 1−800−799−7233. You can also find more information, resources, and support at their website.