How Taylor Swift Convinced Laura Dern To Star In Her Music Video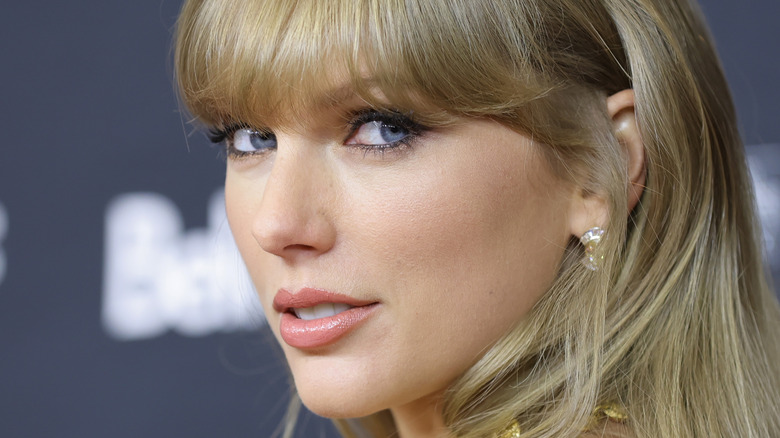 Amy Sussman/Getty Images
At the stroke of midnight on October 25, singer-songwriter Taylor Swift debuted the music video for "Bejeweled" and immediately sent her die-hard Easter egg lovin' Swifties into a frenzy.
"Midnight, what a storied and fabled hour," Swift began in a revelatory Instagram post just hours ahead of the release. "On this sparkling evening I'll be releasing my twist on a fairytale we all know. The one about the girl and her step sisters and the clock striking 12..." she explained. "This video is wild, whimsical and created SPECIFICALLY for you, my beloved fans who have paved this shimmering path" she gushed. But make no mistake — the video wasn't merely easter eggs, sparkling jewels, and glitter. This time Swift opted to bring in the big guns aka cameos from her longtime pals the HAIM sisters and A-list award-winning actor Laura Dern. But how exactly did Swift convince Dern to take on the role of the evil stepmother in her brand new music video that serves as Swift's own rendition of the classic "Cinderella" story? And did it take any arm-twisting? The answer just might surprise you. 
Taylor Swift asked Laura Dern to call her a 'tired, tacky wench'
Taylor Swift decided to shoot her shot... and scored big with "Big Little Lies" star Laura Dern. 
Mere minutes before the music video for "Bejeweled" was released, Swift opened up to "The Tonight Show" host Jimmy Fallon about her idea to incorporate cameos from her friends as well as big-time actors into the video. According to Swift, it was a no-brainer to cast her three friends, the HAIM sisters as the evil stepsisters but then she had another epiphany. "I was like, 'What if we really shoot for the stars with the other casting, with like... you know... Oscar winner Laura Dern playing my stepmother?" she recalled to Fallon. And fortunately, for Swift, the ask was relatively simple. The story goes that Swift matter-of-factly asked Dern who she reverently addressed as "Oscar winner Laura Dern" to participate in a script she wrote wherein Dern would have the opportunity to call her a "tired, tacky wench" and Dern quickly obliged. "She was like, 'I'm down," Swift declared proudly. 
And now it appears Dern has no regrets (or, ahem, would've, could've should've feelings) about her cameo. Shortly after the music video's debut, Dern took to her Instagram to thank Swift for including her. "Thank you to my director @taylorswift for inviting me to join her party and celebrate her triumph!!" she penned in the post along with three photos of the women on set. And the duo lived happily ever after. The end!