Kim Kardashian Is Getting Roasted Over Second Recreation Of One Music Icon's Look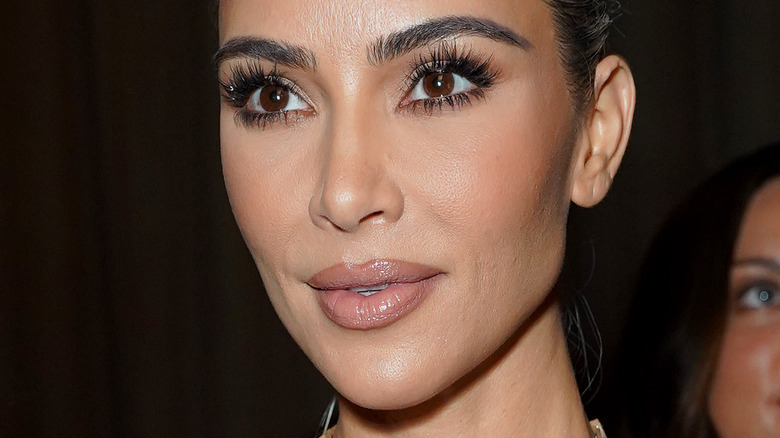 Sean Zanni/Getty Images
Kim Kardashian might be one of the biggest names in the reality television world, but she's also become a power player in the fashion sphere, too. Everyone's noticed that she gets to sit front-row at some of the biggest fashion shows in New York, Paris, and Milan, according to WWD. That, and there has been a lot of talk about the evolution of Kardashian's look over the years, too. Back in 2021, Kardashian said that even she was amazed by how much respect she's gotten from magazine editors and fashionistas, both near and far. After picking up an award for being a Fashion Icon at the People's Choice Awards, she said (via Fashion), "I started off as a closet organizer and a stylist, so the fact that I am winning a fashion icon award [is] like a pinch-me moment."
Well, Kardashian must still be pinching herself because she's certainly gotten a lot of attention for the different outfits she's worn over the years, including her historic Met Gala dress, which had Twitter on fire back in May. But she's also had some fails, too. Kardashian is getting roasted for a second recreation of this music icon's look, with many people telling her to "try again."
Kim Kardashian's Aaliyah look is a hard pass for some crtics
Kim Kardashian recently celebrated her birthday and, from what we can tell, it was her party and she did everything she wanted to do, from eating at In-N-Out, per Page Six, to dressing up as one of the most stylish music icons of the past, Aaliyah, according to The Sun. And while no one is going to fault Kardashian for wanting a burger and fries to celebrate her 42nd birthday, some of her critics couldn't help but send a side-eye her direction when she tried to replicate Aaliyah's "Try Again" music video look by wearing with a silver choker, bra, and belt. 
Of course, this isn't the first time Kardashian has recreated the singer's look, as she did so once before in 2017, which garnered accusations of cultural appropriation. After facing backlash for her Halloween costume that year, Kardashian spoke out on her now-defunct website, KimKardashianWest.com (via Elite Daily): "Aaliyah was such an amazing singer and she will forever be a music legend. I saw online that some people thought my costume was in poor taste and I am truly sorry if that offended anyone."
This time around, one naysayer tweeted, "It's a no for me Kimmy Cakes. She looks good, but the outfit on her looks awkward," while another said, "She doesn't have a look, that's why Kanye started dressing her and the whole family and got them in the door with fashion." But, as even Aaliyah sang in the lyrics of her song, sometimes you just have to dust yourself off and, indeed, try again.