How Joe Alwyn Wound Up Working With Taylor Swift On Folklore
Dia Dipasupil/Getty Images
Singer-songwriter Taylor Swift doesn't kiss and tell. Instead, the vocalist is known for peppering her songs with in-jokes, clues, and Easter eggs — many of which allude to Swift's relationships over the years. Because the "Lover" singer's fanbase encapsulates some of the most die-hards on the Internet, 'Swifties' have become adept at decoding these references. For example, it's widely known that "Back to December" is about Swift's short-lived romance with Taylor Lautner, while she infamously bashes her ex John Mayer in "Dear John."
Even as the unnamed subjects of these songs were disparaged by Swift's fans, the singer didn't spare much thought for them. "I haven't thought about their experience, to be honest," Swift said during a 2021 episode of "Late Night with Seth Meyers," when asked how her exes dealt with the lyrics of her songs.
While many of her past relationships were fraught, Swift has happily found love in her current long-term relationship with Joe Alwyn. For her, the key to this success is privacy. "I think that in knowing him and being in the relationship I am in now, I have definitely made decisions that have made my life feel more like a real life and less like just a storyline to be commented on in tabloids," she said in a 2020 Rolling Stone interview. The couple has also bonded over their shared interest in songwriting. For example, Alwyn partnered with Swift on the release of her 2020 album, "Folklore."
Joe Alwyn's input on Folklore and Evermore was circumstantial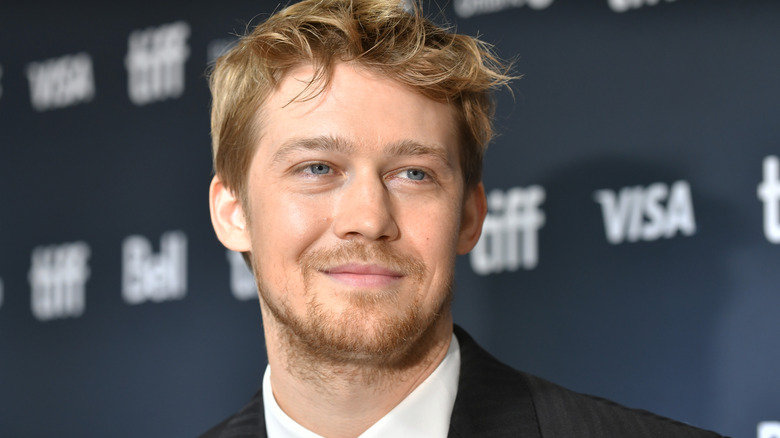 Rodin Eckenroth/Getty Images
Joe Alwyn co-wrote the "Folklore" songs "Exile" and "Betty," in addition to co-producing the tracks "My Tears Ricochet," "August," "This Is Me Trying," and "Illicit Affairs." He also co-wrote tracks on "Evermore," according to Refinery29. However, the British star — who took home a Grammy for his efforts — explained that his input on both albums was circumstantial. It started with him "messing around on a piano, and singing badly" before snowballing into a creative masterpiece. "It was completely off the cuff, an accident. [Taylor Swift] said, 'Can we try and sit down and get to the end together?' And so we did. It was as basic as some people made sourdough," Alwyn told Vulture.
Swift took fans inside the songwriting process with the Disney+ documentary "Folklore: The Long Pond Studio Sessions" (via People) by explaining that she'd heard her boyfriend singing to himself. "I heard Joe singing the entire fully formed chorus of 'Betty' ... and I just was like, 'Hello,'" Swift revealed. "I came in, and I was like, 'Hey, this could be really weird, and we could hate this [but] because we're in quarantine and there's nothing else going on, could we just try to see what it's like if we write this song together?'" The pop star explained to Apple Music's Zane Lowe. "It has changed everything about the way that I do what I do," she said regarding the impact the quarantine had on her songwriting.
Joe Alwyn wrote under a pseudonym to protect his privacy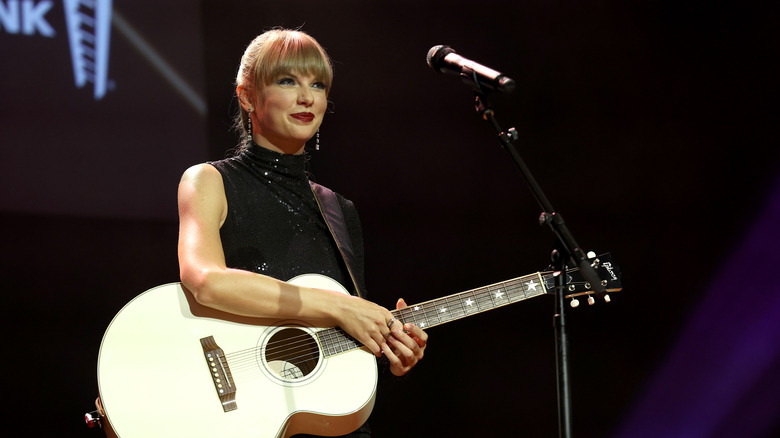 Terry Wyatt/Getty Images
It took fans a minute to realize that Joe Alwyn had contributed to Taylor Swift's "Folklore" and "Evermore" albums because he is credited under a different name. The actor told British GQ that he'd chosen the pseudonym William Bowery so as not to detract from Swift's work. Just as Swift pays attention to every lyric of her songs, Alwyn picked his pseudonym carefully. Dissecting the name, the "Conversation with Friends" star revealed on "The Kelly Clarkson Show" that it "was a combination of William, my great-grandfather ... a composer. He wrote a lot of classical music and wrote a lot of film scores." The last name pays tribute to the Bowery area of NYC, where Alwyn "spent a lot of time."
Alwyn's decision to go incognito on Swift's album underscores how much the couple values their privacy. For Swift — whose relationships have been tabloid fodder since her teenage years — privacy might be her only shot at a healthy romance. Alwyn is clearly on the same page as his girlfriend. "I think it's nice to draw a line ... and keep what's important and close to you private," he told Extra in May.