Rose McGowan Criticizes Time's Up Movement At 2018 Golden Globes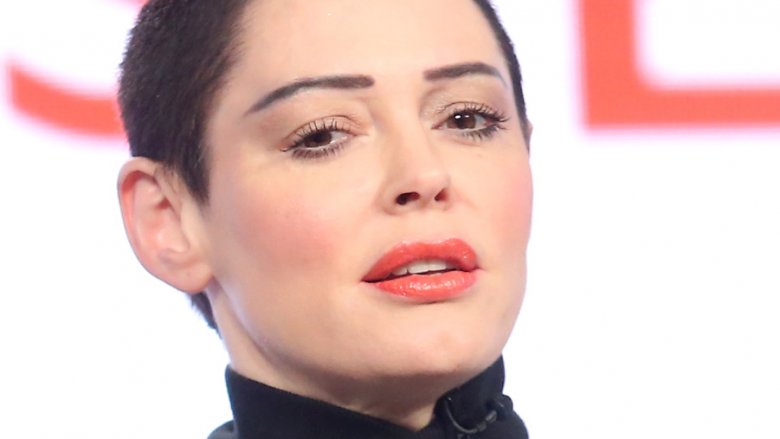 Getty Images
The Charmed star wasn't too happy with Hollywood's all-black style at the first big awards show of the year.
During the premiere of her documentary Citizen Rose on Tuesday, Jan. 30, 2018, Rose McGowan spoke out against the Time's Up movement — or, more specifically, its representation at the 2018 Golden Globes (via People). As Nicki Swift had previously reported, actors had donned black in support of the movement, which seeks to eliminate gender inequality and provide a fund to help women seek legal support.
But while some may have seen the deliberate fashion choice as a powerful protest, McGowan apparently believed that it was motivated by publicity. "Wearing all black to the Golden Globes just felt really stuntish to me, felt really craven," McGowan said in her new film. "I wanted to tell the truth about why the Golden Globes are there, what is means. The thing about the black dresses is, I'm sure a lot of these women are well meaning, but it's a PR machine stunt overall."
McGowan, who was one of the first women to accuse movie producer Harvey Weinstein of sexual assault, explained, "Because the people behind it are the agents that sent us women — not me, but others — into the lions' den to be eaten and consumed. It's not just dresses, it's a lie."
Rose further discussed the matter during an appearance on The View on Wednesday, Jan. 31. Noting that the "intentions are good," Rose said she "knows the people behind it," who, she said, "needed good PR."
She also called out Justin Timberlake, who wore a Time's Up pin to the Golden Globes, which he attended with wife Jessica Biel. "There's Justin Timberlake, hashtagging, 'My wife looks hot tonight #TimesUp,'" she said, adding, "'Hashtag, I just did a movie with Woody Allen.'" Rose, of course, is referring to Timberlake's 2018 film Wonder Wheel, directed by Woody Allen, who's long been accused of sexual assault.
"So, come on. It is fake. I wish it weren't. I wish everybody was good," Rose told the co-hosts of The View. "I wish it wasn't like... I'm sorry to puncture your heroes. But sometimes these heroes need to be better."