Below Deck Med: Inside Courtney Veale And Zee Dempers' Relationship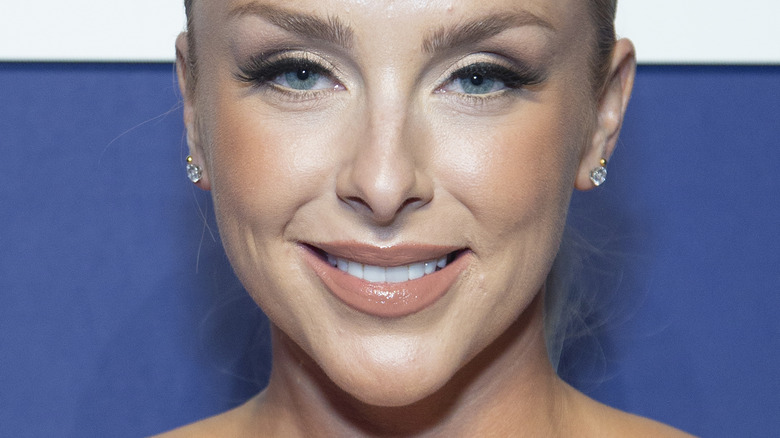 Santiago Felipe/Getty Images
Ever since it debuted on the network in 2016, "Below Deck Mediterranean" has become one of the most popular series on Bravo. The show revolves around a crew working on a luxury yacht chartered by different individuals each episode, and the drama that ensues. Throughout the show's seven seasons, viewers have gravitated towards certain crew members and their stories. Many have expressed overwhelming love and support for crew members Courtney Veale and Zee Dempers online during the past two seasons. One fan tweeted, "At this point everybody on the cast getting on my nerves except Zee and Courtney I think."
Some even believed there was something seriously romantic going on between the fan-favorites. In a 2021 episode of "Below Deck Med," Zee revealed, "As Courtney is growing on me, and I'm starting to, sort of, have more feelings, I'd like to give the best impression of myself." He continued, "If I take an interest in somebody, I'll surprise them with flowers."
The pair ended up sharing a kiss during Season 6, but Veale claimed she didn't remember it the next morning. It was unclear to viewers what exactly was going on between the crew members and it remained a mystery for quite some time.
Courtney Veale didn't know about Zee Dempers' crush
Courtney Veale and Zee Dempers first met during Season 6 of "Below Deck Mediterranean" and seemed to instantly hit it off. Although the pair clearly had chemistry, viewers were unsure if their connection was more than just a close friendship. During an interview with Decider in 2021, Veale briefly touched on the subject and said, "I thought Zee was great. I've been in sticky situations on boats before with boatmances and I didn't really want to get into that." She was seemingly unaware that Dempers had a crush on her until she watched the show back. "I didn't know about this crush that I've seen now, these clips that he's speaking about me and stuff. Obviously, it's really nice to see but yeah, I thought it was more of a joking thing for him as well."
Based on past experiences, Veale clearly didn't want to mix business with pleasure. And although the pair did kiss, Veale seemingly blamed it all on the alcohol. She told the outlet, "Literally, I had no recollection of it which was really bad."
Veale and Dempers appeared to maintain a strong friendship despite their complicated past, but viewers still perpetuated some heavy online drama over the situation. One fan tweeted, "I'm just not a Courtney fan. I hated how she treated Zee last season." And when Veale was ultimately picked as lead deck hand, it inevitably made things worse.
Courtney Veale insists she and Zee Dempers are just friends
Fans may have been rooting for "Below Deck Mediterranean" stars Courtney Veale and Zee Dempers to start dating, but it appears the crew members are just friends. During a recent appearance on Andy Cohen's "Watch What Happens Live," Veale was asked if she and Dempers shared a "romantic connection" during Season 7 of the show, to which she replied, "No, nothing." When the audience reacted with disappointment, she explained, "I know! But we're, like, best friends" (via The Daily Dish).
Cohen, however, was not giving up on pressing Veale about the situation. When insisting that everyone wants to see them date, the reality star replied, "Everyone wants us to get married and have babies, but at the moment, we're just best friends."
Viewers, however, recently chose sides when Veale was picked as lead deck hand over Dempers. One fan tweeted, "No way Courtney should have been chosen over Zee," while another said, "I love Courtney and thinks she's fantastic personally and with work ethic but it's Zee who should be lead deck hand without question." And although Veale has opened up about her friendship with Dempers on a few occasions, it's unclear if Dempers' crush for the reality star truly went away.