The Truth About Courtney Veale From Below Deck Med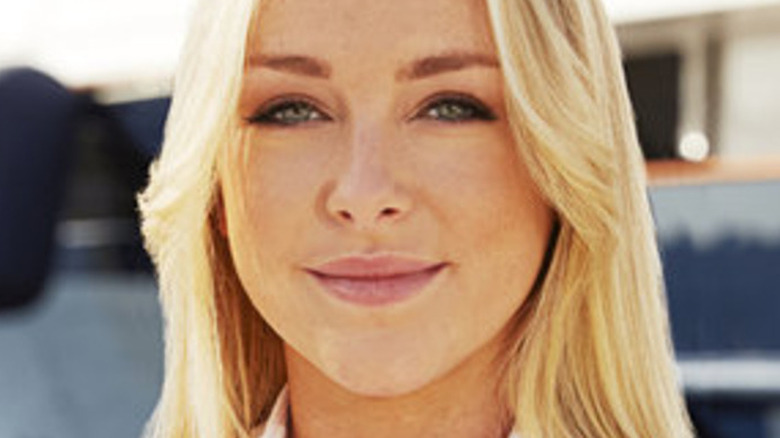 Lauren Basset/Bravo
"Below Deck Med" is back with a fresh crew, including three new stews after Hannah Ferrier's dramatic firing at the end of season five. Among them is Welsh third stew Courtney Veale — she's the one you can see teaching Captain Sandy how to twerk in the preview clip.
According to her official Bravo bio, Courtney began traveling the world right after finishing college, taking odd jobs everywhere from a ski resort to Disneyland Paris before getting into the yachting world. We took a deep dive into her Instagram, where Courtney has posted from all over her travels, including some from when she was working on other boats. So far, so legit!
However, we also found a couple of posts on her 'gram that are pretty problematic. Courtney clearly loves a good costume and isn't afraid to dress on theme, but we think she might need to explain herself when it comes to one of these outfits in particular.
Courtney Veale has a problematic Instagram post
Among Courtney Veale's many Instagram posts from her time working on other yachts before "Below Deck Med" is a group picture of herself and the crew celebrating American Thanksgiving in the British Virgin Islands, wearing Thanksgiving-themed costumes. Courtney is dressed as a turkey, and her mates are dressed as Native Americans, including feathered headdresses and face paint. In fact, she posted the photo twice, once in 2019, and again as a throwback in 2020. Yeah, not cool.
If we were giving her all kinds of slack, we know that having grown up in the U.K., Courtney may not be as familiar with the significance of Native American cultural appropriation as Americans are, or as aware of how offensive this is to Indigenous people. But seeing as she was supposedly celebrating Thanksgiving, we're having some trouble totally buying that. And even more troubling are the hashtags she included beneath the post, which included #redindians.
No matter how you frame it, that's definitely not okay.