Brooklyn Beckham And Nicola Peltz's Halloween Costumes Appear To Be Sly Nod To Family Drama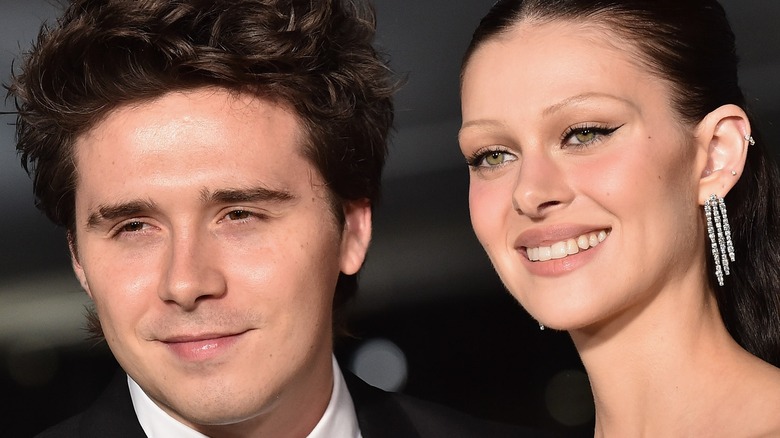 DFree/Shutterstock
Brooklyn Beckham married Nicola Peltz in April, and almost immediately the two became fodder in the press as familial drama was suspected. In a somewhat surprising move, the son of Victoria Beckham and David Beckham decided to combine his last name with his wife's and changed his name to Brooklyn Peltz Beckham following their nuptials. "Not many guys take their wives' names. So, I was just like, 'Why not?' It fit really cool together,'" Brooklyn told E! News in August while discussing the name change.
Around the same time, reports circulated that Victoria was feuding with her daughter-in-law. "They can't stand each other and don't talk," a source told Page Six in August. Reportedly, the rift started during wedding planning, as the source claimed that Peltz froze Victoria out of having any input on the big day. 
Later that month, Brooklyn and his wife addressed the reports that there was animosity with the Beckham clan. Peltz detailed why she was unable to wear a wedding dress designed by Victoria's brand, as it would not have been ready in time for the big day. The couple was adamant that any friction had been blown out of proportion. "They're always going to try and put people down," Brooklyn told Variety in August. "But everyone gets along, which is good," he added. After seemingly putting the alleged family drama to rest, Brooklyn and Peltz wore Halloween costumes that hinted at feuding families.
Were the Romeo and Juliet costumes a message?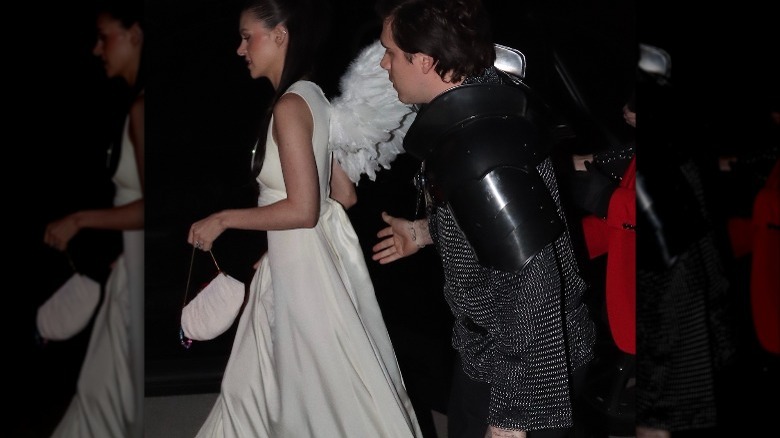 BACKGRID
On October 26, Brooklyn Beckham and Nicola Peltz dressed up as Romeo and Juliet for a Halloween party. The couple opted to emulate the version of the Shakespeare play that was depicted in the 1996 film starring Leonardo DiCaprio and Claire Danes, per the Daily Mail. Of course, the play is centered on the tragic love story of ill-fated lovers who came from two warring families: the Montagues and the Capulets. The decision to go as Romeo and Juliet to the Tingz Magazine x booty tape event raised a few eyebrows. "That's a really terrible 'couple's costume' if you think about it for one second," a fan wrote on Twitter about the Beckham-Peltz outfits. 
Additionally, several outlets speculated whether the costumes were a nod to the ongoing family rift. "[D]oes this mean the feud has been reignited?" the Daily Mail wrote. There had been speculation that the drama between Victoria Beckham and her daughter-in-law stemmed from an issue between the Beckham and Peltz households — as Nicola is the daughter of billionaire Nelson Peltz. "Victoria and Nicola are just collateral damage. It's not just about two women — it's two families coming together," an insider told Page Six while discussing the alleged power struggle between the families. 
However, Brooklyn and Nicola avoided drama that night. Once the Halloween party was over, they decided to grab some late-night eats at a burger joint. Brooklyn had relinquished his chained armor, but his wife stayed in costume, per Metro.