Matthew Perry Refused To Film One Storyline On Friends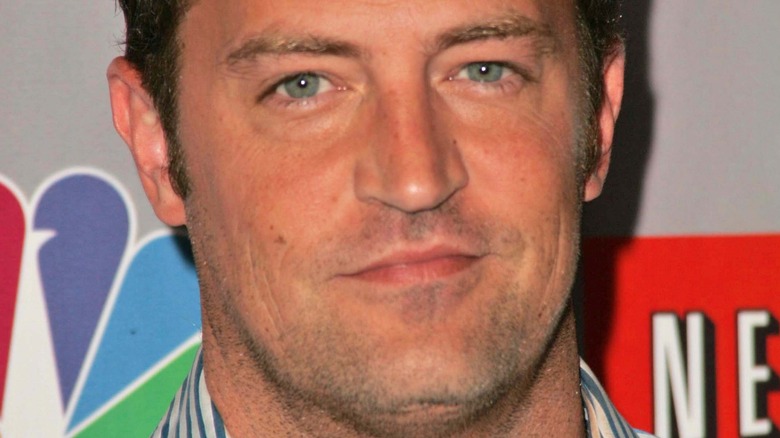 s_bukley/Shutterstock
Though he's enjoyed quite a few roles big in his time (like, Alex in "Fools Rush In" or Oz in "The Whole Nine Yards") Matthew Perry will always be synonymous with one character in particular; Chandler Bing in the iconic comedy "Friends." The actor played the sarcastic statistical analysis and data reconfiguration worker (could we be any more in the know about Chandler's job?) for all 10 seasons of the show from 1994 to 2004, making people laugh around the world through reruns and streaming literally every single day since then.
But, behind the laughter, Perry has been very vocal about the addiction issues he faced while being one of the most recognizable faces on television, even sharing in 2016 that things got so bad there are big chunks of the show he doesn't even remember filming. When asked on BBC Radio's "The Chris Evans Breakfast Show" which his favorite episode of the sitcom was, he admitted, "I think the answer is, I don't remember three years of it. So none of those... Somewhere between Season 3 and 6. A little bit of the time, I was a little out of it, yeah."
But while there may be a few episodes Perry doesn't even remember, there's actually at least one storyline that never came to be that he does have a memory of — because he's the reason it never got filmed.
If you or anyone you know needs help with addiction issues, help is available. Visit the Substance Abuse and Mental Health Services Administration website or contact SAMHSA's National Helpline at 1-800-662-HELP (4357).
Matthew Perry nixed a Friends storyline that saw Chandler Bing visit a male strip club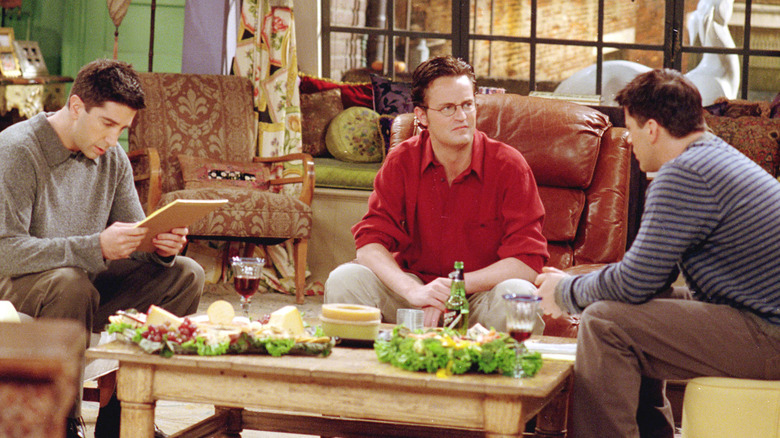 Getty Images
As "Friends" fans will know, there's a long-running joke in the show that people tend to think Chandler Bing is gay when they first meet him (remember when a co-worker even tried to set him up with a man in the Season 1 episode "The One Where Nana Dies Twice"?), well it turns out producers wanted to take that one step further. Matthew Perry revealed on "Watch What Happens Live" back in 2017 that there was once supposed to be an episode where Chandler went to a male strip club, but not for the reason you might think. It turns out Monica Geller's husband went there because he loved the sandwiches they served. "I called up and I said, 'Let's not do this one,'" Perry told host Andy Cohen, to which the host responded, "Did you prevail?" to which Perry admitted he did.
The actor didn't reveal exactly why he nixed the idea, though there's no doubting doing something for the love of sandwiches certainly sounds like it would've been more appropriate for Chandler's bracelet buddy, Joey Tribbiani. We mean, he did throw himself over a sandwich to protect it when that car backfired in Season 5's "The One With the Ride Along", after all. If it were a cheesecake from Mama's Little Bakery? Maybe then Chandler would go.
But that's not the only storyline one of the "Friends" stars had a problem with.
Matt LeBlanc also didn't want to film a Friends storyline
While Matthew Perry stuck true to his word about not sending Chandler Bing to a male strip club, there was another storyline his co-star Matt LeBlanc initially had serious reservations about that made it to air. That one was the whole Joey Tribianni and Rachel Green romance (which has had "Friends" fans divided for years), as producer and director Kevin S. Bright revealed LeBlanc was no fan of the friends (no pun intended) getting romantic. "In the beginning, Matt LeBlanc did not want to do that story. He was very firmly against it, saying that he's Ross's friend, and that the type of friend that Joey is would never go and take someone else's girlfriend," Bright told Digital Spy in 2018. Bright added that the actor had to really be convinced about the storyline, but eventually came around to the idea. "I think, if she's not going to be with Ross, who else would you want her with?" he said.
But alongside the refused storylines, there were also plenty of scenes that were cut from the original airings that later popped up online and via "Friends" DVDs. One of the most famous has to be cut scenes involving Perry and Courteney Cox's Monica heading on their honeymoon. Per Insider, the original scenes in "The One Where Rachel Tells Ross" saw Chandler joking about bombs at the airport, but were cut from the broadcast following the events of 9/11.