The On-Stage Incident With A Fan Adam Levine Had To Apologize For
Andrew H. Walker/Getty Images
Maroon 5, and specifically Adam Levine, have been in the music industry for quite some time and have had a successful career thanks to the help of many fans. They have received awards, had No. 1 singles, and have toured the world with their music (via IMDb). When artists tour, they go from city to city seeing new faces in the crowd each night. For fans, it can be exciting to see your favorite performer — and although it is all out of love, some excitement may go just a little too far.
Many artists have had to deal with the surprise of a fan storming the stage, from Taylor Swift to One Direction (via Billboard). The excitement that their favorite artist is right in front of them has some fans pushing it one step further. Billboard has shown several artists that have been surprised by a fan onstage, some let security handle it, and some embrace the fans' love. Every artist has a different reaction when that situation happens. Maroon 5, and Levine specifically, have had plenty of fans storm the stage in adoration.
In 2015 a fan stormed the stage during his performance of "She Will Be Loved." The fan gave a quick peck to the lead singer before walking off stage. Levine, evidently shocked, said, "You scared the s**t out of me, man," before continuing the performance (via Billboard). Because Levine has dealt with several surprises before, fans were shocked by his reaction to an incident in 2021.
Adam Levine seemed disgusted by the fan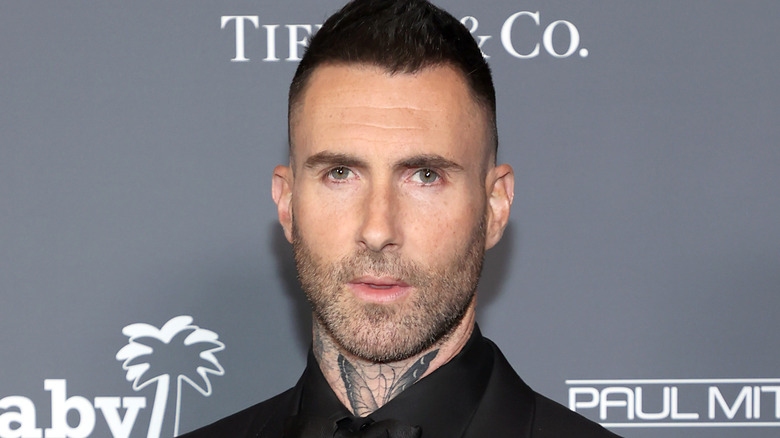 Amy Sussman/Getty Images
Now, there's no way to tell how an artist is going to act in an unexpected situation. When a fan stormed the stage in 2021 at a Maroon 5 concert, people were not happy about Adam Levine's reaction.
ET reports the band was performing at the Hollywood Bowl in Los Angeles at the We Can Survive concert. Levine was in the middle of singing "Sunday Morning" when a woman jumped on stage and began hugging the singer. Luis Peñaloza recorded a TikTok video, clearly showing that Levine was not happy with the interaction. When the woman hugged Levine, he gave her a disgusting look before shouting, "F**k!" After security grabbed the woman, Levine literally shook off the hug in an annoyed mood. The video quickly went viral and garnered the attention of many people.
There were a lot of impassioned reactions to the interaction between the singer and the fan. One TikTok user wrote, "I get it, but he doesn't have to act disgusted by her. Like those are his fans that keep him relevant. Still a huge fan tho." While many argue that she shouldn't have gotten in his personal space. Another TikTok user wrote, "no this is not ok. yall say be humble, until that person pulls out a weapon. its happened before, and we need to remember and respect boundaries." The video of Levine amassed over a million views, and with that much attention, it reached the singer himself.
Adam Levine was startled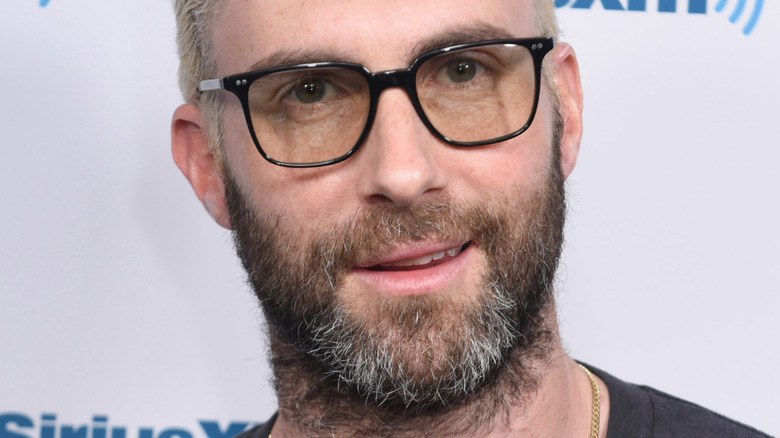 Vivien Killilea/Getty Images
Adam Levine was in some hot water. Fans wanted the singer to speak on the issue of the fan storming the stage after the video surfaced. With all the attention it was receiving, and the attention Levine was receiving, he decided to speak on the issue.
Just days after the incident, Levine took to his Instagram Story in a series of videos explaining his thought process during the incident (via USA Today). Levine explained, "I have always been someone that loves, respects, worships our fans." He further added that "Without our fans, we don't have a job. I say that all the time to our fans." Many had objections to his behavior, so he addressed such. He shared, "To think that anyone would believe that I thought our fans were beneath us or less than us makes my stomach turn. That's just not who I am."
The singer went on to explain his physical reaction to the hug from the fan. He shared, "... I was really startled, and sometimes when you're startled, you have to shake it off and move on because I'm doing my job up there." He ended the series of videos hoping that fans could see where he was coming from and how his heart "is that connection that exists between the band performing on stage and the fans." One TikTok user saliently noted that "a random person invaded his personal space during a pandemic" and that "he acted the right way."