Are Sylvester Stallone And Arnold Schwarzenegger Friends Today?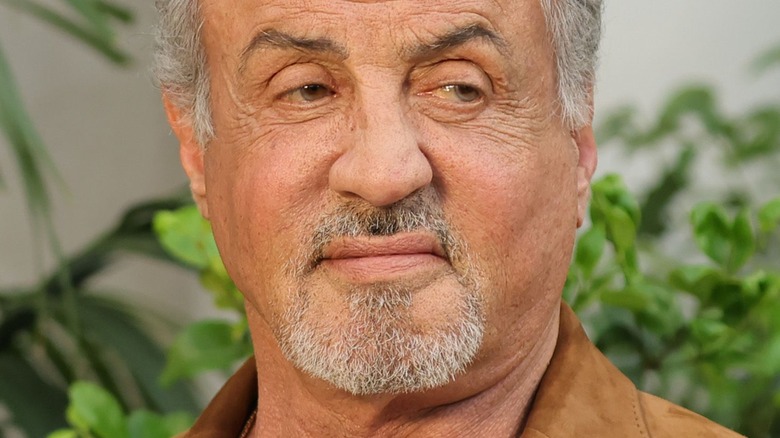 Amy Sussman/Getty Images
Sylvester Stallone and Arnold Schwarzenegger were two of the biggest action movie stars of the 1980's. Stallone, a New York native who was raised in Philadelphia, got his start in the 1969 film, "The Square Root." However, the actor's big break came when he scored the leading role as the titular character in the cult classic "Rocky." The boxing movie, which earned Stallone two Academy Award nominations, was the first of a 6-series franchise that undoubtedly solidified Stallone's place in Hollywood.
During the same period, Schwarzenegger's star power was on the rise. The bodybuilder enjoyed moderate success in the 70's, as his role in "Stay Hungry" earned him a Golden Globe, but he was thrusted into superstardom following the release of 1982's "Conan the Barbarian." Schwarzenegger became increasingly more successful in the years that followed thanks to the movie's sequel, "Conan the Destroyer," and his leading role in "The Terminator" franchise.
Together, Stallone and Schwarzenegger seemingly dominated the action film genre. And while both entertainers were successful in their own right, their similarities made for an intense rivalry — or did it?
Sylvester Stallone and Arnold Schwarzenegger are good friends to this day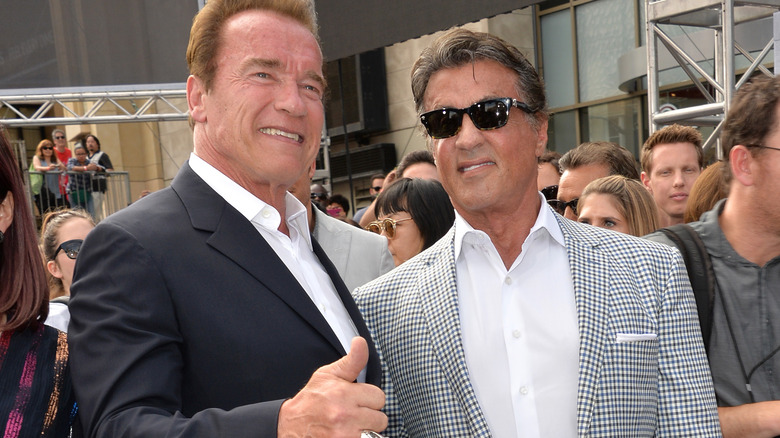 Jaguar PS/Shutterstock
Arnold Schwarzenegger has previously opened up about his feud with Sylvester Stallone, admitting that the two often sparred over who had the best physique. "We were attacking each other in the press relentlessly," Schwarzenegger said during a 2017 appearance at Beyond Fest (via Screen Crush). "We called each other names and called out our weak points, and it was so competitive. It became so silly that all of a sudden it became a competition about who has the most muscular body." Schwarzenegger went on to suggest that the competition between the two became so intense that they even attempted to one-up each other on-screen. The former governor of California revealed that Stallone requested to use a large knife for "Rambo" just to spite him.
Despite their previous strife, the two were able to overcome their differences. Stallone joked about their decades-old feud during a 2014 appearance on "The Tonight Show Starring Jimmy Fallon." "I really respect this guy I think he's brilliant," Stallone said. "But I wanted to strangle him."
Sylvester Stallone and Arnold Schwarzenegger work and play together
Sylvester Stallone and Arnold Schwarzenegger have made it very clear that the two no longer have any issues. In 2010, Schwarzenegger joined Stallone's all-star cast of action stars for the film "The Expendables," as Trench Mauser. The film, which also stars Jet Li, and Jason Statham, went on to gross more than $100 million domestically, according to Box Office Mojo. Schwarzenegger even reprised his role for the second and third installments of the popular movie franchise.
Furthermore, the pair's friendship now extends beyond their professional dealings. On October 19, Stallone shared a photo of the two on Instagram and gave a special shoutout to his pal. "Myself and my great friend Arnold , @schwarzenegger spending time at his amazing office Carving Pumpkin Heads for Halloween with Survival Knives," Stallone wrote. "That's what real ACTION guys do with their free time!" Schwarzenegger wrote, reposting the playful image on his own account, while adding, "Happy Halloween."