What The Actor Who Played Kip In Napoleon Dynamite Is Doing Now
Frederick M. Brown/Getty Images
Don't bother Kip — he's busy snacking on chips, chatting online with babes all day, and training to become a cage fighter. When "Napoleon Dynamite" was released in 2004, people instantly fell in love with Napoleon Dynamite's brother, Kip Dynamite, who was played by Aaron Ruell. The film starred Jon Heder as the title character and featured Haylie Duff in a supporting role.
In a 2019 interview with ABC7, Ruell explained that he found his Kip inspiration from an impersonation of his brother. In addition, he didn't have high hopes regarding the film's success. Apparently "Napoleon Dynamite" was a small passion project, as Ruell knew Heder and some of the movie's other actors from Brigham Young University. Ruell told the outlet, "We were just out of school and so he said to me, 'So, Aaron, what are you going to do if this movie makes it? Are you going to change paths and become an actor?' And I remember looking at him. This is so vivid in my mind still to this day. I remember looking at him and just going, 'Jon, no one is going to see this film.'"
As "Napoleon Dynamite" fans well know, the film far exceeded Ruell's expectations. And although some of the film's main actors, like Ruell and Heder, have faded from the spotlight, that doesn't mean they aren't pursuing other artistic endeavors. Ruell, who's had two films premiere at the 2005 Sundance Film Festival, has simply spent more time behind the camera.
Inside Aaron Ruell's comeback as Kip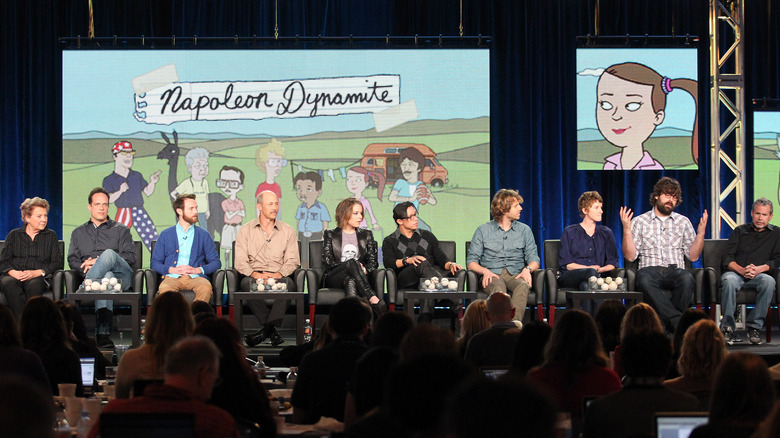 Frederick M. Brown/Getty Images
According to IMDb, Aaron Ruell acted in a few projects after "Napoleon Dynamite." In 2006 and 2007, he appeared in the films "Think Tank" and "On the Road with Judas," respectively. Then, in 2012, he reprised his role as Kip in Fox's animated television series "Napoleon Dynamite," which was based on the film. Despite the success of the movie, the television show lasted just six episodes. In a 2012 interview with Collider, "Napoleon Dynamite" creator-producer Jared Hess shared, "Yeah, I think people just related to the characters. And, new generations of kids are watching it, that are just starting high school and can relate to it and quote it. It's had this weird staying power."
Even though the animated show didn't stick around for long, Ruell didn't completely ditch his iconic character. At the start of the COVID-19 pandemic, Ruell made a comeback as Kip in a series of original IGTV videos called "Kip's Tips," per Muse by Clio. Advising people on how to cope with social distancing, Ruell fully embodied Kip with his nerdy style, distinctive voice, and humorous expressions. Referring to the casual project, Ruell said, "I honestly had no end goal with this other than to provide smiles for people."
Aaron Ruell is a successful director and photographer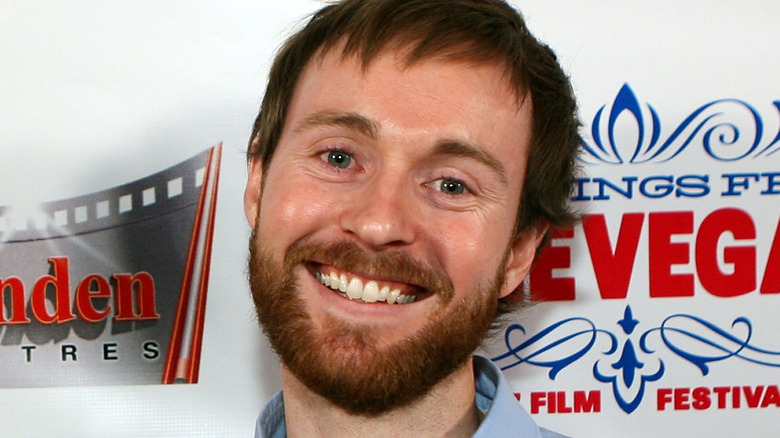 Michael Buckner/Getty Images
As reported by Shots News, Aaron Ruell signed with video production company Sanctuary Content in 2019. According to the outlet, he has directed commercials and ads for major brands such as McDonald's, Coca-Cola, and T-Mobile. On his commercial and directing work, he told Muse by Clio, "The goal in my work has always been about attempting some type of sincerity in it. Whether it's comedy or drama. I'm fond of my Coke 'Earn It' spot. It's a Christmastime spot about a boy gifting his little brother a bicycle. I like the tone and sentiment in that one."
In addition to directing, Ruell is an accomplished photographer who's been published in numerous books and had his work displayed in solo shows in New Orleans, Milan, and Paris. Ruell's portfolio can be seen on his website. In his "recent" section, his still work includes ads for Old Spice. Though he hasn't posted since 2017, more of his past photography work can be viewed on his Instagram page. As far as Ruell's personal life goes? According to his bio on Sanctuary Content's website, he resides in Portland, Oregon with his wife and four kids.