General Hospital's Kelly Thiebaud Challenges Herself To Live Life Without A Major Vice
When Britt Westbourne (Kelly Thiebaud) first arrived in Port Charles on "General Hospital," she was often up to no good, using lies and deception to obtain the object of her desire, Dr. Patrick Drake (Jason Thompson). Although the Boston Herald reported on her many misdeeds, Britt — or "The Britch," as friends and enemies alike called her — eventually changed her dreadful ways to become a good doctor at General Hospital. She even fell for heroic mob enforcer Jason Morgan (Steve Burton) who convinced her to stop avoiding  her potential health issues. Britt soon learned that she carried the markers for Huntington's disease, and since Jason's death, it has weighed heavily on her mind (via Celebrating the Soaps).
Thiebaud has taken her character's diagnosis to heart and has worked with the Huntington's Disease Society of America to help raise funds, as she reported on her Instagram page, raising more than $200k for the cause. According to Huntington's Disease News, Thiebaud joined fellow actors Briana Lane, Simon Helberg, Bryce Dallas Howard, and many others at the event. The fundraiser had musical performances and an online auction, which helped garner its much-needed success. 
While Britt faces severe health issues on "General Hospital," in real life, Thiebaud has adopted a cleaner lifestyle to keep her own health in good standing.
Kelly Thiebaud shares an important goal she's made for herself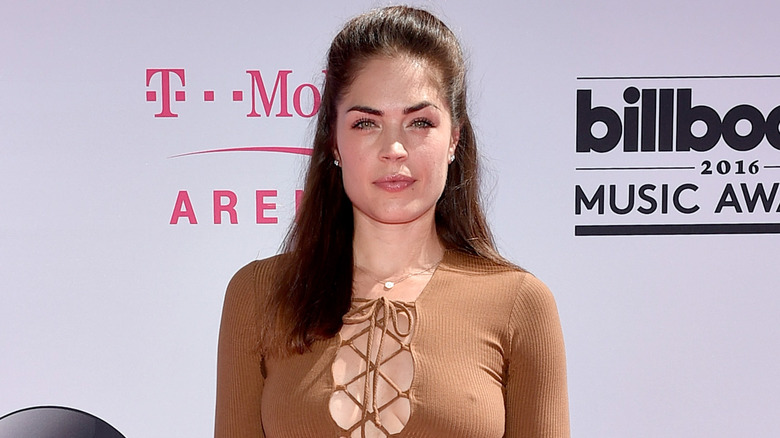 David Becker/Getty Images
Kelly Thiebaud, who plays Dr. Britt Westbourne on "General Hospital," took to Twitter to express her determination to abstain from alcohol, saying, "It's been 2 weeks since I've had a drink. Not a big deal 4 most, Im sure,but 4 me it is. I'm interested n what life's like w/out alcohol. I'm doing Halloween sober 4 the first time n I don't even know how long. Let's c how much fun sober Kelly can b! Or,how much I can tolerate." Co-star Maurice Benard, who advocates for mental health, replied with clapping emoji, and then wrote, "Keep moving forward,Kelly life will reward you." Fans were equally supportive, and some related to her statement, with one saying, "Congratulations! One day at a time, trust me it gets easier!"
With so much affection from her fans, Thiebaud followed up her post with another, writing, "Thank you for all the love and support I received on my sober post. I did not expect that reaction from everyone. You've given me more focus and motivation to keep going. Love y'all." The fan support continued, with one saying, "You've got this Kelly!!!" Another who could relate wrote, "Love you ! Stay strong! I did it so can you."
While Thiebaud's leaving "General Hospital" to reprise her character Eva Vasquez on "Station 19," per Soap Opera Network, there's no doubt her fans will continue to follow and support her.