How Jerry Seinfeld Knew His Wife Jessica Was The One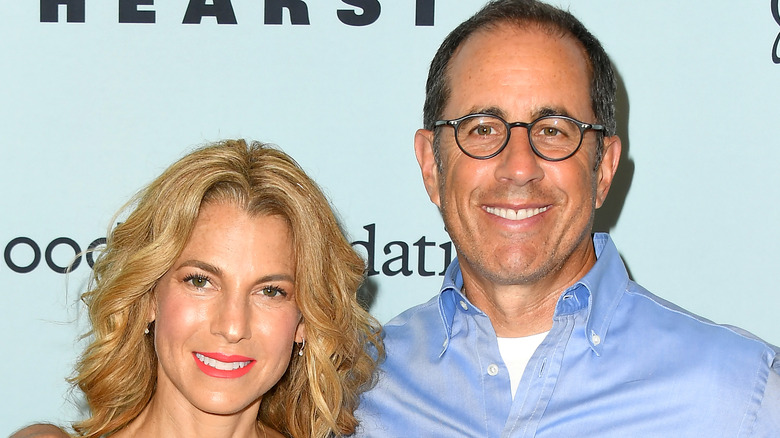 Nicholas Hunt/Getty Images
One of the most enduring Hollywood couples, Jessica and Jerry Seinfeld have been married since 1999. Both have flourishing careers; Seinfeld as the face of stand up comedy and Jessica as a New York Times bestselling cookbook author. They share three children: Sascha, Julian, and Shepherd. Additionally, the couple frequently discusses their marriage and family in interviews.
However, their romance got off to a shaky start. At the time, Jessica was married to Eric Nederlander, per Distractify. According to Good Housekeeping, Jessica explained that her previous marriage was "irreparably broken" when she met Jerry at the gym. While the spark didn't sit well with Nederlander, Jessica and Jerry fell hard and fast. Jessica later revealed to Eater that the very first time Jerry told her he loved her was at a Jewish grocery store. "This is the perfect time to tell you that I love you," he said, standing at the counter of Zabar's.
Now, the couple is approaching 23 years together, and they maintain that they are happier than ever. According to Jerry, he knew Jessica was the one based on one factor.
Jerry Seinfeld reveals why he married Jessica Seinfeld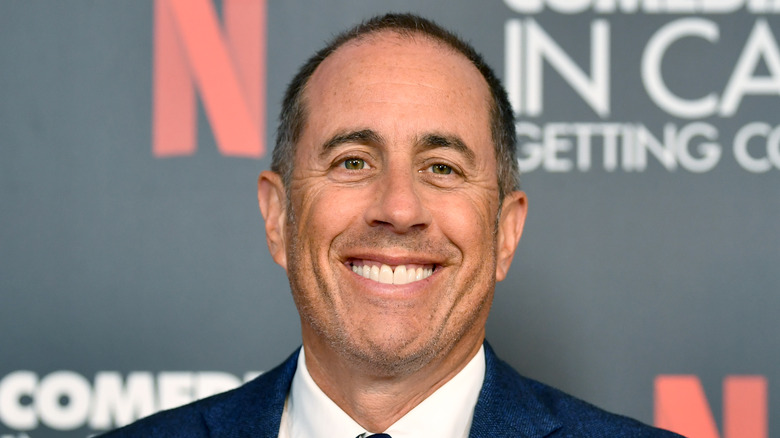 Emma Mcintyre/Getty Images
Jerry Seinfeld maintains that he knew Jessica Seinfeld was the one for him almost from the start. According to the comedian, lasting love doesn't come from steamy chemistry but rather from a deep, homey connection between two people.
"It's not the conversation or the attraction that you feel," Seinfeld told Oprah Winfrey. "It's just like this comfort level when someone comes into your house. When they're in your house and you're still comfortable." Essentially, he felt like Jessica was someone who he could see himself being with for the rest of his life. He had reached a point when he thought to himself, "I don't want to get married and I'm tired of being single, what do I do?" Everything changed when he met Jessica, however. Their relationship "gave [him] a life to live."
He later explained to Closer Weekly that humor has been the basis of their connection "from the day [he] met her." The relationship works because they are able to have fun and laugh. "She's very quick and sarcastic and all the qualities that I like; she's very sharp and catches all the wrongness," he shared.
Jerry Seinfeld on his lasting marriage to Jessica Seinfeld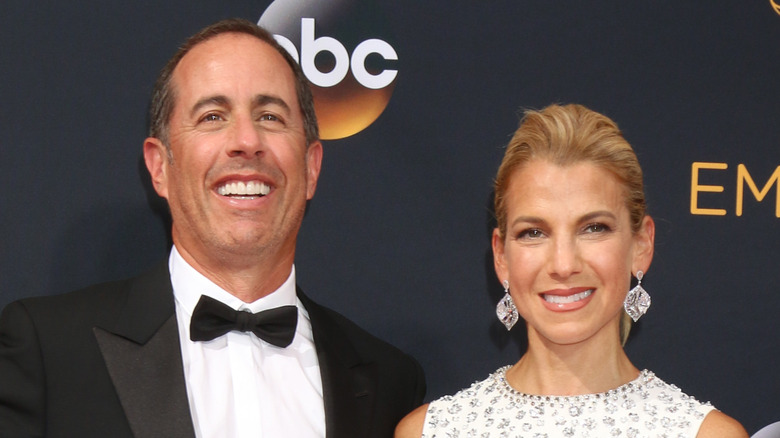 Kathy Hutchins/Shutterstock
In Hollywood, 23 years of marriage may seem more like 60. By that logic, Jessica and Jerry Seinfeld may as well be throwing their golden anniversary party. As for their secret to a happy marriage, Jerry, as expected, offered a quirky answer.
"Well, I'm not in Hollywood, I'm in New York, so I have a little advantage there," Jerry said in a comedy special, per Entertainment Tonight. He the explained that "LA was very bad for marriage" because "you need good — four seasons is good marriage weather. The comedian elaborated that stagnant weather conditions make "you want to venture out," especially when it's warm and sunny. However, Jerry did more openly discuss the secret to his long marriage in an interview alongside Jessica with People. He offered a simple answer as to how to make a union last: "It doesn't matter if anyone's right." In response, Jessica added that communication is key, as is time apart.
Beyond their connection, Jessica also revealed to Parents that she "wouldn't change anything" about her husband. "Where I am weaker, he is stronger, and we complement each other," she gushed.