Jerry And Jessica Seinfeld's Age Gap Is Bigger Than You Realized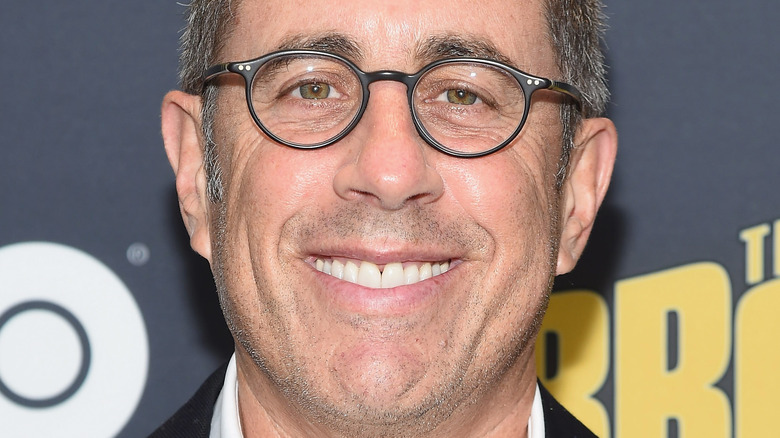 Gary Gershoff/Getty Images
After over 30 years in the limelight, Jerry Seinfeld is undoubtedly one of America's most recognizable and renowned comedians. His eponymous show, which he created and co-wrote with fellow New York comedian Larry David, ran on NBC from 1989-1998 and quickly became one of the most popular and acclaimed sitcoms of all time — a recognition which it arguably still holds to this day. 
Although many may believe that the actors who appeared on the popular sitcom were jinxed with the "Seinfeld curse," resulting in their apparent inability to find success close to what they had experienced on the show, there was one cast member with a different experience. Indeed, Seinfeld himself saw a notable positive change in his personal life immediately after the show's end: he married Jessica Seinfeld, née Sklar, one year later, in 1999, when he was 45. However, she was a bit younger, and fans might be surprised to learn just how big their age gap really is. 
Jerry and Jessica Seinfeld have a 17-year age gap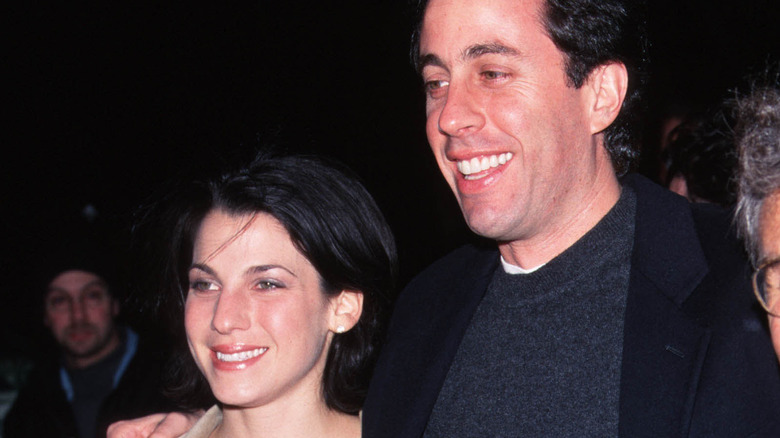 Evan Agostini/Getty Images
NBC's "Seinfeld" famously ended its run in 1998, despite behind-the-scenes negotiations between showrunner Jerry Seinfeld and NBC executives. Seinfeld received a jaw-dropping offer of over $100 million to keep the sitcom on air for at least one more year. Despite the staggering sum, Seinfeld declined, reasoning that he was edging closer to his mid-40s and finally wanted to settle down and start a family. 
In 2016, former NBC executive Warren Littlefield recalled to Fox News that Seinfeld wasn't in it for the money. "[Seinfeld] came to me and said, 'I don't have a life, I'm not married, I don't have kids,'" he said. The exec explained that the network offered him "everything we had," and while the sum was tempting for the actor, "it was a quality-of-life decision."
Seinfeld held to that personal commitment. The 45-year-old comedian got engaged to 28-year-old Jessica Sklar in November 1999, and the two married on Christmas Day that year. For those without a calculator, that's a 17-year age difference between the two. They have been married ever since, welcoming three children along the way. Although it was Seinfeld's first marriage, the union marked the second time Sklar had walked down the aisle. And surprisingly, their relationship began as a result of her first marriage.
Jerry and Jessica Seinfeld met shortly after her first wedding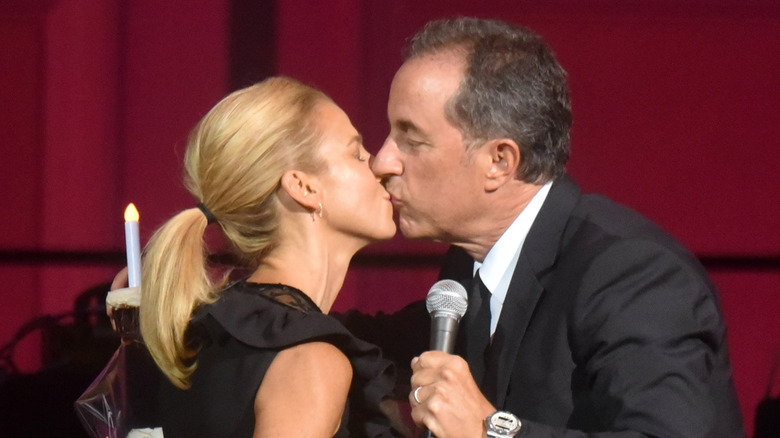 Andrew Toth/Getty Images
According to The New York Times, Jessica Seinfeld married her first husband, Eric Nederlander, in June 1998. However, the two weren't right for each other, and she knew their union was doomed almost from the start. A couple of months later, she met her future husband, Jerry Seinfeld. "I was going through a difficult time, and I was approached by Jerry Seinfeld and he attempted to make me laugh," she told the outlet, adding that "I was really not interested in being entertained at that moment." However, he persisted and eventually won her over. 
Jessica and her first husband divorced later in 1998, but she admits she didn't leave him for Seinfeld. As she told Vogue in 2004 (via Spock and Christine), "Jerry was neither the cause nor the effect of the breakup, but his friendship gave me strength and resilience at a time of desperate need, and it has formed the basis for my happiness in the years that have followed."
Nonetheless, she appears to have made a good decision. The two are still going strong and appear to be a well-matched couple. "If it wasn't for Jess and the kids," Seinfeld told Vogue (via Daily Mail), "I'd really blow my brains out. Jessica saved my life. She gave me something to care about."