Who Is Frankie Muniz's Wife, Paige Price?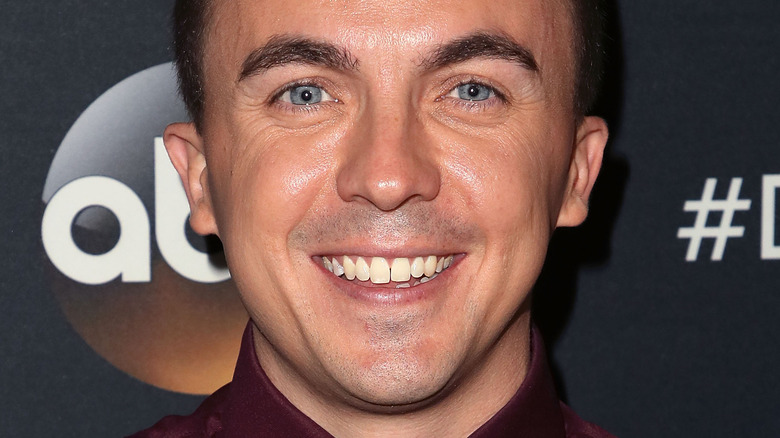 David Livingston/Getty Images
Frankie Muniz has never made a secret of the fact that his wife, Paige Price, is the love of his life. Since going Instagram official back in 2016, Muniz and Price have also gone through a lot together. 
In 2018, the "Dancing with the Stars" alum took to Twitter to share that their home had been destroyed in a flood. "All because my cat accidentally turned on a sink a few days ago while we were gone," he revealed. To make matters worse, the reason they'd been away was to attend the funeral of the actor's uncle. However, the couple's week of turmoil ultimately ended with Muniz popping the question. And, according to Price herself, he did it in a truly epic fashion. "You're officially the master of proposals," she wrote via Instagram. 
Since then, People has confirmed that the two eloped in late 2019, and in February 2020, they hosted a small wedding — an intimate affair so touching that even Muniz was surprised. "I never thought the wedding would have such a big impact on me," he admitted. The couple has also experienced — and overcome — fertility issues, sharing in September 2020 that they were expecting their first child on their YouTube channel. Their baby boy, Mauz Mosley Muniz, was born in 2021, prompting an emotional Instagram post from Muniz, who praised his wife as nothing short of "incredible."
Our question remains, though: Just who is Paige Price?
Paige has had her own career in showbiz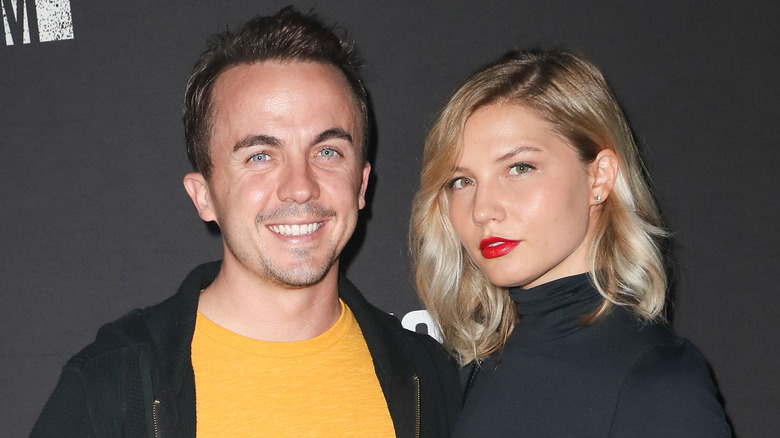 David Livingston/Getty Images
Like her actor husband Frankie Muniz, once upon a time, Paige Price was drawn to a life in the limelight. 
According to her IMDb profile, at 18, Price set out to be a model. And, though that ended up being somewhat short-lived (she retired at the age of 21), she would go on to try her hand at TV hosting for a golf network. In fact, per her bio, she met her future husband while working at the Frank Sinatra 100th anniversary invitational. 
Price has since stepped away from TV hosting, but that's not to say she's stopped pursuing a career in showbiz. In addition to sharing her life with Muniz on their YouTube channel, she took to Instagram in 2020 to reveal that she was working on creating a TV show. In a caption under an artsy black-and-white picture, she shared that she'd started writing a sitcom called "Frontier Town" during the pandemic and that the show would star Muniz. However, she also added that she had a lot more work to do on the sitcom. "At some point — [I'll] eventually stop procrastinating and finish the damn pilot!!!" she wrote. At the time of writing, there haven't been any updates on the project ... but given what she's been up to since then, we'll give her a little grace!
Paige also was Frankie's business partner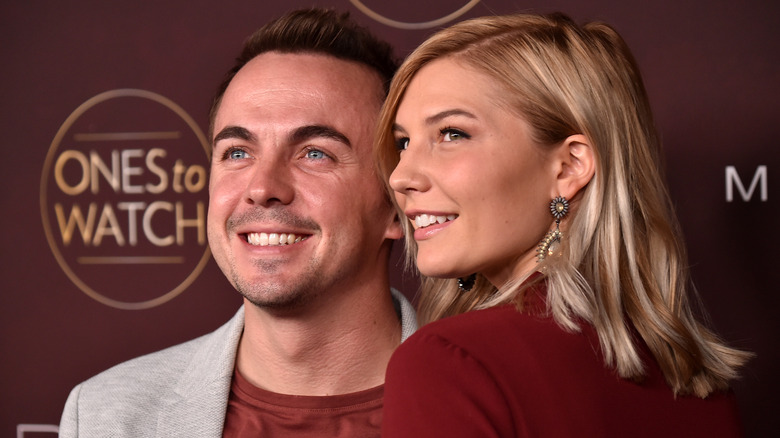 Frazer Harrison/Getty Images
Paige Price might not have had a chance to finish up her pilot, but that may have something to do with the fact that she's had a number of other things on her plate in recent years.
For starters, she and her husband-turned-business partner, Frankie Muniz, were the co-owners of Outrageous Olive Oils and Vinegars in Scottsdale, Arizona. In a video posted to the couple's YouTube channel, Price shared that they had jumped at the opportunity to work together. "We didn't really hesitate. It was something fun for us to do, and here we are," she smiled. Unfortunately for fans of the couple and olive-based condiments alike, Muniz announced on Instagram that they had sold the business in August 2020. However, he also shared that the couple had "moved on to a new adventure." Just over two weeks later, he revealed what that adventure was in another post: parenthood. 
So, who is Paige Price? Sure, she's the wife of "Malcolm in the Middle" alum Frankie Muniz, but she's also a businesswoman, former model, aspiring TV show creator, and now, a mom. Perhaps a better question to ask would be, what doesn't she do?