Here's Why Migos Really Broke Up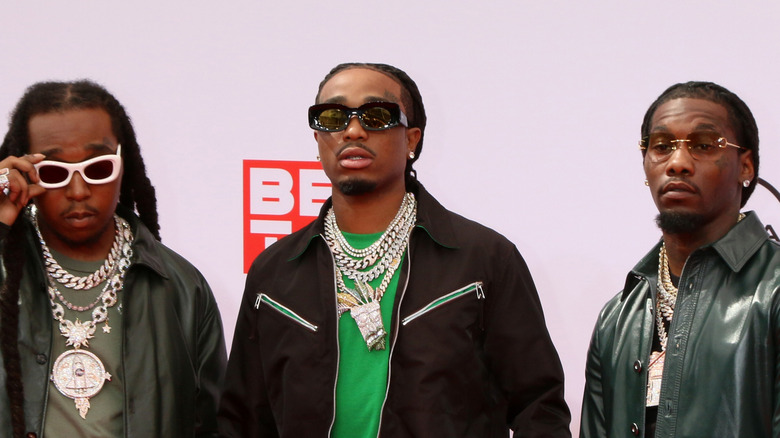 Kathy Hutchins/Shutterstock
Migos was a hip-hop trio formed of family members Quavo, Offset, and Takeoff. Hailing from Georgia, the group was formed in 2008 and eventually took off with their hit song "Versace" in 2013, per NME. Following their debut, Migos churned out multiple hit albums such as "Yung Rich Nation" and the "Culture" trilogy. In 2021, Migos released "Culture III," which would be their last album together. They later made headlines in May 2022, when Offset unfollowed Quavo and Takeoff on Instagram, causing rumors that Migos had broken up, per Newsweek. Quavo and Takeoff then announced that they would be forming a duo called "Unc and Phew."
Migos alarmed fans further when they canceled their June 2022 Governors Ball performance, but it was later clarified that it was due to a scheduling conflict. However, in September, Offset performed a solo act on "The Tonight Show," and the next day Quavo and Takeoff announced their new album, "Only Built 4 Infinity Links," per TMZ. Naturally, fans were confused as to why the trio has split up, and Quavo finally shed light on the situation.
Quavo doesn't see Migos reuniting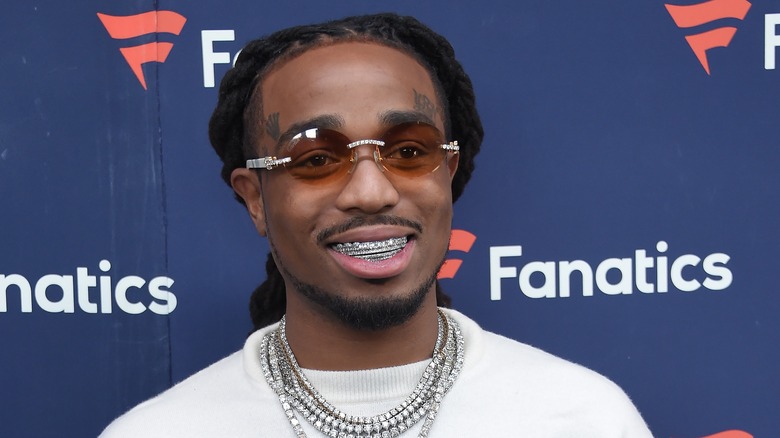 DFree/Shutterstock
On October 3, Quavo and Takeoff sat down with the "Big Facts" podcast and were asked about the future of Migos. "I just feel like we want to see our career as a duo, you know what I'm saying? Because you know, we just came from a loyal family, s*** that's supposed to stick together. And sometimes, when s*** don't work out, it ain't meant to be," Quavo stated, hinting at possible beef with Offset. Takeoff echoed his thoughts, saying, "Whatever ain't right and however you supposed to see it fit, you put it back together or however you do it, we pray. So only time will tell. We always family now, and that ain't gon' change."
The hip-hop group Travis Porter had another take on why Migos disbanded. As reported by Hot New Hip Hop, the trio stated on the "We In Miami" podcast that Migos broke up over a woman. "It was over a b****," Ali alleged. When asked if the feud was over Offset's wife Cardi B, the Travis Porter members stayed quiet.
Sadly, Takeoff was shot and killed on November 1 in Houston, per BBC News. He was with Quavo at the time at a private party at a bowling alley when a fight broke out. A gun was fired, and Takeoff was shot in the head or neck and pronounced dead at the scene. Fans and fellow artists have shared their grief over his untimely death.