Inside Brandi Glanville's Complicated Relationship With Her Dad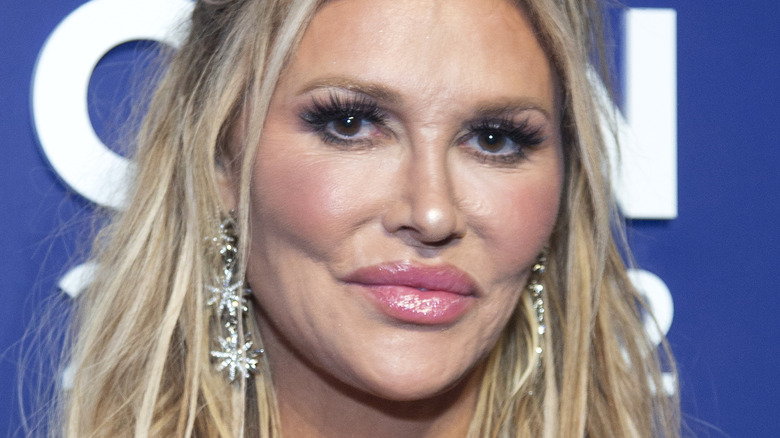 Santiago Felipe/Getty Images
In true Housewives fashion, former "Real Housewives of Beverly Hills" cast member Brandi Glanville experienced her fair share of ups and downs while on the show — but it was her contentious relationship with her own dad, Guy Glanville, that resonated with many Housewives fans and stans. 
"I haven't talked to him in months. He won't even answer my texts," Glanville revealed during Season 4 about her relationship with her estranged father, per People. According to Brandi, the rift began when Guy read her memoir "Drinking and Tweeting: And Other Brandi Blunders," and was none too pleased. "I said he was a drug dealer. He was a marijuana grower." Fortunately, by the end of the episode, it appeared that the father-daughter duo was well on their way to reconciliation. "I'm glad I came. I came for your mom. And we will go forward," Guy matter-of-factly told Brandi after attending her book signing event. " And the outfit looks really good on you," he added. 
Sadly, however, that wouldn't be the last of their familial squabbling and subsequent making up... 
Marriage Boot Camp wasn't good for Brandi Glanville and her dad
Like father, like daughter.
In 2018 Brandi Glanville and her dad, Guy Glanville, appeared on We tv's "Marriage Boot Camp: Reality Stars Family Edition" and it proved to be nothing short of a disaster. "This is a last-ditch effort," Guy declared in a promo for the show. "We are starting this boot camp to help our relationship go further than what it is." Famous. Last. Words.
Shortly after filming wrapped, Brandi revealed to ET that the pair were no longer on speaking terms. "You know, he's not done TV before, and I warned him ahead of time, 'They're not going to be able to show everything that we shot,'" Brandi explained. "'They're going to show the highlights, so you have to write down notes and understand it's going to be the highlights of what we shot, and don't get mad — you're gonna get mad all over again,' and ultimately, he did," she revealed. "For him, I think he cares what his friends and everyone was saying about what they saw, and I thought they gave him a great edit, to be honest, 'cause he was a little bit worried. But, no, we haven't talked since, unfortunately. But I love him dearly. He's everything."
Brandi Glanville's dad came to her defense
Fortunately, by 2020, the tensions between Brandi Glanville and her father, Guy Glanville, had waned — so much so that Guy publicly came to his daughter's defense amid Brandi's "Real Housewives of Beverly Hills" drama with Denise Richards.
"My daughter may be many things, sometimes an a**hoe, but she's not a liar," Guy said in a video later shared by Brandi on Instagram. (Yep that's right, "a**hoe", not a**hole.) "I'm such an #AssHoe," Brandi penned in the caption. "I love my dad for blindly making this video!! I said @teddimellencamp dad had her back & that DR's popped in so this is my dads (I mean Santa's take)," she wrote.
And since then it appears Brandi and her father are getting along swimmingly. In August she posted a photo of the pair enjoying some quality time together. "BGZ Hanging with my pops! #FamilyMatters" she penned along with the pink growing heart emoji. Here's to hoping this father-daughter duo enjoys many more years of quality time together.