The Tragic Death Of Super Bowl Winning Coach Tom Coughlin's Wife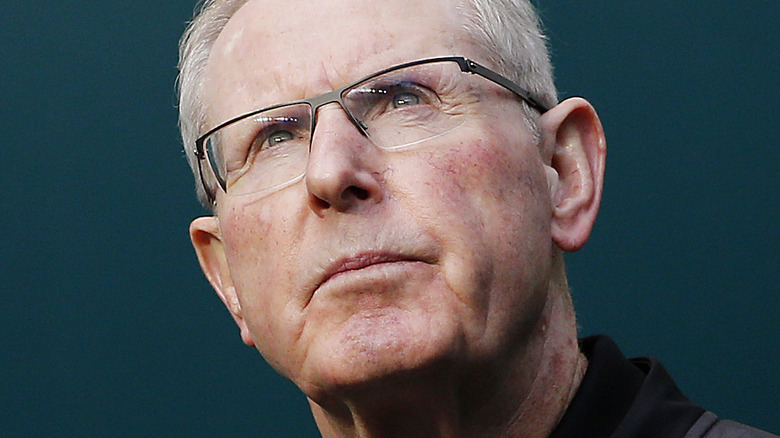 Michael Reaves/Getty Images
After being an NFL coach for over two decades, Tom Coughlin's ups and downs. However, nothing could prepare him for the tragic death of his spouse. "My cherished wife and our beloved mother and grandmother, Judy Whitaker Coughlin, passed away this morning at the age of 77," Tom announced in a statement on Wednesday, via Sports Illustrated. He noted that Judy had been "a mother to all on and off the field."
Judy was Tom's biggest cheerleader and was by his side throughout his career. The most significant highs involved Tom propelling the New York Giants to Super Bowl victory by smashing the New England Patriots twice. The first time was in 2008 when the Giants rocked the football world by beating the 18-0 undefeated Patriots. "[They] pulled off an epic upset, and it will surely be brought up during any conversation about an underdog," Bleacher Report raved. The "amazing performance" by Eli Manning, who later faced a sports memorabilia lawsuit, was credited for the win.
The Giants pummeled the Patriots again during the 2012 Super Bowl, which included a halftime show no one will forget. But, Madonna aside, The Washington Post praised Tom's "tough, adaptable style" for the victory and lauded him for "staying the course, never saying never." Tom's marriage to Judy was a testament to his steadfastness and persistence. Per People, the couple was married for 54 years, making the tragic death of the Super Bowl-winning coach's wife all the sadder.
The tragic death of Tom Coughlin's wife has left him devastated and heartbroken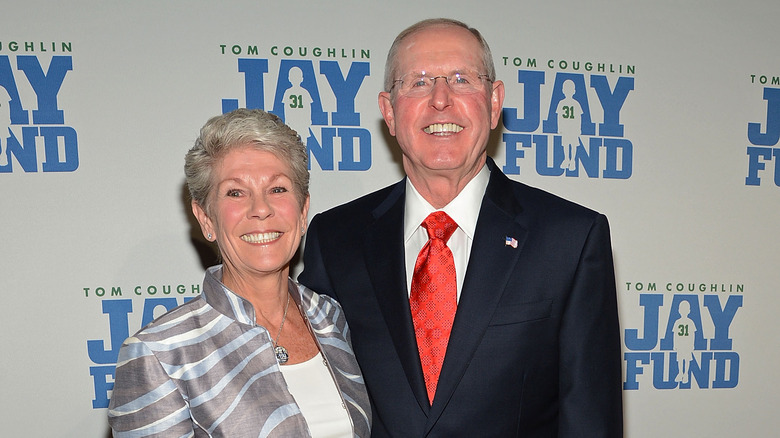 Mike Coppola/Getty Images
Judy Coughlin stood by her husband's side throughout his coaching career. So, it was only fitting he should be by hers during the last years of her life. "Off the field, at her bedside, where I should be," Tom titled an essay he wrote for The New York Times in 2021. "[This NFL season] I will be sitting far from the sidelines, at the bedside, and holding the hand of my biggest supporter, my beloved wife," he shared. Tom disclosed that Judy was diagnosed with supranuclear palsy in 2020. He explained the brain disorder was incurable and progressive, eating away at a person's "ability to walk, speak, think and control body movements."
Tom admitted that becoming a full-time carer for his dying wife was far from easy. "Nothing can prepare you to be a caregiver who has to watch a loved one slip away," he wrote. He said that the "discipline, commitment, and accountability" he'd demanded from the athletes he coached were all "qualities" that helped him get through the hardship and heartbreak he was suffering.
"Judy was a remarkable woman in every way. She lived a life filled with love and unselfishly gave her heart and soul to others," Tom told People following Judy's death. He said that words alone could not describe the impact of her loss on the world. However, he vowed that the legacy of Judy's kindness would forever live on.