Uma Thurman Reflects On Life-Threatening Car Crash On Set Of Kill Bill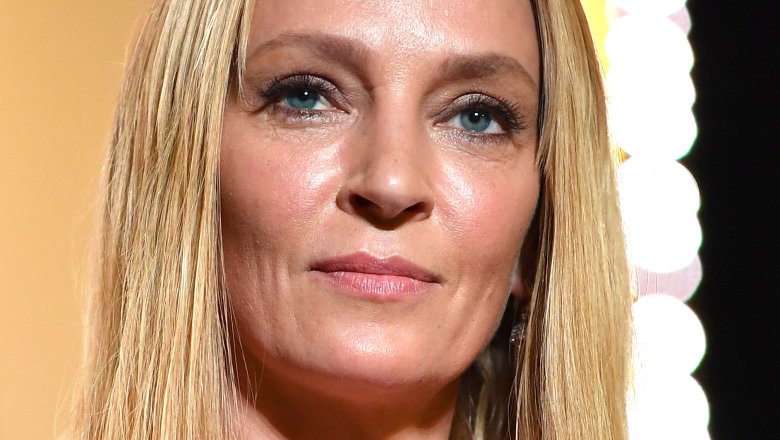 Getty Images
The actress is speaking out again.
On Monday, Feb. 5, 2018, Uma Thurman shared video footage of a car accident she was in back in the early 2000s. The crash occurred during the filming of Kill Bill: Vol. 1, which was directed by Quentin Tarantino and produced and distributed by Miramax, Harvey Weinstein's company. In the caption of her Instagram post, Thurman, the star of the film, stated that she wished to share the clip as a way to "memorialize it's full exposure in the [New York Times] by Maureen Dowd," referencing the article in which she'd accused Weinstein of sexual assault.
The video shows Thurman crashing a car into a tree. Afterwards, she immediately grabs her head. Crew members, including Tarantino, later surround her in an attempt to help.
"The circumstances of this event were negligent to the point of criminality," Thurman said in the caption of the post, placing blame on Tarantino — though, she noted, she doesn't believe he'd had "malicious intent."
She continued, "Quentin Tarantino, was deeply regretful and remains remorseful about this sorry event, and gave me the footage years later so i could expose it and let it see the light of day, regardless of it most likely being an event for which justice will never be possible." She added, "He also did so with full knowledge it could cause him personal harm, and i am proud of him for doing the right thing and for his courage."
However, while Thurman may be forgiving toward Tarantino, she offers no understanding to Weinstein or the movie's other producers. "THE COVER UP after the fact is UNFORGIVABLE," she wrote. "For this i hold Lawrence Bender, E. Bennett Walsh, and the notorious Harvey Weinstein solely responsible. They lied, destroyed evidence, and continue to lie about the permanent harm they caused and then chose to suppress. The cover up did have malicious intent, and shame on these three for all eternity."
In Thurman's New York Times article, she alleged that, as a result of the accident, her neck had been "permanently damaged" and her knees had been "screwed-up." She claimed that she hadn't wanted to drive the car that day and had wanted a stunt person to film the scene instead. However, Tarantino had allegedly pressured her into performing the scene herself. "He was furious because I'd cost them a lot of time," Thurman recalled in the interview.
Immediately after the accident, Thurman said she feared the worst. "The steering wheel was at my belly and my legs were jammed under me," she said. "I felt this searing pain and thought, 'Oh my God, I'm never going to walk again.'"
She noted, "When I came back from the hospital in a neck brace with my knees damaged and a large massive egg on my head and a concussion, I wanted to see the car and I was very upset. Quentin and I had an enormous fight, and I accused him of trying to kill me. And he was very angry at that, I guess understandably, because he didn't feel he had tried to kill me."
Two weeks after the incident, Thurman said her lawyer sent a letter to the film's producers, stating that they held the right to sue in the future. Miramax reportedly offered to share footage of the crash if she signed a document "releasing them of any consequences of my future pain and suffering." Thurman did not sign the document.