Kyrie Irving Breaks His Silence On Offensive Post With Hefty Donation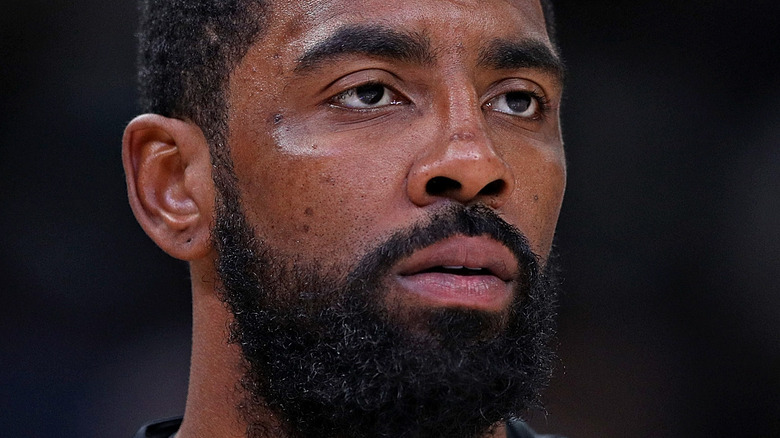 Justin Ford/Getty Images
Kyrie Irving is speaking out about his offensive social media posts — and putting his money where his mouth is by way of apology. As you may know, the basketball star raised quite a few eyebrows on social media in October for sharing his support for the movie "Hebrews to Negroes: Wake Up Black America" on his Twitter and Instagram accounts. The extremely controversial movie made shocking and ill-informed allegations about the Holocaust, featured quotes thought to be from Adolf Hitler, and unproven allegations about Jewish people (via Rolling Stone).
Irving initially refused to apologize for raising awareness of the movie, which many have accused of promoting antisemitic views, even standing by his decision during an October press conference. "I'm not going to stand down on anything I believe in. I'm only going to get stronger because I'm not alone. I have a whole army around me," Irving hit back when questioned over his decision to share a link to the movie, per ESPN, though he did delete the offending post from his social media accounts. "I'm not here to argue over a person or a culture or a religion and what they believe. Nah, this is what's here," he then added. "It's on a public platform. Did I do anything illegal? Did I hurt anybody? Did I harm anybody? Am I going out and saying that I hate one specific group of people?"
But it seems the athlete has now very much changed his tune.
Kyrie Irving is donating to charities fighting antisemitism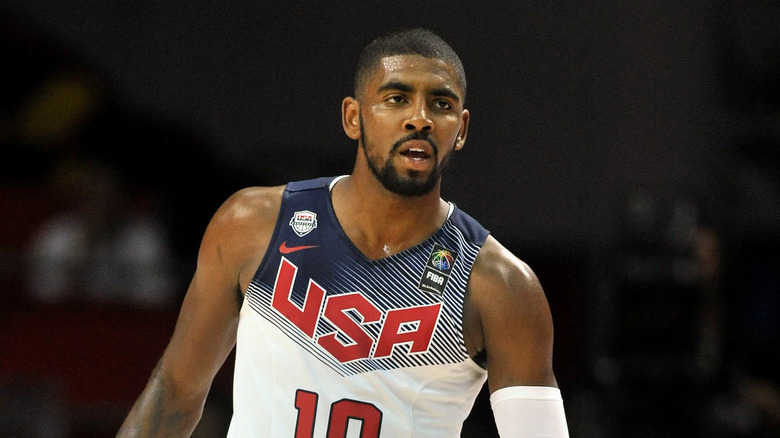 Marcos Mesa Sam Wordley/Shutterstock
Kyrie Irving appeared to see the error of his ways in the wake of his antisemitic social media posts, as it was announced on November 2 that he and the Brooklyn Nets would both be donating $500,000 to charities that aim to put an end to intolerance. In a statement obtained by ESPN, Irving said, "I oppose all forms of hatred and oppression and stand strong with communities that are marginalized and impacted every day." He added that he had become aware of how hurtful his decision to promote the movie was, particularly to members of the Jewish community, while also claiming that he does not agree with everything that was claimed in "Hebrews to Negroes: Wake Up Black America." "I am a human being learning from all walks of life and I intend to do so with an open mind and a willingness to listen. So from my family and I, we meant no harm to any one group, race or religion of people, and wish to only be a beacon of truth and light," he added. The Brooklyn Nets and the Anti-Defamation League also released statements condemning racism and antisemitism.
Irving and the club had faced serious backlash in the wake of his social media activity. When the Nets played the Indiana Pacers on October 31, several fans wore t-shirts with the slogan "Fight antisemitism" written across them, per BBC News, with some proudly wearing them with Jewish caps.