Kyrie Irving's Net Worth: How Much Does The Nets Player Make?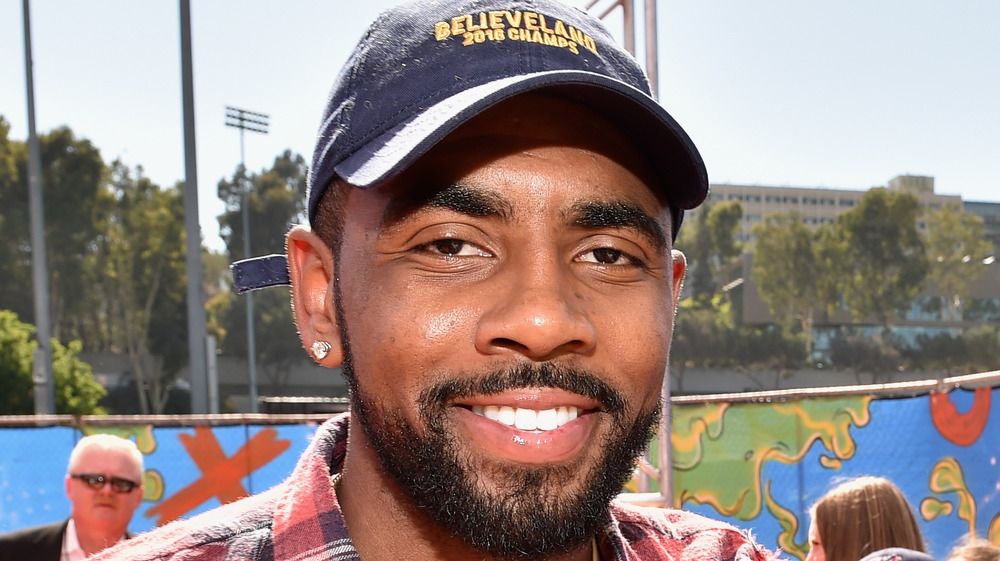 Dave Mangels/Getty Images
Kyrie Irving shows off his talents on the basketball court as a star player in the NBA, and he's been doing so ever since he joined the league in 2011. The Australia-born American athlete has proven his skills when it comes to dribbling past defenders and shooting free throws. 
Irving was born on March 23, 1992, in Melbourne, Australia. His parents moved their family back to the U.S. when he was the age of 2 (via Celebrity Net Worth). Irving's father inspired his love of sports at a young age, as he was a basketball player himself, having been apart of the team at Boston University, as well as in Australia's National Basketball League.
Following in his father's footsteps, Irving played basketball throughout high school, and after he graduated, he attended Duke University in 2010 to play on their D-1 team. However, he only played 11 games before being selected to play in the NBA (via Bleacher Report). It was in 2011 when he was drafted No. 1 by the Cleveland Cavaliers.
Since then, Irving has become a total star on the basketball courts. After playing with the Cavaliers for six seasons, Irving joined the Boston Celtics in 2017. Nowadays, he's the point guard for the Brooklyn Nets, a journey he embarked on in 2019 (via Biography). Not only has he won an NBA championship, among other accolades, but Irving has also taken home a lot of money throughout his career. Keep scrolling to find out the basketball superstar's net worth. 
Kyrie Irving's NBA career isn't his only source of income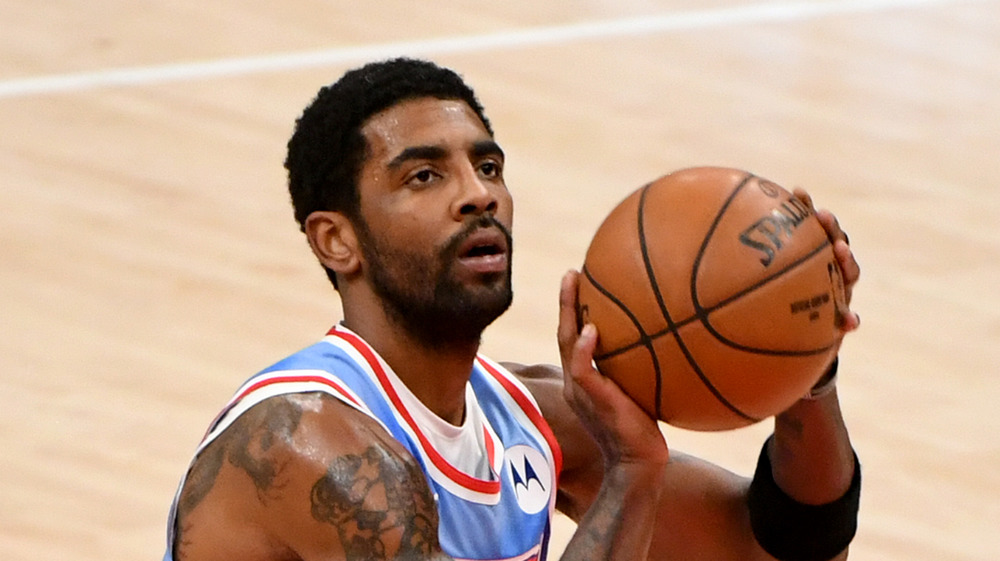 Will Newton/Getty Images
There's no doubt Kyrie Irving has made an impact on the world of basketball since he was drafted by the NBA in 2011, and the athlete has been awarded for his undeniable talents in more ways than one. In addition to taking home several prestigious awards and titles, Irving has made a massive amount of money.
Irving has a net worth of an estimated $90 million, according to Celebrity Net Worth. His incredible fortune continues to rise each year as the outlet reported his salary to be $35 million. This is, of course, thanks to his basketball career, considering he signed a four-year, $141 million contract with the Brooklyn Nets in June 2019 (via Bleacher Report).
Irving's basketball skills have earned him money both on and off the court. He's signed countless endorsements throughout the last decade with companies, including Pepsi, Skullcandy, Nike, General Mills, and Aleve (via Forbes). Just his shoe deal with Nike alone is worth approximately $11 million.
Irving's sources of income don't end there, however. After becoming a hit as the star "Uncle Drew" in a handful of Pepsi Max commercials, the character later spawned the 2018 film Uncle Drew. Irving portrayed the lead role and directed the comedy, which grossed $47 million at the box office (via Forbes). According to IMDb, he also has an acting credits in We Bare Bears and Family Guy. Talk about endless talent!