Pete Davidson's Reported Outrageous On-Set Behavior Is Sparking Concern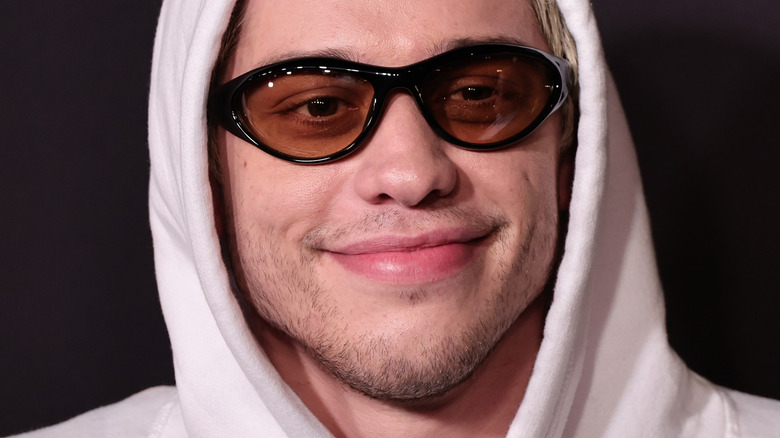 Jamie Mccarthy/Getty Images
Pete Davidson has come a long way since his "Saturday Night Live" days. Davidson joined the long-running sketch comedy show in 2014 when he was just 20 years old, per Deadline. The stand-up comedian was chosen by the creator of "SNL," Lorne Michaels. After eight seasons on the show, Davidson announced that he was leaving, per CBS News. Via his friend Dave Sirus' Instagram account, Davidson wrote an emotional statement about how "SNL" changed his life: "I owe Lorne Michaels and everyone at SNL my life. I'm so grateful and I wouldn't be here without them ... Thank you for always believing in me and sticking by my side even when it seemed comical."
In 2021, Davidson starred in "The Suicide Squad" as Richard "Dick" Hertz, aka Blackguard. Davidson's role was brief, only appearing in the film's first 10 minutes, per Decider. The actor had a bigger role in his next film, "Bodies Bodies Bodies" as David, a rich kid who invites friends over to play a game that turns deadly.
Davidson's newest project is the comedy series "Bupkis," which is based on his life, per IndieWire. The comedian is the writer, star, and producer of the show and according to reports, the stress of the job may have gotten too much for him to handle.
Pete Davidson reportedly had a meltdown on set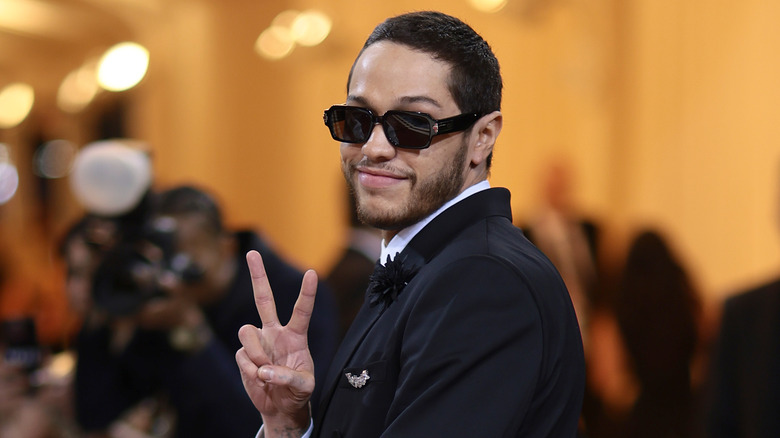 Dimitrios Kambouris/Getty Images
Pete Davidson's show "Bupkis" is currently in production in Long Island City, New York, and according to a source, the actor had a meltdown on set, per The U.S. Sun. The insider claimed that Davidson "threw two candles through his trailer and damaged a second truck's windshield. He also threw coffee on the walls and broke a TV in half inside his trailer." It was reported that Davidson was told to take a few days off to take a breather. The source stated, "Apparently, Pete's been given some time off to get his s*** together and focus on himself." Filming has allegedly resumed while Davidson is away. It's unclear what set him off and when he will return.
Davidson's alleged meltdown came on the heels of his breakup with Kim Kardashian. After nine months together, the high-profile duo called it quits, per E! News. A source told the publication that the split was due to their hectic schedules and trouble maintaining their long-distance relationship. During their time together, Davidson had to deal with Kanye 'Ye' West taunting him publicly. With the stress of his recent breakup and the undertaking of his new show, it's no wonder Davidson needed a time out.