The Sad Suspicion Pete Davidson Reportedly Had About His Relationship With Kim Kardashian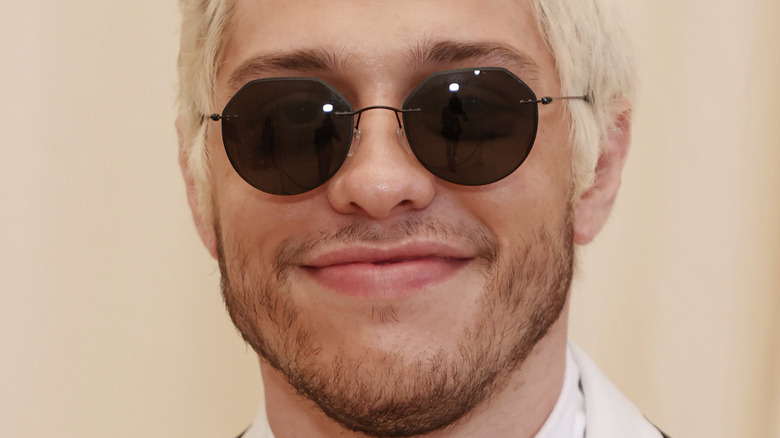 Arturo Holmes/mg21/Getty Images
Kim Kardashian and Pete Davidson dominated headlines throughout their nine-month relationship. The very public feud between Davidson and Kardashian's ex, Kanye "Ye" West, meant that even those who had never previously kept up with the Kardashians had some semblance of what was going on. Instagram even got involved — issuing a temporary ban against Ye's account for his repeated harassment of Davidson, according to Today.
The couple didn't seem to need Ye's approval to enjoy their romance, however. Kardashian regularly treated her 328 million Instagram followers to cute photoshoots with Davidson. In some of the images, the comedian's Kardashian-themed tattoos are visible. As Kardashian shared with Ellen DeGeneres, Davidson got many body-based reminders of his love for the mogul, including a branding of her name.
Unfortunately, the relationship was recently reported to be over by E! News. Although Davidson's permanent inkings would suggest confidence in his longevity with Kardashian, a new report suggests he's recently vocalized some doubts.
Pete Davidson reportedly knew his relationship was doomed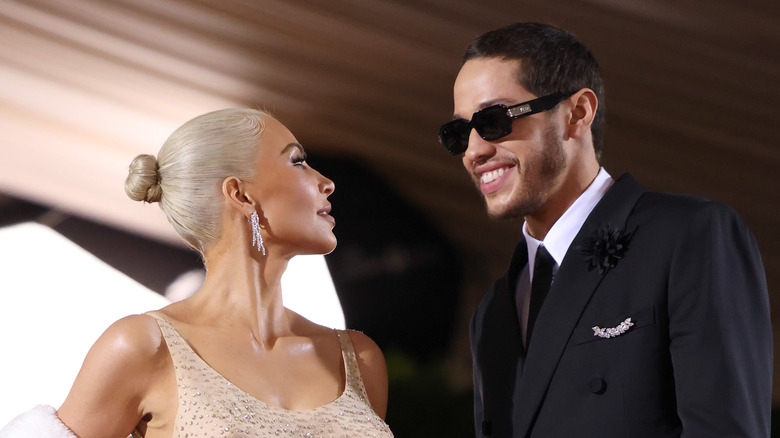 John Shearer/Getty Images
According to Page Six, Pete Davidson saw the writing on the wall with Kim Kardashian. A source for the outlet said, "Pete knew it wasn't going to work. He'd been saying it for a while, and Kim knew it too." Although the couple always appeared happy together, it seems as though the long-distance nature of their relationship was getting hard to manage. Davidson has been away filming for several different projects, while Kardashian stays put in LA with her family.
While some fans were devastated by the news, others took the opportunity to poke fun at the situation, making predictions about which high-profile celebrity Davidson would date next. One photoshopped a sighting of Davidson with the queen of England. Others joked about him and Hillary Clinton.
Twitter users aren't the only ones finding delight in the news, however. Kanye "Ye" West is once again using his Instagram to throw shade at Davidson, and the quick-turnaround of his clever post makes one wonder if he's been waiting for this moment too. Resurrecting the nickname he coined back in 2021, the rapper posted a fake headline which read, "Skete Davidson dead at age 28." Ye's post was just about what we were all expecting, with one person putting it perfectly in the comments: "and just like that... he's back."