Did Drake Diss Serena Williams' Husband Alexis Ohanian On Middle Of The Ocean?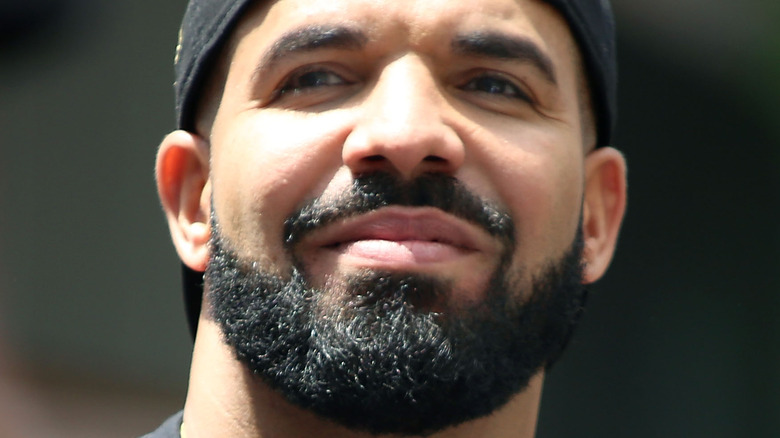 Isaiah Trickey/Getty Images
Erm, did Drake really just throw shade at Alexis Ohanian, husband of Serena Williams, in his new track? Well, we know the rapper is no stranger to throwing out a diss or two in his music, and he's certainly taken aim at plenty of people in his lyrics over the years.
Fans were whipped into a frenzy back in 2013 when they suspected the former "Degrassi: The Next Generation" star may have taken shots as The Weeknd, who he'd collaborated with in the past, via the track, "5 AM in Toronto." "I show love, never get the same outta n****s/Guess it's funny how money can make change outta n****s for real/Some nobody started feelin' himself/A couple somebodies started killin' themselves," he states on the song, per Genius, which had many, including MTV News, speculating he may have been referring to hard feelings after The Weeknd didn't sign to his label, OVO Sounds
That same year, speculation was rife Drake dissed another famous face, that time Kendrick Lamar. "F**k any n***a that's talking that s**t just to get a reaction/F**k going platinum, I looked at my wrist and it's already platinum/I am the kid with the motormouth, I am the one you should worry 'bout," he rapped on "The Language," per Genius, which Complex speculated was a clap back Kendrick Lamar's rap on the Big Sean song "Control."
And now? Well, it looks like Ohanian may now be joining the ranks of those receiving a diss in a song from Drake.
Did Drake call Alexis Ohnian a groupie?
Plenty of Twitter users speculated Drake may well have been taking aim at Alexis Ohnian on his track "Middle of the Ocean," after he seemingly suggested Serena Williams' husband was her groupie. The song is all about Drake making plenty of cash and not being afraid to spend it as he details his lavish lifestyle, before he then slides in the line, per Genius, "Sidebar, Serena, your husband a groupie/He claim we don't got a problem but/No, boo, it is like you comin' for sushi."
Though Drake didn't explicitly name check Williams or Ohnian, plenty speculated the tennis superstar and her husband were who he was addressing. "Dawg this man just called Serena Williams husband a groupie he unhinged on this album lmaoooo," one person tweeted, while another asked, "Why Drake beefin with Serena Williams husband? Lol that's prolly the funniest line in the album."
If it is Williams and Ohnian (who has a net worth of $70 million, per Forbes) Drake's referring to on the track, it wouldn't be too surprising. As fans may remember, the rapper and tennis legend go way back, with Drake famously tweeting in 2011, "@serenawilliams I cannot wait to put it on you and make you sweat..........during our match this weekend." Steamy! Drake was then spotted cheering on Williams at tennis matches on multiple occasions after, and TMZ even shared photos of the two kissing in 2015 before they apparently split. Dissing the ex's new man, maybe?