Beyoncé And Jay-Z Finally Unveil Their Spot-On Family Halloween Costumes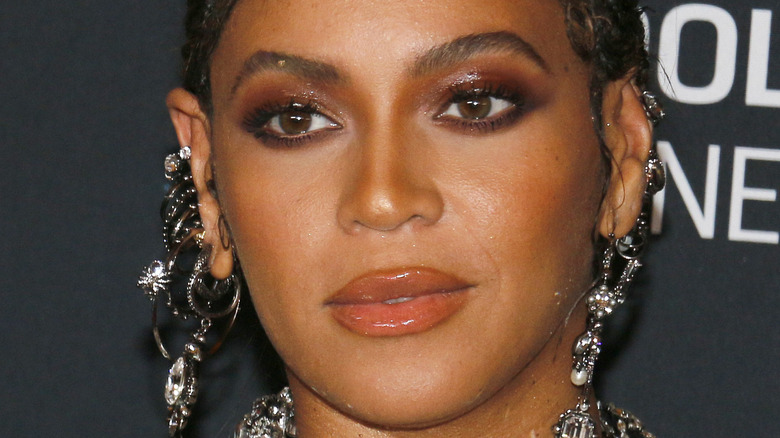 Tinseltown/Shutterstock
If there's one thing Beyoncé fans look forward to year after year, it's the spooky season so we can see her kill it once again with her Halloween costume. The "BREAK MY SOUL" hitmaker has served up some epic dress ups over the years, proving she loves to go all out for the scary holiday.
Case and point? In 2017 when the superstar donned a short bob wig to dress up as Phoni Braxton, her version of "Unbreak My Heart" hitmaker Toni Braxton. The dress-up even got the approval of the singer herself, as she shared snaps of Beyoncé in costume on Twitter and wrote, "Phoni Braxton!? NEVER!!! How do you look better than me on MY album cover? I LOVE IT, Such a superstar! Thanks for the love sis! Happy Halloween[.] Who run the world...GIRLS! GIRLS!" But don't think Queen Bey is all about the solo costumes. Oh no. On multiple occasions she's also got her family in on the action, including in 2016 when the superstar and her crew dressed up as Salt-N-Pepa. Daughter Blue Ivy, her husband Jay-Z, and even her mom, Tina Lawson, all got in on the action, with the star showing off their fun night on Instagram. 
So, which pop culture character did Beyoncé go for in 2022? Well, we have Instagram to thank again for showing us the star's latest iconic costume.
Beyoncé roped in her kids and husband to dress up as The Proud Family
She went off. She went hard, because she's a star. For Halloween 2022, Beyoncé showed off another iconic costume, sharing an adorable snap of herself, Jay-Z, and their kids, daughter Blue Ivy and twins Rumi and Sir, all dressed up as characters from the Disney Channel's "The Proud Family." In the snap, posted to her Instagram on November 3, Beyoncé took on double roles as she appeared as both Trudy Proud and Suga Mama, while Blue Ivy was Penny Proud. Jay-Z played dad as Oscar Proud, while Rumi dressed as CeCe Proud and her brother, Sir, appeared as BeBe Proud.
Fans couldn't get enough of the super cute family photo either, as the comments section was flooded with gushing messages. "THE CARTERS GON EAT EVERY TIME!! WE GOT 2 BEYONCÉ'S IN ONE PIC! JAW DROPPED," one fan commented in all caps, while the upload even got the attention of Disney, who commented on the upload, "Proud of this family!"
Beyoncé has quite the connection to the Disney cartoon, as Destiny's Child actually joined forces with her sister, Solange Knowles, for the theme song. Aptly titled "The Proud Family Theme Song," the track opened the show and featured on the show's 2004 soundtrack. But not only did this multi-talented star sing on the track, she also co-produced it!