The Unlikely Eminem Song Taylor Swift Once Liked To Cover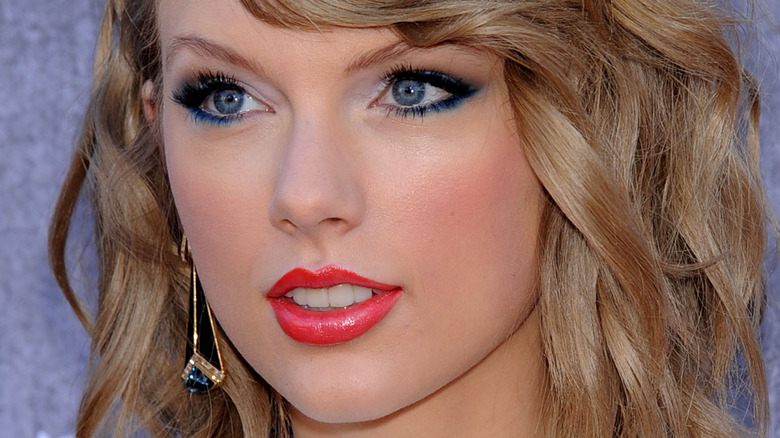 DFree/Shutterstock
Taylor Swift is an insanely talented songwriter, we already know that, but that doesn't mean she doesn't like to take on a cover every now and then. Her covers usually go down as epic live performances, often with the original artist jumping onboard for a showstopping moment.
Case and point? When Swift joined forces with one of her idols, Alanis Morissette, in 2015 during her "1985 Tour" to cover her iconic hit, "You Oughta Know." "I think that it is fair to say that so many of the female singer/songwriters of my generation, including myself, would not write the way that we do without her and her music," Swift told fans of the singer before belting out the tune. Then there was that equally iconic duet with Mary J. Blige that same year, when they performed "Doubt" together. "It's absolutely foolish to try and sing a Mary J. Blige song, because she is the greatest singer who ever lived. But this song matters to me, and it means so much to me to get to just sing it to you, and I think it could help you if you struggle with the same insecurities that I do," Swift said at the time.
But while those two are a little more expected covers, there's one song Swift covered solo back in the day that seemingly came out of the blue. It was a rap song, by Eminem. Yes, you read that right. Taylor Swift covered a rap song by Eminem.
Taylor Swift performed Eminem's 'Lose Yourself'
For this one, we're throwing it back to 2006 when Taylor Swift was in her self-titled debut album era and still very much a country star, which made it pretty surprising when she stopped by Froggy Radio Pittsburgh's "The Danger Show" to show off her diversity. The star decided to take on Eminem's "Lose Yourself" and, well, we lost it. The star gave the notorious rap song a country twist as she rapped along with her acoustic guitar, strumming along to the beat as she didn't miss a single lyric. See, even back then she could go from genre to genre like it was nothing at all!
But that wasn't the only time she took on the track. A year later, Swift performed the song on stage during a festival alongside her band. Footage of the moment resurfaced on Twitter in October and was viewed more than 1.1 million times, sending fans who were unaware of her Eminem cover into a total frenzy. "This is the best thing i've ever seen," one person responded to the clip, while another commented, "It's incredible."
But, this is Taylor Swift we're talking about here, so twice just wasn't enough. Swift went on to cover "Lose Yourself" for a third time in 2011, performing it on her "Speak Now" tour alongside a cover of Uncle Kracker's "Smile." One fan video showing it all go down in Michigan has been viewed a whopping more than 9 million times.
Taylor Swift is an Eminem fan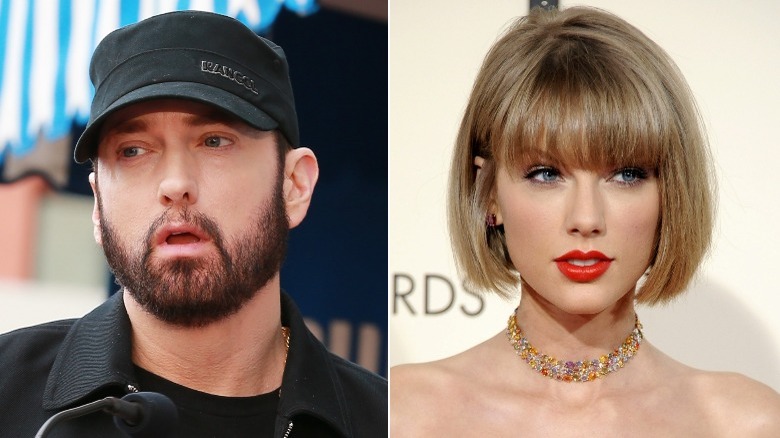 Tinseltown/Shutterstock & Leon Bennett/Getty
We know Taylor Swift is a chameleon when it comes to making music, but it turns out she's also a chameleon when it comes to the songs she listens to. The star has proven that on multiple occasions, most notably when she opened up about her somewhat years-long unexpected love for hip-hop music during a 2013 interview with InStyle U.K. "I love hip-hop so much. There's something so honest about it. I grew up listening to Eminem's 'The Real Slim Shady' and 50 Cent's 'In Da Club.' Nobody wants to hear me rap but I'd sing a chorus for someone like Eminem," she shared.
And it sounds like that admiration is pretty mutual. Back in 2010, Eminem had Swift's back after that notorious 2009 VMAs moment when Kanye "Ye" West rushed the stage and stated her Best Female Video award should have been given to Beyoncé for "Single Ladies." "He shouldn't have done that, man. I mean, she's a little girl," Eminem hit back to Spin (via Entertainment Weekly).