Taylor Swift Was Actually Named After Another Famous Musician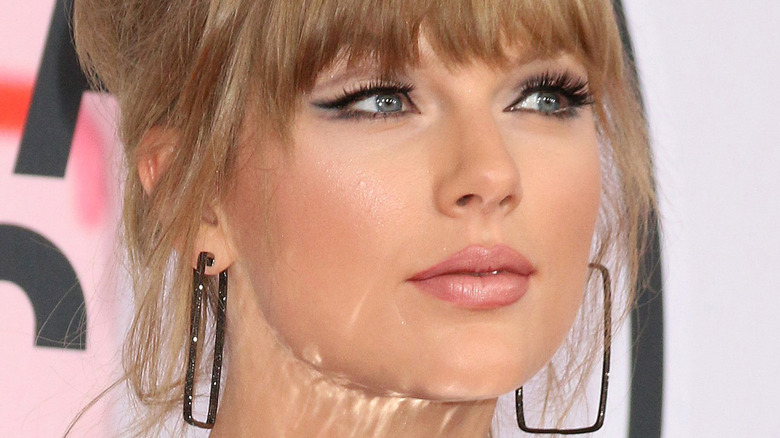 Kathy Hutchins/Shutterstock
Taylor Swift has worked her way to the top of the music industry as a prolific singer-songwriter. During a 2008 appearance on "The Ellen DeGeneres Show," she detailed the early origins of her enthusiasm for music. "I started singing when I was a baby, but I decided that this was it when I was, like, 10," Swift said. The artist was dropping off demo CDs to record labels at 11 years old in an attempt to get a record deal, which helped her learn "that [she] needed to be different." This led to her penning her own tunes. "I went home, and I started playing guitar for four hours a day until my fingers were bleeding," Swift said. "I started writing songs. And that was really the reason why I guess I got noticed." 
The "Lover" vocalist spoke about how her family supported her career from the beginning in a 2019 interview with "CBS Sunday Morning." After Swift scored an artist development deal with RCA Records, her immediate family members all moved from Pennsylvania to Nashville in favor of her music ambition. "My parents were unbelievable. I will never forget how they did that ... and my brother," Swift said. Swift's journey as a singer-songwriter could have been predicted from a young age, not only due to her devotion music, but also as a result of the origins of the first name her parents chose for her.
Taylor Swift's namesake is singer-songwriter James Taylor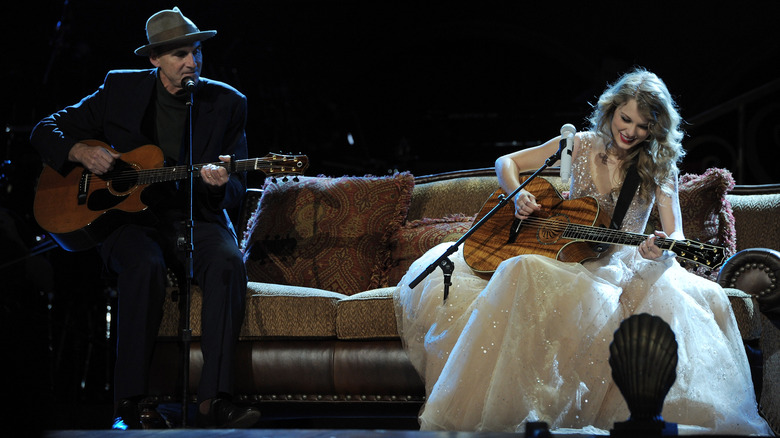 Larry Busacca/Getty Images
Taylor Swift's parents chose a first name for the artist that came from another music powerhouse. As Parade wrote in a 2015, Swift was named after "Fire and Rain" singer-songwriter James Taylor. In the interview, Taylor explained that he'd shared the stage with Swift on a couple of occasions in the past. "Taylor and I played a gig together about two years before she became so amazingly successful," Taylor said. "Then she invited me to come finish one of her tours about four years ago at Madison Square Garden." The New York City performance took place in 2011 during Swift's Speak Now World Tour. Swift and Taylor sang "Fire and Rain" onstage, while Big Frog 104 wrote that Taylor and Swift also performed one of her hits, "Fifteen," together.
In a 2015 Stereo Gum interview, Taylor further opened up about Swift's first name. Taylor called it "hugely flattering" and "a delightful surprise" to learn that Swift's parents sought inspiration from his moniker while naming the "Love Story" singer. "[Swift] told me that her mom and dad had been really, deeply into my music, and I got a real kick out of the fact that she'd been named after me," Taylor told the music site. "Obviously it wasn't her choice, it was her mom and dad, but nonetheless a great connection I think." And like her namesake, Swift has gone on to attain worldwide acclaim for her musical talents.
James Taylor and Taylor Swift made their mark on the music industry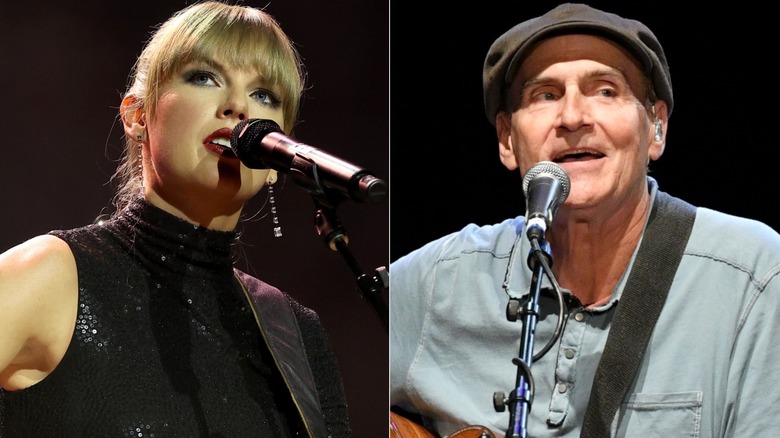 Terry Wyatt & Mike Windle/Getty
Taylor Swift and her namesake, James Taylor, have amassed stunning achievements for their contributions to music and songwriting. Per his bio, Taylor has sold over 100 million albums, has earned a spot in the Songwriters Halls of Fame, and has scored several Grammys over the years. For her part, Swift is the first woman to have received the album of the year Grammy three times, and she's the highest-earning female music artist of the last 10 years, Insider wrote. Swift has additionally been recognized in the past by the Songwriters Hall of Fame, per a 2010 report by CBS News.
When asked in 2020 what advice he'd offer aspiring songwriters on "The Late Show with Stephen Colbert," Taylor advised artists to use the songs they enjoy as a starting point. "Choose a song that you like, and then rewrite it," Taylor said. "But just write new chords to it and different lyrics, but sort of keep the trajectory of the song." While speaking to Pattie Boyd for Harper's Bazaar in 2018, Swift spoke of the "magical moments" of her songwriting process. "A lot of songwriting is things you learn ... but there are mystical, magical moments — inexplicable moments — when an idea that is fully formed just pops into your head," Swift said. With the duo's enduring industry success, Swift and Taylor have certainly brought the best of their musical talents to their work.