The True Meaning Behind 'Fire And Rain' By James Taylor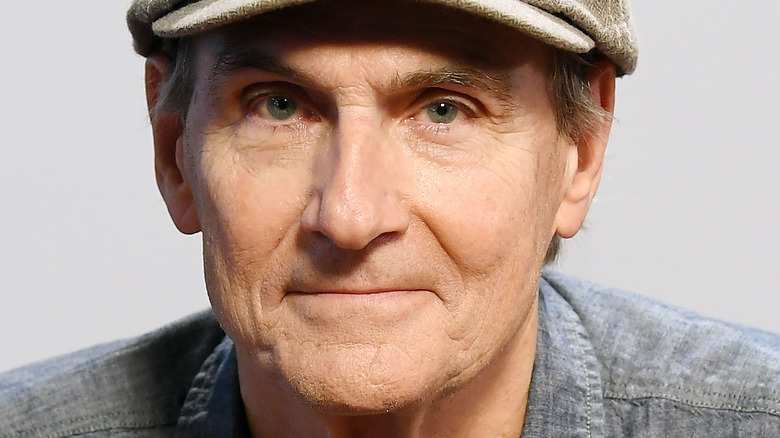 Daniele Venturelli/Getty Images
North Carolina-born singer-songwriter James Taylor is known for hit folk-rock classics, like "Carolina On My Mind," "Sweet Baby James," and "Fire and Rain." Though he hit it big in the 1970s thanks to the success of his second album, "Sweet Baby James," the singer has continued to exude influence well into the present day, making an impression on younger artists, like country darling turned pop star Taylor Swift. Swift, who was named for Taylor, has paid tribute to her namesake by performing onstage with him, and even professing her love for him at the 58th Grammy Awards in 2016. "It's hugely flattering and was a delightful surprise when she told me that," Taylor revealed to Stereogum about inspiring Swift's name. "She told me that her mom and dad had been really, deeply into my music, and I got a real kick out of the fact that she'd been named after me. Obviously it wasn't her choice, it was her mom and dad, but nonetheless, a great connection, I think."
As well as reflecting on his influence on younger artists, Taylor has been able to look back honestly on his life and career, including the darker moments he would rather forget. In fact, many fans may not realize there are surprisingly dark stories that have fueled his folksy hits, particularly "Fire and Rain." Here's the true meaning behind the song.
Each verse refers to a particular moment in James Taylor's life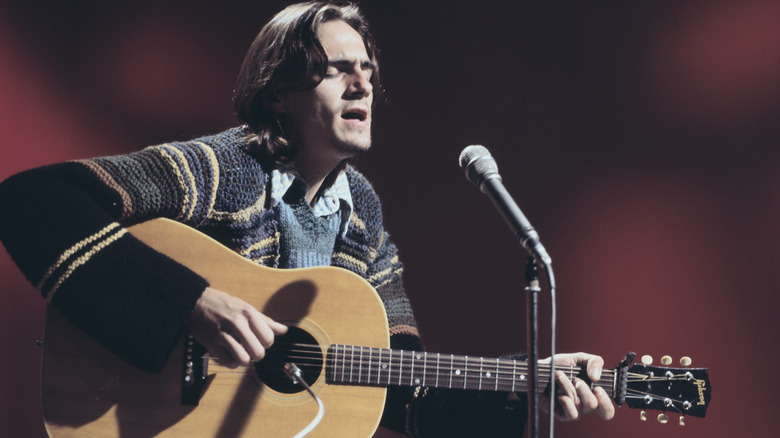 Michael Putland/Getty Images
"Fire and Rain" features a somewhat generic refrain, with lines like, "I've seen fire and I've seen rain / I've seen sunny days that I thought would never end," being applicable to many different life moments. But as it turns out, each of the song's three verses refers to a very specific moment in singer James Taylor's life (via NPR). According to the outlet, "one is about a friend who committed suicide, another is about Taylor's addiction to heroin, the third refers to a mental hospital and a band Taylor started called 'The Flying Machine.'"
Of the death of his friend Suzanne Schnerr (which inspired the first verse), the Grammy-winning artist told NPR that it was months before he actually learned of her passing, because his friends had purposefully withheld the news to keep from distracting him. "My friend Richard Corey told me about it, but he had known about it for a month or so ... so that's where 'they let me know you were gone' comes in." The second verse refers to Taylor's struggle to quit hard drugs, which he described as a period where he was "physically very uncomfortable and having a rough time." Lastly, the third verse alludes to Taylor's "recuperation in Austin Riggs [Stockbridge's mental hospital], which lasted about five months," Taylor told Rolling Stone (via SongFacts).
'Fire and Rain' is an emotionally draining song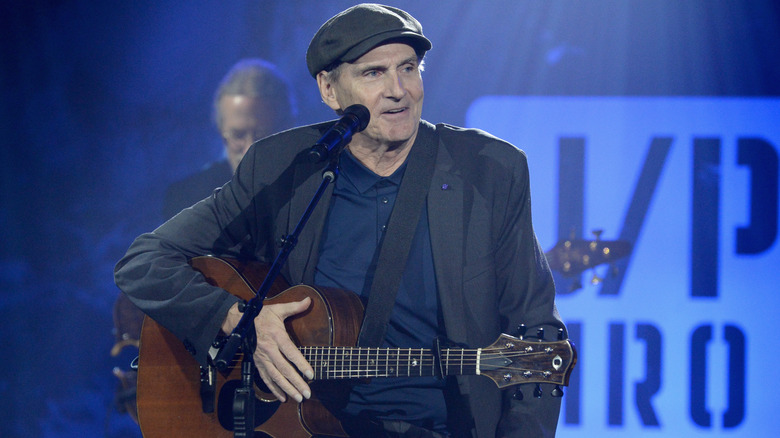 Michael Kovac/Getty Images
Given "Fire and Rain's" thematically heavy material, James Taylor was surprised that the song achieved the amount of critical success it did, according to SongFacts. With that said, Taylor has enjoyed exploring the poetry of the song, because it's more important to him that he connect emotionally with listeners than deliver information via his lyrics. "You know, when someone understates something completely, you know, like a song like 'What'll I Do?' you know, 'What'll I do when you are far away and I am blue? What'll I do?' you know, when it's minimally stated, it just becomes pure emotion," he told NPR.
Taylor further shared that the songwriting process for "Fire and Rain" came naturally to him, probably because so much of the lyrics pertained to his own life. "It came very fast," he shared (via NPR). "But it was a great relief. That song relieved a lot of tension. There were things that I needed to get rid of or at least get out of me or get in front of me ... in a form that I could say, 'There they are,' you know, externalizing it somehow." Consequently, the songwriter finds it somewhat draining to perform "Fire and Rain" today. "I tried to figure out at one point how many times I'd sung it, and I think it's probably approaching a thousand times now," he revealed. No matter how many times he plays the song, though, the fans are here for it!