This Is Why Kate Middleton Never Removes Her Coat In Public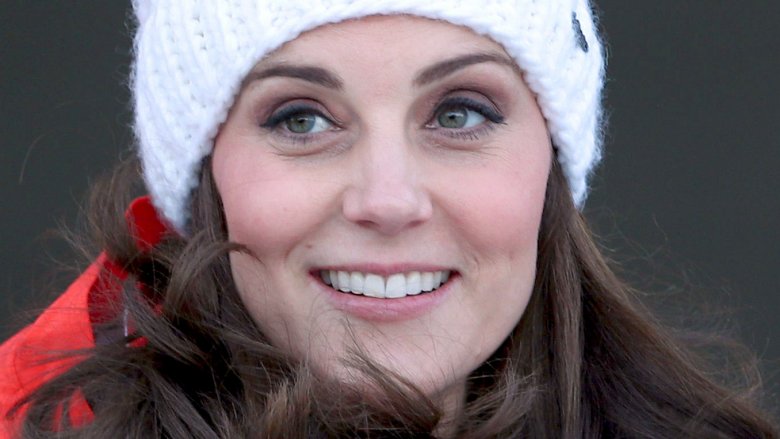 Getty Images
Why is Kate always so bundled up?
Kate Middleton, the Duchess of Cambridge, is the definition of style. From modest day dresses to glamorous gowns, the 36-year-old is always on top of her fashion game, but there's one wardrobe habit that's left some fans puzzled — her coats (via StyleCaster). Why? Well, Middleton wears these jackets even when she's indoors, and, honestly, it's a bit like wearing sunglasses at night.
The fashion oddity caught followers' attention when Middleton and her husband, Prince William, met with Norway's Prince Haakon and Princess Mette-Marit in early February 2018. While sitting on sofas for a lunchtime conference, Middleton kept her coat on. And, while Norway is likely freezing, it's doubtful that a winter jacket was necessary for the royal's comfort, especially given that William only wore a button-down shirt and sweater.
However, there's a specific reason for Middleton's outfit choice, and it has nothing to do with temperature.
According to Ok!, royal dress code dictates that women should not take off their coats while in public (via The Sun). Apparently, it's considered "unladylike."
And, since there were photographers present for her meeting with Norway's prince and princess, poor Middleton had to suffer through a, presumably, stuffy room without removing her peacoat.
Unfortunately for Middleton, it's not the first rule of fashion she's had to adopt since joining the royal family. As noted by StyleCaster, Queen Elizabeth II has also outlawed both colored nail polish and jeans, at least for public events.
Now, we wonder if future royal Meghan Markle will be able to stick to the Queen's list of rules...