What Really Happened Between King Charles And Barbra Streisand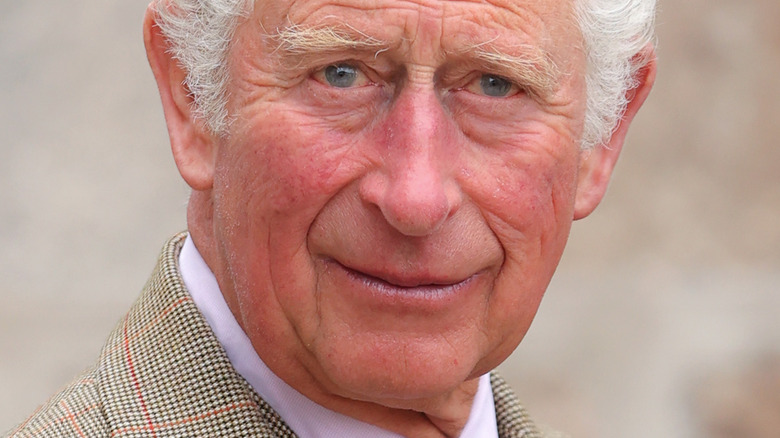 Chris Jackson/Getty Images
King Charles had an interesting life destined for him from the moment he was born. The late Queen Elizabeth II gave birth to her first child in Charles in 1948 (via Britannica). Unlike a normal birthday, King Charles' birth automatically made him heir to the British throne and ultimately part of history. For many of the British royals, their lives becomes open to the public eye, and King Charles' life was no different.
King Charles' relationships have been at the forefront of the British media. Broadcast around the world, the king married the late Princess Diana in 1981. Their marriage turned to scandal when it was revealed that Charles was having an affair with the now Queen Consort, Camilla Parker Bowles (via Town & Country). While many know these two women as the king's acquaintances, there was another famous face that got pretty close to the king.
Being a royal you meet a lot of important figures and celebrities. King Charles even once met the legendary singer and actress, Barbra Streisand. And long before Princess Diana and Queen Consort Camilla, the king was rumored to have had a fling with the singer. A book published in 2016 by author Christopher Andersen alleged that the two had once shared a relationship, citing that the king even had a "massive crush" on Streisand (via Town & Country). According to Vanity Fair, the two have never confirmed a relationship; they did form a pretty close friendship that had the potential of going somewhere further.
King Charles was a big fan of Barbra Streisand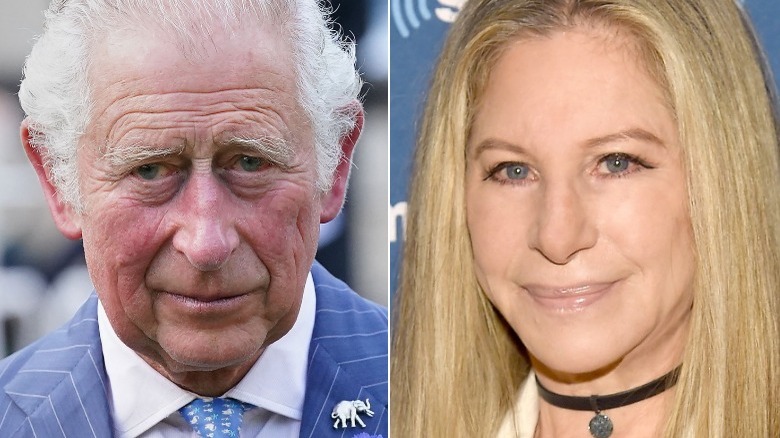 Jonathan Brady - WPA Pool & Kevin Mazur/Getty
King Charles is just like the rest of the world and was a huge fan of artists like Barbra Streisand. Streisand burst onto the scene with her incredible vocals in the '60s and got the attention of many including the famous British royal.
Charles' adoration for the singer reportedly started while attending college. Christopher Andersen's book, "Game of Crowns," reported the king's dorm room walls were coated with posters of the singer (via Town & Country). So, when King Charles finally met the singer, it was a core memory for him. Charles was very open about his feelings toward the singer as he recalled first meeting her (via Vanity Fair). Charles shared, "I have always been a great admirer of the incredibly versatile American actress and singer Barbra Streisand."
The king shared with the outlet how he was just a young lad serving in the Royal Navy in 1974 when he had met Streisand. Charles was stationed in San Diego, California, and when he found out that the singer was filming "Funny Lady" nearby he knew he had to meet Streisand. The British royal revealed, "I shall never forget her dazzling, effervescent talent and the unique vitality and attraction of her voice and her acting ability." Andersen reported the two kept in touch over the years, even during his marriage to Princess Diana. Regardless if the rumors that Charles and Streisand were in a relationship, he clearly couldn't stop gushing about the singer.
Barbra Streisand shares special moments with King Charles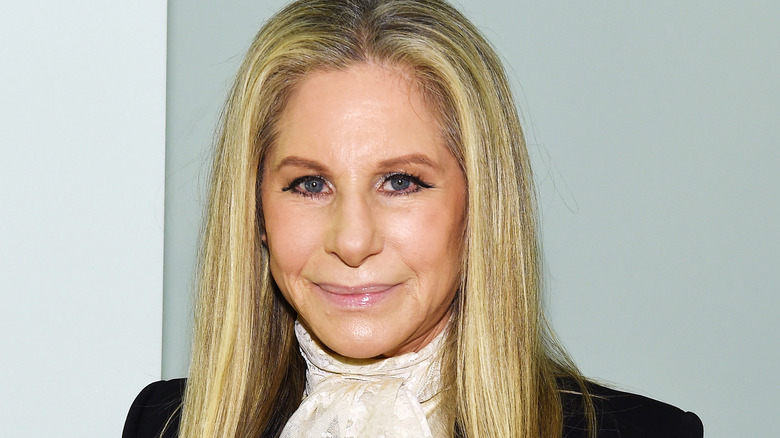 Kevin Mazur/Getty Images
It's hard to believe that King Charles was starstruck by anyone, but Barbra Streisand struck a chord with the royal. And from what Streisand has said about the king, it looks like the feeling is mutual. Streisand has had nothing but nice things to say about King Charles and even hinted there could have been more (via Town & Country).
The singer had her side of the story from when the two met. Streisand recalled to Vanity Fair when she offered him tea during the meeting. She joked, "They didn't have to test me for poison or something? No." From that point on, Streisand remembered casually hanging out with the royal on different occasions. King Charles even surprised the "The Woman in Love" singer with flowers during her time in London. Streisand shared, "I said, 'Who sent me that? And she said, 'A fan called Charles.'" But when Streisand took one look at the note, she knew it wasn't just any old fan named Charles, but the king himself.
The actor clarified that this all happened "before he met Diana." But being the outgoing character she is, she had to poke fun at King Charles when he attended her show. During her performance, Streisand shared, "I said, 'You know, if I played my cards right, I could have wound up being the first Jewish princess." While it would have been interesting to see King Charles and Streisand together, they simply remained friends.